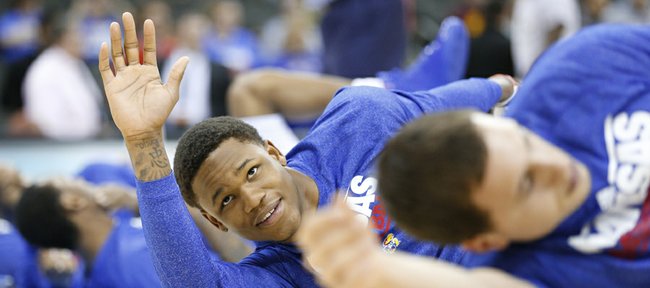 There's a strong possibility Kansas University's Ben McLemore will be coached by a Jayhawk in the NBA next season.
DraftExpress.com's latest 2013 Mock Draft has Jacque Vaughn's Orlando Magic selecting the 6-foot-5 McLemore with the No. 2 overall pick in June 27 draft, following Cleveland's projected selection of Kentucky's Nerlens Noel at No. 1.
"I just think McLemore has real superstar quality," Sports Illustrated's Chris Mannix told the Orlando Sentinel. "I think he's a more athletic version of Ray Allen. He certainly finishes better than Ray. After a couple of years, he could really blossom into one of those franchise 2-guards."
Mannix believes McLemore is just too talented to pass up, even though Orlando needs a point guard and Michigan's Trey Burke is available.
"The Magic have needs everywhere. They have a lot of good, young talent, no question about it, but there's not anybody on that roster where you say, 'We're not going to take this specific position.' I think you have to take the best player on the board," Mannix told the Sentinel.
Orlando's starting shooting guard currently is capable veteran Arron Afflalo. Cleveland, which is not expected to take McLemore after selecting 6-4 shooting guard Dion Waiters a year ago, could trade the top pick considering Noel is not expected to be back from a torn ACL until Christmastime.
"Noel is just the sort of defensive presence they (Cavaliers) need to upgrade the worst defensive team — in terms of field goal percentage — in the league," Mannix told the Sentinel.
NBAdraft.net, by the way, still has McLemore listed as the top pick in the draft, followed by Noel to Orlando, Otto Porter to Washington and Victor Oladipo to Charlotte.
ESPN.com's Chad Ford has Noel No. 1, followed by Burke, Porter and McLemore all the way to No. 4 to Charlotte.
"The Bobcats are the big losers, again, in the draft lottery. But if they land McLemore, they might get the player with the best upside in the draft," Ford wrote at ESPN.com. "The team desperately needs outside shooting, and McLemore might have the best stroke of anyone in the draft."
McLemore on Wednesday spoke with ESPN.com's Henry Abbott about the draft: "A lot of people have different opinions. A lot of people say he (Burke) should be No. 1 and I should be No. 1 and Nerlens and so on. You've got to work to get that position.
"I won't be disappointed," McLemore added of a scenario in which he would not be No. 1. "As long as I get drafted and have the opportunity to take care of my family ... that's the main thing to me, taking care of my family."
Both ESPN's Ford and DraftExpress.com say KU's Jeff Withey will be taken No. 22 overall by Brooklyn. NBAdraft.net currently has Withey as a second-round pick, No. 35 overall to Philadelphia.
More like this story on KUsports.com