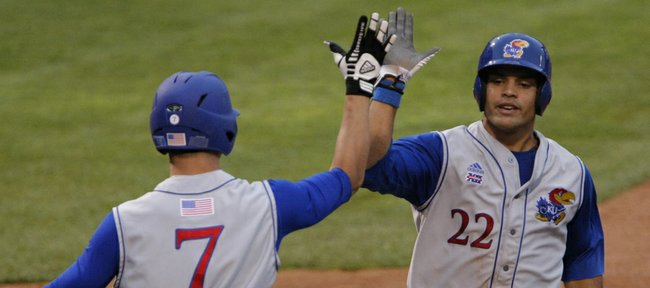 Oklahoma City — West Virginia saved its ace, and Kansas University made the Mountaineers pay.
With Big 12 Pitcher of the Year Harrison Musgrave on the bench, WVU went with Dan Dierdorff instead, and the Jayhawks collected a dozen hits off three WVU pitchers in a 7-2 victory in a first-round Big 12 baseball tournament game Thursday at Bricktown Ballpark.
The outcome snapped a six-game losing streak for the sixth-seeded Jayhawks (32-24) and avenged a three-game series sweep at West Virginia during the regular season.
Third-seeded WVU fell to 31-26.
Thomas Taylor (6-2) earned the win. He allowed two runs off four hits over 71⁄3 innings. After giving up a run in the second, Taylor retired 18 straight West Virginia batters.
"I struggled with my command the first couple of innings. I think I was trying to throw a little too hard," Taylor said. "After that, I settled down and tried to pitch to contact. Earlier in the year, we played them, and they swung the bat a lot early, and they did that again tonight. I just tried to pitch to contact and let the defense do a lot of work."
Kansas scored two runs in the top of the first before Taylor (6-2) even threw his first pitch. The Jayhawks manufactured their first run with two sacrifices after a leadoff double by Justin Protacio. Kevin Kuntz reached on the first sacrifice attempt as WVU tried to get the lead runner at third, then Protacio scored on a squeeze bunt by Suiter, who reached first as the ball was thrown away by the pitcher. Dakota Smith singled through the left side to score the second run.
Kansas scored two runs in the seventh and two more in the eighth for a 6-1 lead.
Kansas closer and Big 12 Newcomer of the Year Jordan Piché gave up three hits over the final 12⁄3 innings, but the run that scored with him on the mound was charged to Taylor.
Piché allowed consecutive hits to load the bases and found himself in a 3-0 hole to Big 12 home-run leader Ryan McBroom, but McBroom lined out to Justin Protacio at second to start a double play.
"It was huge," KU coach Ritch Price said of the eighth-inning close call. "They had two good at-bats in a row, bases loaded, when he lined into that double play. We got beat in Utah on Monday on three infield singles with two outs. We lost in 13 (innings) — the ball didn't get out of the infield — on three swinging bunts. I kind of think the law of averages helped us out a little bit. That kid smoked that baseball."
Piché pitched a scoreless ninth to preserve the victory.
Second-seeded Oklahoma State lost to seventh-seeded TCU, 8-4, late Thursday night.
KU will meet OSU at 7:30 tonight and TCU at 7:30 p.m. Saturday. The top team from each of two pools will meet in the championship game at 1 p.m. Sunday.
Kansas 200 00 221 — 7 12 0
West Virginia 010 000 010 — 2 7 3
W —Thomas Taylor, 6-2. L — Dan Dierdorff, 4-8.
2B — Justin Protacio, Kevin Kuntz, Tucker Tharp, KU; Michael Constantani, WVU.
KU highlights — Kuntz 2-for-3, R, RBI; Tharp 2-for-3, 2 RBIs; Michael Suiter 2-for-4, R, 2 RBIs; Protacio 2-for-5, 2 R; Taylor 71⁄3 innings, 4 hits, 2 R, 2 BB, 4 Ks.
More like this story on KUsports.com