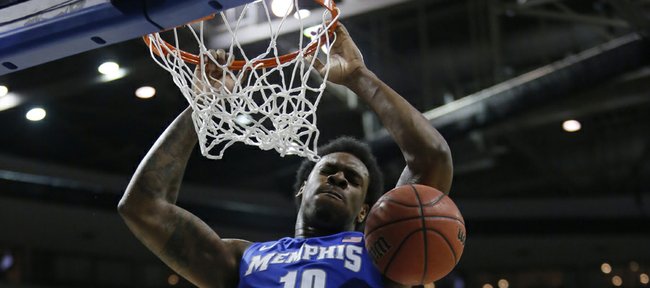 The words "big, strong and physical" appeared on the University of Tulsa's scouting report of former Memphis center Tarik Black last college basketball season.
"It's pretty much what everybody else is talking about. His physical presence stands out more than anything," said former Kansas University guard Brett Ballard, second-year assistant coach on Danny Manning's TU staff. He was referring to Black, the 6-foot-9, 262-pound forward/center, who on Monday announced plans to transfer to KU. Memphis played, and defeated, Tulsa twice during the 2012-13 season.
"He's not afraid of contact, likes a physical style of play, is not a threat to make any type of outside shot, an average free-throw shooter, good defender who gives them size, strength — a guy who played a lot of minutes at a high level," Ballard added.
Black, who averaged 8.1 points and 4.8 rebounds while coming off the bench in 27 games and starting five his junior season, scored eight points off 2-of-5 shooting (4-for-7 from the line) and grabbed eight boards with two blocks and four fouls while playing 14 minutes in Memphis' 94-64 victory over the Golden Hurricane on Feb. 2 in Memphis.
Black scored four points off 1-of-2 shooting (2-for-4 from the line) with seven boards and a steal while playing 15 minutes before fouling out of an 85-74 victory over TU in the Conference USA tournament last March in Tulsa.
"Their team was athletic. For us, he wasn't the focal point," Ballard said. "We put on there (scouting report), 'Don't give him easy baskets. He struggles at the line (44.8 percent last year compared to 58.9 from the field).' We wanted to make him earn it at the line. He's a guy we'd help off of on the perimeter. We were not concerned he'd make a shot from 15 feet.
"I felt he was a good rebounder," Ballard added. "He has good hands and is not afraid to go get the ball. I feel he'll be a solid rebounder in the Big 12."
Black is expected to be a stabilizing force for KU's young frontcourt. It's possible he will battle freshman Joel Embiid for the starting center spot while supplying senior leadership either as a starter or sixth man.
"He didn't start for them, so that makes you wonder, were the other guys that much better?" Ballard said. "To say a guy will come in and be a leader just because he's a senior is not always necessarily the case. I think it depends on his personality how much of a leadership role he'll have. He'll provide experience that is valuable. Hopefully he'll be a good leader to the other guys."
Black will be immediately eligible to play in games at KU because of a rule that allows transfers to participate without sitting out a year provided they have earned an undergraduate degree. Black recently earned a degree at Memphis in the field of organizational leadership.
Tulsa benefited from the rule last year. Forward Kauri Black transferred from Northeastern to Tulsa for a final season and was an immediate starter, averaging 7.1 points a game.
"It's sort of a similar situation. He started half the time at Northeastern," Ballard said. "He knew how to practice hard and how to go through the grind of the season. He started every game and was good for our young big guys."
Memphis this upcoming season will also benefit from the rule. Coach Josh Pastner has added George Washington senior transfer David Pellum, a 6-8, 220-pound forward who averaged 10.4 points and 6.1 rebounds as a junior in 2011-12. He sat out last season because of a wrist injury.
"It's the rule," Memphis coach Pastner told the Journal-World in a phone interview. "If a kid graduates, you are allowed to continue elsewhere. I support Tarik. He got a degree, and that is the important thing."
This, that: Former KU guard Travis Releford will be participating in a 30-team draft workout today in Brooklyn, ESPN's Chad Ford reports. ... Ford's first post-lottery NBA Draft has KU's Ben McLemore being selected No. 4 overall by Charlotte. Nerlens Noel will be No. 1, Trey Burke 2 and Otto Porter 3, he says. Ford says KU's Jeff Withey will be taken at No. 22 and become a future teammate of Tyshawn Taylor with the Brooklyn Nets. ... There's been some discrepancy in the weight of Black. Until summer measurements are taken, KU will now go with 262 pounds, which is Black's listed weight at Memphis.
More like this story on KUsports.com