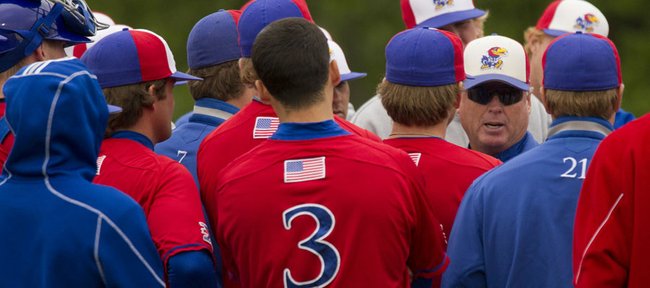 The Big 12 Conference on Tuesday announced that this week's Big 12 baseball tournament in Oklahoma City would be pushed back a day out of respect for the victims of the tornado that devastated residents of Moore, Okla., just south of the city.
Rather than using the extra day to rest, the Kansas University baseball team jumped right into the relief effort.
"We're going to go work out and then we're actually gonna go down and buy some goods and do some community service and donate it to the city of Moore," KU baseball coach Ritch Price told the Journal-World. "That's the only thing that's on our minds right now."
KU officials said the Jayhawk players pooled their money together and came up with a $1,200 donation that they will put toward supplies and bottled water for the relief effort in the storm-ravaged community.
At some point, the focus will have to shift back to baseball and the fact that the Jayhawks, who have dropped six straight games, will be playing for their postseason lives at the revamped Big 12 tournament. And while the extra day off surely will benefit some of the tired arms and nagging injuries, Price said all of that was on the back burner at the moment.
"You know what, I'm not even looking at it like that," Price said. "Our whole team is concerned with the individuals in Moore that have lost lives and family members and loved ones."
The tourney was slated to begin Wednesday and follow the usual double-elimination format but was pushed back a day and now will begin Thursday and operate in a pool-play format.
The Jayhawks, who are the No. 6 seed, will be in a pool with No. 2 Oklahoma State, No. 3 West Virginia and No. 7 TCU. The four teams — along with the other four in the opposite pool — will play each other Thursday, Friday and Saturday, and the winners of the two pools will meet Sunday for the championship.
Big 12 commissioner Bob Bowlsby said the conference considered canceling the tournament altogether but decided to play on when government officials in Oklahoma City said moving forward as planned could help the healing.
"We believe the tournament can serve as a testament to the strong Oklahoma spirit and to the resiliency of the Oklahoma people," Bowlsby said.
Added Oklahoma City mayor Mick Cornett: "We are very appreciative of the consideration by the participating teams and the Big 12 Conference. We encouraged and supported the decision to play the championship in a format comfortable to the Big 12."
Kansas will open tournament play at 4 p.m. Thursday against West Virginia. The Jayhawks then will face Oklahoma State at 7:30 p.m. Friday and TCU at 7:30 p.m. Saturday.
More like this story on KUsports.com