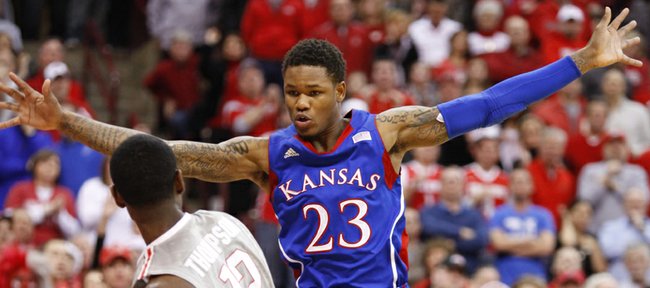 DraftExpress.com says Kentucky's Nerlens Noel will be taken No. 1 overall and Kansas University's Ben McLemore No. 2 in the 2013 NBA Draft.
NBAdraft.net flip-flops, going with shooting guard McLemore at No. 1 and power forward/center Noel No. 2.
Is the order of any consequence to McLemore?
You bet.
"I think it'd be important to me, being the No. 1 draft pick and that a shooting guard hasn't been a No. 1 pick for a while, for years," McLemore told NBA.com before Thursday's NBA combine in Chicago. "It'd be very important to me to make history. It would be great to be No. 1, being able to help my family out."
McLemore said he was aware no shooting guard has been taken No. 1 overall since David Thompson in 1975.
"I actually looked that up and did some research on that and saw that," McLemore said. "I realized I can make history again, so I've just been working hard each and every day. You have to have the mind-set to go get something that you want. I have the mind-set if I want to be the No. 1 pick, I've got to work for it. I know it's head-to-head with Nerlens and me, and we both have to work for that spot."
McLemore, who was listed at 6-foot-5 with shoes at KU, checked in at 6-43⁄4 with shoes and a 6-73⁄4 wingspan (according to ESPN's Chad Ford) in Chicago. Noel measured 6-111⁄2 with shoes, with a 7-51⁄2 wingspan and 9-foot standing reach.
The overall No. 1 pick will receive $4,436,900 the first year; $4,636,600 the second and $4,836,300 the third. The No. 2 pick will net $3,969,800 the first year, $4,148,500 the second and $4,327,100 the third.
"It's just a blessing to know I'm going to be able to take care of my family," McLemore said.
He was asked how special a player he can be. "Pretty special. I think I can impact a lot in the NBA, especially with my jumping and athleticism, just being a humble person and going out there playing the game I love," he said.
McLemore didn't dispute comparisons to NBA veteran Ray Allen.
"Especially with shooting ability. I don't know about the athleticism anymore," he said with a smile. "I compare myself with him a lot — getting myself open, coming off screens. I think it's a great comparison, me and Ray Allen."
McLemore, who is not competing in drills at the combine per his status as a potential No. 1 pick, said he will hold one to three individual workouts for teams. Top-five picks generally have little to gain and potentially a lot to lose if flaws are found during drills.
"I don't know. Either one to three teams is the most I'll be working out for," he said. "I'm waiting on the process."
Withey in Chicago: Former KU center Jeff Withey, who is regarded as a first-round pick, did work out at the combine.
"It's similar to games at LeBron (James camp)," Withey told hoopsworld.com. "I'm used to being around top names. We play against a lot of great players in the Big 12. I know a lot of these guys from camps and stuff.
"Human nature you are looking to your left and see a guy hit a shot, you want to match that," Withey added. "If you don't you kind of get down on yourself. But I am not too worried about everyone else. I'm trying to focus on myself and get better. If I miss a shot I know I'm going to make the next one. It's the mentality I have."
Mean tweets: Future KU guard Andrew Wiggins was amazed at the negative tweets he received on Twitter following Tuesday's announcement that he'd chosen KU over Kentucky, North Carolina and Florida State. Some fans of the losing schools wished ill upon the Huntingon (W. Va.) Prep senior. One fan hoped he'd tear both his ACLs. Another wanted to break Wiggins' neck. Some others attacked him with racial slurs.
"Wow, this is bad," Wiggins told Huntington Herald-Dispatch reporter Grant Traylor as he scrolled through the tweets 15 minutes after his signing ceremony.
Huntington Prep coach Rob Fulford didn't like what he read.
"Social media has made recruiting kind of a disaster, honestly," Fulford told Traylor. "There are so many people who have access to those (players) that they normally wouldn't. It's really dangerous."
Vitale gala, graduation: KU coach Bill Self has a busy weekend ahead. He, former Florida State football coach Bobby Bowden and former UConn basketball coach Jim Calhoun, will be honored at tonight's Dick Vitale Gala at the Ritz-Carlton in Sarasota, Florida. The Gala is a fundraiser for cancer research. Self on Sunday will watch six Jayhawks graduate. They are: his daughter, Lauren, plus current seniors Elijah Johnson, Travis Releford, Jeff Withey and Kevin Young as well as former KU center Cole Aldrich, an NBA free agent who finished last season with the Sacramento Kings.
More like this story on KUsports.com