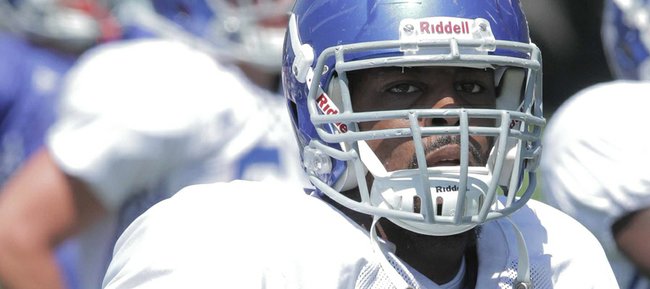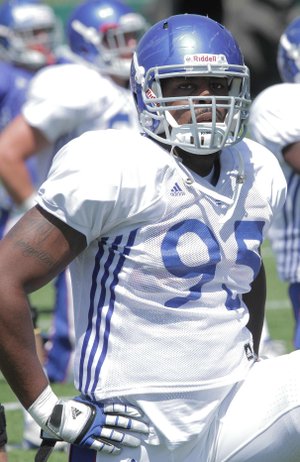 Former Kansas University football defensive end Josh Williams was one of seven undrafted free agents from KU who was invited to last weekend's mini-camps of various NFL teams.
Williams, a 6-foot-4, 255-pound pass rusher who played one season in Lawrence after a four-year career at Nebraska, landed on the radar of the Chicago Bears, who also extended a mini camp invitation to former Kansas linebacker Tunde Bakare.
Both players are long shots to make the roster, but even if Williams' playing career ends after his tryout with the Bears, his impact on the Kansas program will linger and could go well beyond the modest stats — 24 tackles, 2 QB hurries and 3 fumble recoveries — he put up in 2012.
The reason? Ben Goodman, a sophomore-to-be from Beaumont, Texas, who might be on the brink of a major breakthrough with the Jayhawks — thanks in no small part to Williams.
Goodman, 6-3, 255, appeared in 11 games as a red-shirt freshman and finished with 21 tackles, including 3.5 for loss and one sack. Although he currently is listed with the second string at the Buck position — juco transfer Chris Martin is on the first team — Goodman opened eyes with his play this spring, and KU coach Charlie Weis credited Williams for part of Goodman's development.
"First of all, he learned by watching Josh Williams practice last year," Weis said of Goodman. "Josh took him under his wing. Ben was like his puppy dog. One of the best things that Josh left with us was his work ethic. He was wonderful, and Ben was his guy. Ben has carried that over. He goes full-speed on every play, just like Josh did. I called Josh out in front of the team at the end of the year. I said, 'Ben Goodman's performance is because of you. Ben Goodman is going to be a good player because of you.' I told him, 'When you leave here, even though you're leaving a team that went 1-11, Ben owes you a great debt, because that's why he's going to become a player around here.'"
Other former Jayhawks who participated in NFL rookie minicamps last weekend were: offensive lineman Tanner Hawkinson, a fifth-round draft pick of the Cincinnati Bengals; safety Bradley McDougald, quarterback Dayne Crist and defensive end/fullback Toben Opurum with Kansas City; cornerback Greg Brown with San Diego; and offensive lineman Trevor Marrongelli with Detroit. Offensive lineman Duane Zlatnik also participated in Jacksonville's minicamp May 3-5.