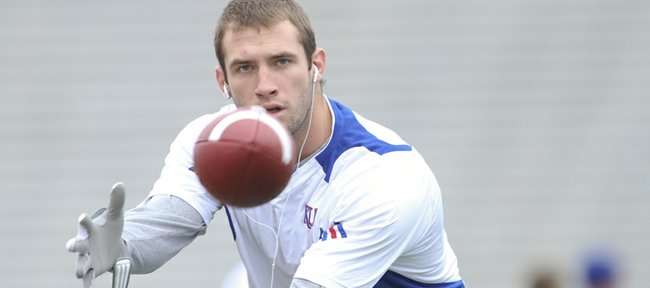 If the athletes he coaches hold him in the same regard as the guys he played with, Kale Pick could have a long, successful coaching career.
Pick, a Dodge City native and former Kansas University wide receiver, officially joined KU football coach Charlie Weis' staff as a graduate assistant on Monday.
The quarterback-turned-wide-receiver will serve as a graduate assistant for KU's offense and will work closely with wide receivers coach Rob Ianello. Those who called Pick a teammate during recent years believe he will bring a lot to the Jayhawks' passing game.
"There is no doubt in my mind that he will be a great coach," said former KU tight end A.J. Steward, now in his second season on the coaching staff at Rice University. "He's a student of the game, a hard worker and a very respected person. He will be a tremendous asset to KU's football program."
The former Jayhawks interviewed for this article all pointed to Pick's attention to detail and strong desire to improve when explaining why they believed he would succeed in his new role.
"No one out-worked Kale," said former KU tight end Tim Biere. "Whether it was in the weight room or in the film room, he was always working to be the best. That work ethic led him to be a great player and one of the most respected members of the team. I have no doubt that these qualities will translate well into coaching and that he is taking the first step in what will be a very successful career."
Fellow wide receiver Daymond Patterson, who suited up alongside Pick during the 2012 season, said Pick's football IQ surfaced throughout his career as a Jayhawk,
"I think Kale is going to be a really good coach," Patterson said. "He was an extremely smart player and was always able to pick up schemes and the playbook very easily."
Although his former teammates were thrilled for KU's newest assistant coach, Steward cautioned that the transition from teammate to coach could be tough considering Pick's close ties to so many players on the roster.
"It has its pros and cons," Steward said. "On one hand, he knows the system and can be a huge help to young players that are trying to learn. But it's going to be tough for him, growing that coaching relationship with guys who still look up to him as their teammate. Ultimately, he will be a good fit, though, because he is a respected guy."
KU-Rice kickoff set
KU officials on Tuesday announced that the school's Week 2 football game, Sept. 14 at Rice, would kickoff at 6:30 p.m. The game will be televised by CBS Sports Network.
KU opens the 2013 season Sept. 7 at home against South Dakota. No other game times have been released.
Road trip continues
KU coach Charlie Weis will close out the week with the next two stops on his "Preview Party with Charlie Weis" tour. He'll be in Houston, at a happy hour from 7-9 tonight at The Armadillo Palace, and at the Dallas Market Center from 6:30-8:30 p.m. on Thursday.
Weis kicked off the event last week in Denver by previewing the upcoming season and offering up his thoughts on the state of the program.
More like this story on KUsports.com