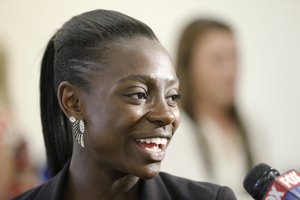 Paris Daniels earned 23 points, Diamond Dixon 20, Andrea Geubelle 18 and Francine Simpson 15 in helping the Kansas University women's track and field team to its first outdoor Big 12 title in school history in a three-day meet that concluded Sunday.
Why then did Geubelle spend most of her time Monday afternoon talking about other athletes? Because she has come to realize that track is a team sport, and she marveled at how many teammates did what they had to do for the squad to make history.
"Coming into college, I said I do track and field because it's an individual sport, and I don't have to rely on anybody else," said Geubelle, who won the triple jump and placed second to teammate Francine Simpson in the long jump. "That's always been my attitude about it until last year when I saw what this team had."
Those thoughts were reinforced over the weekend.
Lindsay Vollmer competed in seven events to earn 10 points for winning the heptathlon, but she didn't stop there. She also picked up five points by placing fourth in the high jump. She didn't place high enough to score in the javelin, but she tried and finished 13th.
"We had girls who were expected to get zero and one point, and they (combined for eight points)," Geubelle said, referencing Hannah Richardson and Natalie Becker, who took fourth and sixth in the 1,500 meters.
"It's girls like that who will put their heart and soul on the track because they know that our team has the capability of being No. 1," Geubelle said. "I know that going into nationals we're going to have the same mentality. We don't settle. I've noticed that through this year. We don't take anything for granted. We won an indoor Big 12 title, but we knew outdoor wasn't going to be easy. We worked hard for it, and it paid off."
Dixon doesn't usually compete in the 200, but thanks to her doing so in the Big 12 meet, Kansas inflated its point total by five because Dixon's 23.38 was good for fourth to go with the 10 points she earned for winning the 400 in 51.73 and the five points for running a leg of the victorious 4X100 and 4X400 relays. In earning the sport's national female athlete of the week, Daniels joined Dixon on both relay teams, won the 200 meters and placed second in the 100 meters. Simpson doesn't usually compete in the triple jump. She earned five points with a fourth-place finish.
"It's amazing," Geubelle said of being part of a conference championship. "To be able to be a part of history is great. To watch this program go from lower half of the Big 12 to the No. 1 team has been awesome to watch over the last four years. To be a part of that, I'm pretty blessed."
More like this story on KUsports.com