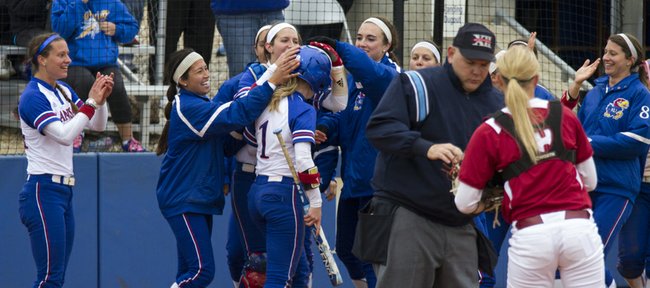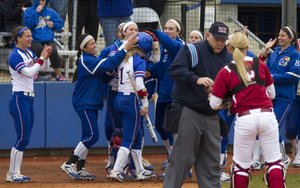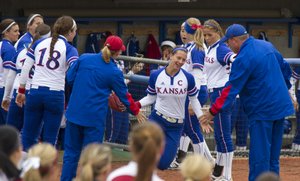 Kansas University softball pitcher Kelsey Kessler dropped her head, believing all her hard work had gone to waste because of one elevated pitch.
Oklahoma's Shelby Pendley — the Big 12 RBI leader — was the tying run with two outs in the top of the seventh, and she had just launched a Kessler pitch deep to center field.
"That's out of here," KU coach Megan Smith thought in the dugout, before hearing assistant Adam Roorbach yell, "That's in. That's in."
Sure enough, the bitter Kansas weather gave KU a huge assist on what turned out to be a monumental day.
The north wind continued to gust straight in, and the ball that appeared to be a sure home run began to lose its life. KU center fielder Alex Jones — with her back nearly pressed up against the fence — reached up to snare the final out, and KU came away with a 2-0 nightcap victory over No. 1 Oklahoma on Sunday at Arrocha Ballpark.
KU's first victory over a top-ranked opponent also came on Senior Day.
"We believed all year that we were a very talented team, and we can beat the best when we play up to our potential," KU senior left fielder Maggie Hull said. "It was just so exciting to see us come out seven innings strong, from senior to freshman."
After losing the opening game Sunday, 4-2, Smith gathered her players afterward and delivered a simple message: "I'm not satisfied, and you shouldn't be, either."
Though KU played well in the opening game — it was tied entering the seventh — Smith told her players they were good enough to take the next step and beat a team like OU.
The Jayhawks (31-16, 6-8 Big 12) did just that, thanks mostly to an exceptional performance in the circle from Kessler.
The freshman pitched a complete-game shutout, allowing seven hits to go with four strikeouts and two walks.
"She just steps up. She has ice-water in her veins," Smith said. "If it's a tough game, she's ready to go. Our freshmen did an awesome job of sending our seniors out on top today."
Want some perspective on how impressive it was to shut out OU? Consider this:
In their 47 previous games, the Sooners (44-4, 12-2) had been shut out just once, and that was more than two months ago (March 2 vs. No. 25 Nebraska).

OU came into the weekend averaging an NCAA-best 7.87 runs per game.

Just last weekend, Oklahoma had outscored Iowa State 44-1 in a three-game series — and each of those games lasted only five innings.
"We had a lot of heart going into this game. We wanted it for our seniors," Kessler said. "I'm glad I could get it for them."
The Jayhawks took the early lead in the first, when Alex Hugo punched a two-out single to left before Chaley Brickey drove a double to the left-field wall to make it 1-0.
Brickey later scored again on a passed ball in the sixth to set up the drama in the seventh.
After a leadoff single from OU's Brianna Turang, Kessler retired Lauren Chamberlain (the Big 12 leader in home runs) and Georgia Casey on flyouts before Pendley drove it to the wall in center.
"We've had a lot of close games where we've played some good teams tough," Kessler said. "Hopefully those games have taught us and got us where we are now."
Before the loss, OU had won six straight and 17 of its last 18.
KU is 1-5 all-time against top-ranked teams.
It was the final home game for KU seniors Rosie Hull, Mariah Montgomery, Morgan Druhan and Maggie Hull.
"I looked around to Mariah and A.J. (Alex Jones) and Rosie, who have been here four years, 'Our freshman year, would you ever have imagined beating OU, beating the No. 1 team in the nation at home?' We would have never imagined," Maggie Hull said. "This program's gone really far in four years, and it's only going to be going up from here."
KU will start its final Big 12 series Friday at Iowa State.
Oklahoma 000 020 2 — 4 6 1
Kansas 010 010 0 — 2 4 1
W — Keilani Ricketts, 25-1. L — Alicia Pille, 13-8.
2B — Chanin Naudin, KU.
KU highlights — Alicia Pille CG, 6H, 2 ER, 5 BB, 7K; Chanin Naudin 1-for-3, 2B, RBI; Mariah Montgomery 1-for-2, HBP; Alex Hugo 1-for-4, R; Maggie Hull 1-for-4.
Oklahoma 000 000 0 — 0 7 1
Kansas 100 001 X — 2 5 1
W — Kelsey Kessler, 9-6. L — Michelle Gascoigne, 16-3.
2B — Lauren Chamberlain, OU; Georgia Casey, OU; Maggie Hull, KU; Chaley Brickey, KU.
KU highlights — Kelsey Kessler CG, 7H, 0ER, 2BB, 4K; Chaley Brickey 2-for-3, 2B, R, RBI; Alex Hugo 1-for-3, R; Maggie Hull 1-for-3, 2B.
More like this story on KUsports.com