Heading into the bottom of the ninth inning Saturday against Baylor, Kansas University's baseball team had been outhit by the Bears, 16-8, yet sat tied with a chance to win.
Three straight two-out singles later, the Jayhawks spilled over the top of the dugout fence and celebrated a 6-5 victory which gave them their fourth series win in four tries against Big 12 teams from Texas. It marked the first time in school history that the Jayhawks (29-18 overall, 11-9 Big 12) had won the series with all the Texas schools, and it came at an ideal time.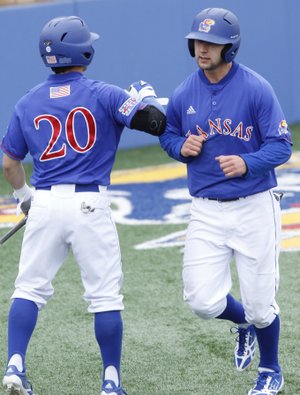 "We needed to bounce back and find a way to win a series in our home ballpark," said KU coach Ritch Price, whose team was swept at West Virginia last weekend. "We haven't won many games like that, and it seemed like we were one base hit away from disaster the whole ballgame."
As it turned out, it was base hits that spelled disaster for the Bears (25-22, 11-8). Nine of KU's 11 hits Saturday afternoon were singles. For a team that has launched just eight home runs all year, the more quiet contact has started to sound a lot louder.
"When you string 'em together like that in the ninth with two outs, they feel like they're doubles in the gap and
home runs," said Tucker Tharp, who scored the game-winning run on Kevin Kuntz's two-out, two-strike single up the middle.
Tharp scored twice Saturday and finished 2-for-3 at the plate. He credited his single in the ninth to his head coach.
"I'm on deck and he goes, 'It's gonna be a first-pitch fastball,' so I was just swinging away first pitch, trying to hit something hard somewhere," Tharp said.
Second baseman Justin Protacio followed Tharp's ninth-inning rally-starter with a single through the left side, and that set up the winning at-bat by Kuntz, who scored the game-tying run in the bottom of the eighth off a smash single up the middle by senior third baseman Jordan Dreiling.
"Once Justin got the hit, you knew we were gonna do something special and at least have a chance," Tharp said.
KU's chances appeared to be fading when Kuntz faced an 0-2 count early in the game's final at-bat, but the senior shortstop said the Jayhawks' dugout had identified that the Bears were tipping off their pitches, and that allowed him to wait on a curveball instead of wondering what was coming.
"That was pretty huge," Kuntz said of the good fortune. "I almost started celebrating right when I hit it, but I wanted to make sure he crossed the plate before I started celebrating."
Despite pounding out 16 hits, Baylor never scored more than one run in an inning thanks to the Jayhawks' strong pitching. The Bears left 10 runners on base and struggled to come up with the knockout blow off starting pitcher Wes Benjamin and relievers Robert Kahana and Jordan Piché.
The Bears loaded the bases in the top of the fifth with just one out but only plated one run on a sacrifice fly. In the top of the eighth, with the Jayhawks' closer trying to keep his team within reach, Piché got out of a bases-loaded, no-outs jam with minimal damage with a double-play ball and a strikeout.
"That was huge," Kuntz said. "Kept us in it."
Added Price: "I was almost kicking myself in the dugout thinking we went to him too soon or too late. That's probably the first time I've done that all year, but thank goodness the players picked us up."
Protacio, Alex DeLeon, Ka'iana Eldredge and Dakota Smith each added an RBI earlier in the game, and, looking back, Kuntz said each one of those at-bats was just as important as his in the ninth.
"It seems like every game we've played in it comes down to one or two little things," Kuntz said.
Asked if his teammates felt they had become known for nickle-and-diming their way to one-run games, Tharp winced and then answered.
"I wish I could say no, but I guess we are," he said. "It's just fortunate that things have been going our way this year. We just have to keep it up."
The Jayhawks will go for the series sweep at 1 p.m. today, with junior Frank Duncan getting the start on the mound.
Baylor 011 011 010—5 16 2
Kansas 021 010 011—6 11 1
W – Jordan Piche' (6-2), L – Crayton Bare (5-2).
2B: Nathan Orf, BU, Duncan Wendel, BU, Jordan Dreiling, KU. 3B: Tucker Tharp, KU.
KU Highlights: Wes Benjamin 5 IP, 10 H, 3 ER, 2 K; Robert Kahana 2 IP, 4 H, 1 ER, 0 K; Piche' 2 IP 2 H, 0 ER, 2 K; Justin Protacio 2-for-4, RBI, run; Kevin Kuntz 2-for-4, RBI, run; Alex DeLeon 1-for-3, RBI, run; Jordan Dreiling 2-for-4, RBI, run; Dakota Smith 1-for-3, RBI; Ka'iana Eldredge 1-for-3, RBI; Tucker Tharp 2-for-3, 2 runs.
More like this story on KUsports.com