Never one to concern himself with individual statistics, Kansas University starting pitcher Thomas Taylor certainly did not think Friday night would be the night he would move into the Top 5 on KU's all-time strikeouts list.
After giving up a run and struggling with his command in the top of the first inning against Baylor, Taylor regrouped and threw six strikes in a 3-2 KU victory over the Bears at Hoglund Ballpark. Taylor's strikeouts gave him 228 in his career, good for fourth place on KU's all-time list.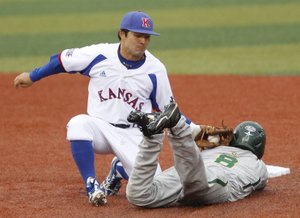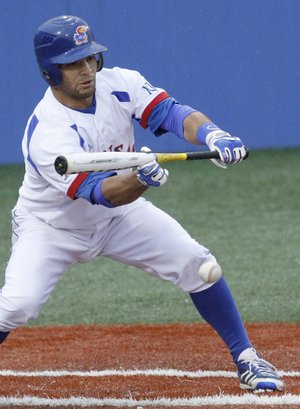 "I thought I was in for a long day in the first inning," said Taylor, a senior who improved to 5-1 after pitching 6.2 innings and giving up just two runs and four hits. "After that I settled down and tried to not worry about how hard I was throwing and let the defense do the work."
KU's defense was plenty sharp, limiting the Bears (25-21 overall, 11-7 Big 12) to four hits and two runs on a cold and damp night in which Taylor got better as the game went on and then turned it over to relievers Frank Duncan and Jordan Piche' to slam the door. Duncan, a former starter, faced just four batters in 1.1 innings. He struck out one and sat three down quietly. In the ninth, Piche' picked up his ninth save and lowered his nation's-best earned-run average from 0.60 to 0.58.
"I was particularly pleased with the way we grinded the win out," KU coach Ritch Price said. "We couldn't have scripted it any better."
The Bears led 1-0 until the bottom of the fifth, when the Jayhawks (28-18, 10-9) picked up three of their four hits in the game and plated three runs. Dakota Smith led off the inning with a double, Connor McKay followed with a bunt single and Ka'iana Eldredge and Tucker Tharp each dropped sacrifice bunts to set up Justin Protacio's two-RBI single.
"Any time you play a game in those kind of conditions, you know it's going to be low-scoring and you know you're going to have to execute," Price said. "And the execution of the short game set Protacio up to have the great at-bat."
Of the clutch at-bat, Protacio said: "I was just looking for something in the zone to hit and to be aggressive."
The Bears made things interesting in the seventh, with a run off a Taylor before he left for the night. But even though he went to the bench leading by just a run, Taylor was never worried about the outcome.
"Jordan and Frank came in and did awesome," Taylor said. "You feel pretty comfortable when you've got Piche' coming in at the end of the game. Everyone thinks we're gonna win, and he gets it done pretty much every time."
KU and Baylor will play Game 2 of the series at 2 p.m. today. Although he deemed Friday's victory a good start, Price pegged one clear goal for the rest of the weekend.
"We have to win the series," he said. "There's no doubt."
Baylor 100 000 100—2 4 1
Kansas 000 030 00X—3 4 2
W – Thomas Taylor (5-1), L – Max Garner (3-5), Sv – Jordan Piche' (9)
2B: Jake Miller, BU (2), Dakota Smith, KU.
KU Highlights: Taylor 6.2 IP, 4 H, 2 ER, 6 K; Frank Duncan 1.1 IP, 0 H, 0 ER, 1 K; Piche' 1 IP 0 H, 0 ER, 1 K; Justin Protacio 1-for-4, 2 RBI; Dakota Smith 1-for-3, run; Connor McKay 1-for-3, run; Ka'iana Eldredge 0-for-2, run, RBI.
More like this story on KUsports.com