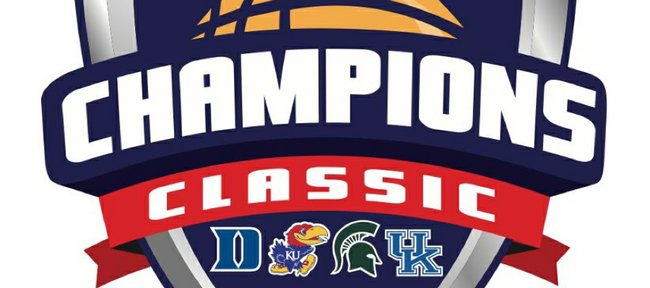 One of the youngest teams in Kansas University basketball history will embark on a challenging schedule in 2013-14.
The Jayhawks will meet Duke in the third and final Champions Classic, set for Tuesday, Nov. 12, in Chicago's United Center. Michigan State will meet Kentucky in the other game of the one-day doubleheader.
KU is 0-2 in the Classic, having lost to Kentucky in 2011 and Michigan State in '12.
The Journal-World has learned the four schools have had talks about renewing the wildly successful Classic, presented by ESPN and State Farm Insurance.
The Jayhawks also will play in the Battle of Atlantis, set for Nov. 28-30 on Paradise Island in Nassau, Bahamas. The field consists of KU, Southern California, Villanova, Tennessee, Xavier, Wake Forest and UTEP. The eighth team is rumored to be Michigan State, though no announcement has been made.
KU has three players in the 2012-13 rotation expected to return in junior-to-be Naadir Tharpe and sophomores Perry Ellis and Jamari Traylor. Red-shirt freshman Ben McLemore is expected to turn pro.
Next season, Kansas will travel to Colorado in the completion of a home-and-home series. Georgetown and San Diego State will visit Allen Fieldhouse.
It's also possible KU will play Arkansas in a Big 12/SEC Challenge game in Allen Fieldhouse. The two conferences have yet to officially announce formation of the challenge. Criticism of the event points to the fact four of the 14 SEC teams won't play in the challenge since there are only 10 Big 12 teams.
The nonconference schedule is normally announced sometime in April or May, with the Big 12 portion of the slate being revealed during the summer.
Wiggins mum on choice: The country's No. 1 recruit, Andrew Wiggins, is one of three uncommitted players to compete in Wednesday's McDonald's All-America game in Chicago. The others: 6-8 guard/forward Aaron Gordon of Archbishop Mitty (Calif.) High and 6-5 guard Keith Frazier of Kimball (Texas) High.
Wiggins told the Chicago Tribune on Sunday that he will announce for either KU, Kentucky, Florida State or North Carolina by May 15. He would only say he was fond of all four schools on his list.
The 6-8 forward averaged 23.4 points, 11.2 rebounds, 2.6 blocks and 2.5 assists for Huntington Prep (W.Va.), which finished 30-3. He is the son of former NBA player Mitchell Wiggins and Canadian track Olympic medalist Marity Payne-Wiggins, both graduates of Florida State.
Wiggins told the Tribune the plan is "to get bigger, stronger, faster. Just be ready for the next level."
Better start: Michigan sophomore point guard Trey Burke on the Wolverines racing to a 13-0 lead in their 79-59 Elite Eight victory over Florida on Sunday in Dallas.
"We felt like we came out against Kansas pretty sluggish. And we felt today the key was to come out and throw the first punch," Burke said.
The Wolverines overcame a 14-point deficit in the final minutes of a Sweet 16 overtime victory over KU.
"The game against Kansas, with us coming back and winning, I guess just after that game we were saying, 'God has something in store for us going to the next game,'" Michigan's Tim Hardaway Jr., said. "We were just running and gunning and having fun. That's what we're best at. If we continue to do that, we should go really far."
TV talk: CBS Sports and Turner Sports' coverage of the 2013 NCAA Tournament across TBS, CBS, TNT and truTV is averaging 9.4 million total viewers to date, up 9 percent from last year's 8.6 million viewers, and is tied with 1994 as the highest average for the NCAA Tournament through the Saturday Regional Finals in 19 years (10.7 million, 1993).
CBS made the announcement Sunday.
The 2013 NCAA Tournament to date is averaging a national HH rating/share of 6.1/13, up 9 percent from last year's 5.6/12, and is tied with 2005 as the highest-to-date rating in 15 years (6.3/15; 1998).
Saturday's Regional Final coverage on CBS averaged 9.4 million viewers, based on Nielsen Fast Nationals, up 6 percent from last year's 8.9 million viewers.
Regional Final coverage on Saturday earned a HH rating/share of a 5.8/12, up 4 percent from last year's 5.6/12.
More like this story on KUsports.com