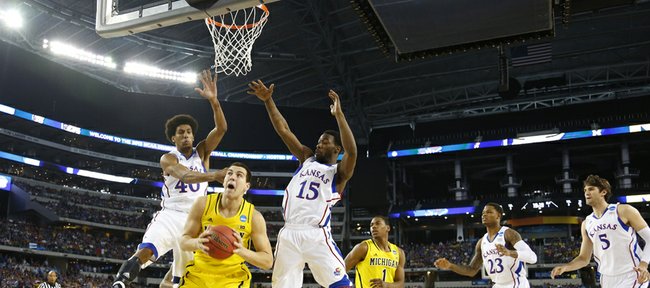 Photo Gallery
Kansas basketball v. Michigan NCAA (Sweet 16)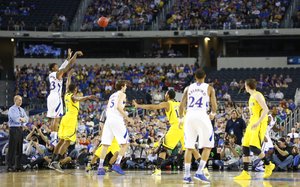 Images from Friday night's game against Michigan at Cowboys Stadium in Arlington, Texas.
Box score
Podcast episode
Kansas coach Bill Self talks after his team's 87-85 overtime loss to Michigan on March 29, 2013.
Podcast episode
Kansas seniors Travis Releford and Jeff Withey talk briefly on the podium following the Jayhawks' 87-85 overtime loss to Michigan on March 29, 2013.
Podcast episode
Michigan coach John Beilein and playersTrey Burke, Mitch McGary and Tim Hardaway Jr. talk to reporters following the Wolverines' 87-85 overtime victory over Kansas on March 29, 2013.
Arlington, Texas — Michigan's Mitch McGary was a bit surprised to get whacked in the groin area by Kansas' Elijah Johnson in the opening moments of Friday's overtime victory over the Jayhawks.
"I didn't know Elijah played like that. I don't know him or anything. I was just setting a screen for Trey (Burke) and he came up and whacked me right in the crotch. He used his fist. He dropped me," McGary said of what was deemed a flagrant one foul.
"I was in the fetal position. I was waiting for him to blow the whistle and they did. I was like, 'Check the monitor.' And they were like, 'He was just cutting for a screen.' And I was like, 'No, check the monitor.' It was intentional."
Johnson said it was not intentional.
As far as coach Bill Self's take: "I didn't see it, but obviously the official said he did it, so he did it. The film doesn't lie. That's not how we play. And that was not smart at all. And then he has a bad second foul and a charge (playing three minutes total the first half), when all he had to do was stop and shoot it. The third foul he plays for 15 seconds and gets that one. We played pretty well the first half considering our starting point guard didn't play at all. The second half he did some good things making shots. I know he wishes he had a couple of those possessions back."
KU coach Bill Self on Ben McLemore's decision whether to turn pro or return to KU for a sophomore season; most mock drafts believe McLemore will turn pro and be taken in the top three: "We'll talk about it," Self said. "We made the decision a long time ago to wait until after the season to talk about it. It's after the season now, but there's nothing to be spoken about this weekend. I'll support whatever direction he and his family want to go. He needs to explore. He needs to look into doing what would be potentially great for his family. If it's the right time he needs to go. If not he should stay. We'll discuss it," he added not sure when any decision would be announced either way.
Former KU standout Paul Pierce of the Boston Celtics had a pair of twitter posts about the Jayhawks on Friday:
Predicting big things for Ben McLemore tonight in a Jayhawks win #rallycry
Our most significant opportunities will be found in times of greatest difficulty. Rock Chalk Jayhawk
• Several members of KU's basketball Pep Band are part of the KU Wind Ensemble that performed a world premiere of a new symphony Tuesday night at Carnegie Hall in New York. The ensemble boarded a bus in New York shortly after the performance and arrived Wednesday night in Lawrence. The group flew from KC International to Dallas on Thursday. Then, after playing for the Jayhawks this weekend, they will return to Lawrence to perform the Midwestern premiere of the symphony Tuesday night at the Lied Center.
Here are the musicians who made both whirlwind trips: Marina Hague, Philip Kaul, Colin Lohrenz, Stephen Meiller, Michael Solomon and Amber Thoennes.
The future: KU loses seniors Elijah Johnson, Travis Releford, Jeff Withey and Kevin Young to graduation. The Jayhawks will be bringing in a five-player recruiting class of 2013: No. 25 Brannen Greene, 6-7 small forward, Tift County High, Tifton, Ga.; No. 26 Wayne Selden, 6-5 shooting guard, Tilton (N.H.) School; No. 31 Conner Frankamp, 6-0, combo guard, Wichita North; No. 37-ranked Joel Embiid, 7-0 center, Rock School, Gainesville, Fla.; and No. 134 Frank Mason, 5-11 point guard, Massanutten Military Academy, Woodstock, Va. KU has one schlolarship left to give, two if, as expected, Ben McLemore heads to the NBA. And more if anybody elects to transfer.
KU is still in the running for No. 1 ranked Andrew Wiggins, 6-7 forward from Huntington (W.Va.) Prep, who is considering KU, Kentucky, North Carolina and Florida State.