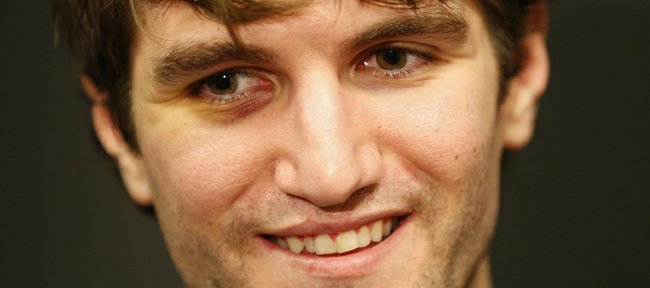 Photo Gallery
NCAA South Regional Practice Day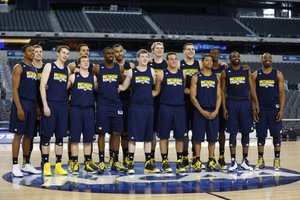 Images from Thursday's practices at Cowboys Stadium in Arlington.
Arlington, Texas — Talented true point guards and pure centers have become rare commodities in college basketball.
Michigan has the best point guard in the nation in Trey Burke, and Kansas University has the top center in shot-blocking sensation Jeff Withey, two of the most compelling figures in the NCAA Tournament.
Burke, a 6-footer, and Withey, a 7-footer, play polar-opposite positions, but that doesn't mean their worlds won't intersect during today's South Regional semifinal inside Cowboys Stadium scheduled to tip off at 6:37 p.m.
Quite the contrary. Burke will spend a great deal of mental energy trying to figure out how to minimize Withey's influence, even though Withey obviously won't be guarding him.
Michigan coach John Beilein said Burke has "seen everybody," checking him this season, not just point guards. Of the possibility Travis Releford could guard Burke at times, Beilein said, "The comparison I make is (Indiana's) Victor Oladipo, who is 6-4 and a very, very talented defensive player. So people have switched different people onto him."
Burke consistently finds a way to get where he needs to go, regardless of the size and quickness of the man guarding him. I asked him what will change the way he goes about his job more, the man shadowing him or Withey on the back line?
"I think Jeff Withey, just because our offense is set up on the guards getting into the paint," Burke said. "There's going to be times when we get into the paint. When we get into the paint, when you have a 7-footer there, you have to make the right decision, or you'll have a bad shot or a blocked shot.
"I think our biggest area tomorrow is just trying to make the right decision when we get to their front-court, get into the paint, just making the right play. I think our offense will be as successful as our decisions in the paint."
Withey's feet are so nimble, his timing so precise, his focus on the ball so sharp, that he can bait guards into thinking they are making good decisions and turn them into blocked shots.
Asked to name the best defender he has faced, Burke said, "probably Oladipo. As far as on the ball, I have to give it to (Ohio State's Aaron) Craft. They're both really good at moving their feet, anticipating. I honestly had fun playing against them. They make me work, and they make me better, and that's all this is about."
Burke makes sure Michigan gets good shots in transition and in the half court. Elijah Johnson explained why KU opponents have trouble getting good shots.
"Even if we give people shots, it's not shots that they're used to taking," Johnson said. "We try to get them in different spots or try to get them to go to a different rhythm or rotation or something that we know they're not 100-percent comfortable with."
Johnson explained why Releford is the key to the perimeter defense.
"He's talking to us and telling us constantly what's going on and what we shouldn't be giving up and what we should be paying attention to," Johnson said.
Both guards gave credit to the assistant coaches for detailing how to force opposing players out of their comfort zones, how to take away their pet moves. And with all the screening Michigan does, KU's players come into the game equipped with inside knowledge on all of Michigan's players, not just their primary assignments.
"The way you play Michigan is probably similar to the way you'd want to guard (North) Carolina because they play four guards," Kansas coach Bill Self said. "Michigan is basically playing four guards."
Consequently, Self said, "It comes down to not necessarily how one guy guards one, it's how any of your guys guard that individual when he has the ball, because there could be a lot of switching involved."
Burke ensures Michigan doesn't give away possessions. Withey enables perimeter defenders to play boldly.
"Having Jeff back there, we know we can push them out," Johnson said of how Kansas defends. "And if they want to catch the ball at half court, we're cool with that. Or, if they want to back-door, which a lot of people don't try, just seeing Jeff down there, you know, we don't appreciate it as much as we probably should because we've been playing with him for four years."
Kansas will try to keep Burke from getting to the paint, and if Johnson has trouble, Naadir Tharpe and Releford are available as options. Once Burke gets to the paint, Withey will dictate what happens next.
A sophomore from Columbus, Ohio, who averages 18.8 points and 6.7 assists and shoots .387 from three-point land and .801 from the free-throw line, Burke said the key to playing against Withey is "to get as deep in the paint as possible. When we get down there, just making wise choices. I know he's one of the best shot-blockers, if not the best in the country. My job is just to try to hit the layup when I can and hit the big man when I can. It's all off of reads from Jeff Withey, really."
Can the nation's best college basketball player at steering an offense find a way to negotiate his team around the most imposing roadblock in the nation? The answer could determine the outcome of a game that feels more like a Final Four showdown than a regional semifinal.