Photo Gallery
NCAA South Regional Practice Day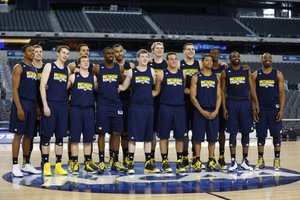 Images from Thursday's practices at Cowboys Stadium in Arlington.
Arlington, Texas — Ben McLemore stood behind the three-point line and confidently swished long-range shot after long-range shot during Kansas University's 40-minute shoot-around on Thursday in cavernous Cowboys Stadium.
The 6-foot-5, 195-pound freshman from St. Louis looked more like the guy who has averaged 15.8 points a game off 49.4 percent shooting entering today's 6:37 p.m. NCAA South Regional Sweet 16 game against Michigan than the one who went 2-for-14 and scored 13 points total in last weekend's second- and third-round victories over Western Kentucky and North Carolina.
"Coach (Joe, assistant) Dooley pointed out that I usually shoot with my fingers spread apart. But he said lately that he's been seeing me shoot with my fingers close together, which is probably why some of my shots were long. He got me shooting back to normal," McLemore said, explaining some technical issues that may have caused his recent shooting woes.
"Coach said I was shooting a flat shot. When I do that, the ball is like a line drive or long. He said I was having a quick release instead of shooting the regular shot I shoot. I've been in the gym, getting extra shots with coach Dooley and (Kurtis) Townsend, and now it's looking good."
McLemore explained the fixed glitch in his shot to wave after wave of reporters who approached him during a 30-minute media session in a locker room in the NFL stadium.
He nixed the notion that there are any other reasons for his having made one of his last 12 threes over the last three games for the Jayhawks (31-5). Some have gone so far as to speculate McLemore's mind may already be in the NBA, where he's expected to be a top-three pick in the June draft.
"There wasn't anything outside of basketball, as far as (anybody) talking to me and getting in my ear. I just had a few off nights. I just missed some shots," McLemore said. "I still did some other things to help my teammates out (like hit nine of 10 free throws in the two NCAA wins). I got some rebounds (11) and things like that.
"When I start missing shots, people think something's wrong or that something's going on away from the court. That wasn't the deal at all. I was just missing shots. I just need to go back out there and play free again."
He said the NBA issue is far from his mind.
"Right now, I don't know at this point in time (if he'll enter draft). I'm just trying to focus on this year," McLemore said, repeating the stance he's taken all season. "It's just a blessing to be here, so right now at this point I don't know."
McLemore did agree with an assertion that, for whatever reason, he hasn't been having as much fun of late.
"Coach (Bill Self) talked to me. He said he hasn't really seen a smile on my face the last couple weeks," McLemore said. "Everybody knows when I'm on the court I have a big smile on my face. I definitely agreed with him on that. I've got to play my game, have fun and don't worry about making mistakes."
Blessed with a shooter's mentality, McLemore said he won't by shy about firing away against Michigan tonight.
"Getting extra shots up ... I'm confident," he said. "I have my rhythm back. As a shooter, you've got to keep shooting the ball. I will not be hesitant. I will be aggressive like I always am to help my teammates out."
Self enters the game confident McLemore will play well against the No. 4-seeded Wolverines (28-7).
"He's trying hard. He's tried hard. And he's going to play great this weekend," Self said. "I really believe that. And I think he believes that. Everybody goes through phases where maybe they don't play their best. Some people can put up numbers when they don't play their best, but still they're playing as poorly, when a guy doesn't play their best, when he doesn't put up the numbers. He doesn't have the ball in his hands when he's not playing his best, to go get assists, drive it. That's not who he's been all year long. Certainly for us to have the best chance, everybody needs to play well, and he's a key part of everybody playing well. We believe he'll play well."
Self hasn't shied from speaking with McLemore this time of year.
"We're not going to leave him alone. It's not like a pitcher with a no-hitter going into the seventh, where nobody talks to him," Self said. "So we try to work with him, but not work with him from a situation where, 'Hey, you know, you've got to do this, you've got to do that.'
"If you are in a batting slump and strike out three times in a row and believe that could happen a fourth time or you know you are going to get a hit … that's kind of his situation. He has to know he's going to get a hit, and I believe he'll rise to the occasion."
McLemore's teammates are in his corner.
"The biggest thing that we've been saying to him constantly is, 'We support you, no matter what. You've carried us a long way, you've helped us a lot. And we know you'll be there when we really need you. When you're struggling, we're not going to stray, so keep the confidence.' And I think he has," senior Elijah Johnson said. "I don't think he's dropped his head too much. I know he's been a little frustrated. In the North Carolina game (in which he sat much of second half), I didn't see anybody on the bench more excited than him, jumping up and down and being happy. He'll brush it off. I think he's stronger than that."
Noted Travis Releford: "We tell him, 'Just keep playing.' We got his back."
KU's guards will have to be up to the challenge against the likes of Trey Burke, Tim Hardaway Jr. and Nik Stauskas today if they hope to defeat Michigan and advance to Sunday's regional final against Florida or Florida Gulf Coast.
"Their guard play is great," McLemore said. "Burke's team around him feeds off him. He knows how to get teammates open. He has good vision and will attack the basket. I'll be guarding a lot of people. We're going to guard as a team. Everybody will guard."
More like this story on KUsports.com