Photo Gallery
NCAA South Regional Practice Day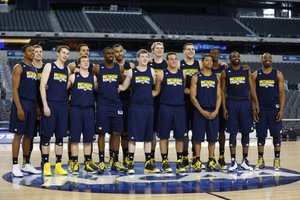 Images from Thursday's practices at Cowboys Stadium in Arlington.
Arlington, Texas — Reunions popped up everywhere Thursday afternoon inside Cowboys Stadium, site of this weekend's NCAA South Regional Sweet 16.
But while Kansas University staff members reconnected with old friends from Michigan and Michigan officials chewed the fat with folks from Florida Gulf Coast, only one reunion figures to have an impact on tonight's 6:37 tipoff between KU (31-5) and Michigan (28-7) — the hello-old-friend reunion of Kansas point guard Naadir Tharpe and Michigan big man Mitch McGary.
Before moving on to college, Tharpe and McGary played together for one season at Brewster Academy in Wolfeboro, N.H.
"We had a real good relationship," Tharpe said. "He's a good guy, a funny dude, and he plays hard. He's always played like that from when I knew him at Brewster to what I see of him now. Nothing has changed."
Nothing, including the fact that the former teammates still like to give each other a hard time. About 30 minutes before the KU locker room doors opened to the media, McGary was asked in Michigan headquarters what he remembered about KU's sophomore point guard.
"I just saw him and said, 'What's up?'" said McGary of Tharpe, with the kind of smile that seemed to indicate he wanted to say more. "We played prep school ball together my senior year, and he's a clown. He's one of my good buddies, and it's gonna be a good match-up, him and Elijah Johnson against Trey (Burke). Should be fun."
When told the freshman McGary, 6-foot-10, 250 pounds, affectionately referred to him as a clown, Tharpe's face lit up.
"He's definitely much more of a clown than me," Tharpe replied. "I actually got a chance to see him just before we walked in and got to tell him that he had been playing good and that hopefully he doesn't play as good (against us)."
McGary, who shined one summer during an AAU event at Allen Fieldhouse, considered joining Tharpe in Lawrence.
"Yeah, I did," said McGary, who has started both NCAA Tournament games for the Wolverines and is averaging seven points and six rebounds in 18 minutes per game. "(KU) coach (Bill) Self and Joe Dooley and Danny Manning talked to me, and I took an unofficial visit after that Jayhawk Invitational tournament. It was a good visit, but it wasn't the best fit for me."
Famous fathers
Michigan freshman Glenn Robinson III is one of three players on the UM roster with famous basketball fathers, but it's Robinson's old man, former Purdue star Glenn "Big Dog" Robinson Jr., whom KU fans might remember most.
Back in 1994, Robinson exploded for 44 points in an 83-78 Boilermakers Sweet 16 victory over the Jayhawks in Knoxville, Tenn.
"I haven't heard a lot of stories from that game," Robinson III said. "But he told me he dunked on (KU center, Greg) Ostertag. I have seen that video."
Junior guard Tim Hardaway Jr., whose father, Tim Hardaway, was a standout with the Golden State Warriors and Miami Heat, and sophomore forward, Jon Horford, whose father, Tito, played with the Milwaukee Bucks and Washington Bullets (and brother, Al, starred at Florida and with the Atlanta Hawks), also have NBA bloodlines.
Robinson III said the popularity of the trio's fathers has made the them well known everywhere they go.
"We always have an extra target on our backs, and there has been a little bit more attention on us at times," Robinson III said. "But it hasn't affected our locker room. We do a great job of not carrying egos because of that name we have, and I don't think that has affected this team."
Kansas Spartans?
With four Big Ten teams reaching the Sweet 16 and the popular Midwestern conference widely regarded as the best in the nation this season, many reporters wanted to know if KU reminded the Michigan players of any of their Big Ten brethren.
Each time, the same answer popped up.
"They're kind of like Michigan State," Robinson III said of the Jayhawks. "They're tough. They'll get into you when they guard you. Size, athleticism, they can run the floor and they're great at executing their offense and getting stops on defense. So it'll be a great game."
Roles reversed
In Lawrence, Kansas basketball is king and KU football is forced to do its best to exist in the shadows. In Ann Arbor, Mich., the opposite is true. With the Wolverines advancing to their first Sweet 16 in 19 years, junior forward Jordan Morgan said basketball fever has caught the Michigan fan base by storm during the past couple of weeks. But even when it doesn't, he understands.
"I don't think anything will ever top Michigan football," Morgan said. "And that's not a bad thing. We get lots of support, but Michigan football is like religion to a lot of people across the country."
Asked if being known as "the other UM" team was tough to take, Morgan did not so much as hint at disappointment.
"When you come here, you understand and appreciate the history behind that football program, and you understand why it's that way," he said. "It's hard to really be upset about it."
More like this story on KUsports.com