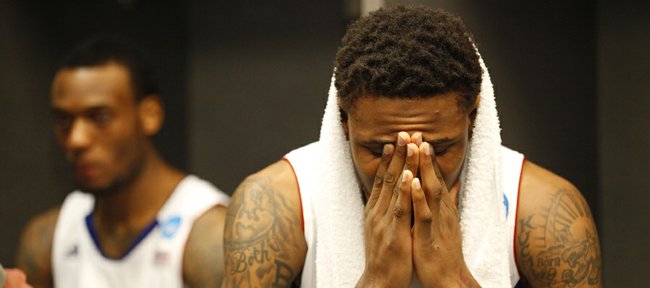 Arlington, Texas — With his legs fidgeting from side to side and a blank look of shock on his face, Kansas University red-shirt freshman Ben McLemore was asked multiple times in the KU locker room whether Friday's 87-85 overtime loss to Michigan in the Sweet 16 was his last appearance in a Kansas uniform.
His answer never changed.
"At this point, I really don't know," he said. "I'm kind of emotional, but I'll sit down talk to my mom and see what's the deal. But, at this time I'm really not focused on it."
McLemore, who led all Jayhawks with 20 points on 8-of-15 shooting in the loss to fourth-seeded Michigan, said he had thought very little about the NBA during his first full season of college basketball even though many analysts and projections have him as a sure-fire top-five pick in this summer's NBA Draft.
"This year, I was just focusing on playing college ball and getting better each and every day," he said.
Asked if the outcome of Friday's game could impact his decision on whether to return for his sophomore season, McLemore said, "I really don't know. ... It's a tough loss, but I know it's an even tougher loss for the seniors."
McLemore's big night came after rough outings in the second and third rounds last week in Kansas City, Mo. It didn't necessarily look as if it was headed that way, though. McLemore missed his first five shots of Friday's loss before catching fire after watching a three-pointer from the corner settle in the bottom of the net.
"I felt comfortable," he said. "Getting the ball moving around, my shot was falling, and I just went out there and tried to play like I played in the beginning of the season, play free, having fun, with a smile on my face."
McLemore was one of several Jayhawks who took a turn at guarding Michigan guard Trey Burke, and that, too, left him shaking his head after the game. After going scoreless in the first half, Burke scored 23 points in the second half and overtime, including a three-pointer with four seconds left that tied the game.
"Trey Burke stepped up late, hit a huge shot," McLemore said. "He's a great player. He's definitely, definitely a great player."