Photo Gallery
NCAA South Regional Practice Day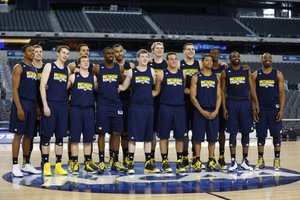 Images from Thursday's practices at Cowboys Stadium in Arlington.
Arlington, Texas — Kansas University basketball coach Bill Self finds it hard to believe Michigan of the rugged Big Ten Conference enters today's 6:37 p.m. NCAA Tournament Sweet 16 game against Kansas as merely a 4 seed.
"How many 4 seeds could you say three weeks ago could be No. 1 in the country?" Self said of the 28-7 Wolverines, who went 12-6 in league play. "They are fast, skilled on the perimeter, a load inside (with 6-10 Mitch McGary). They defend well and are well coached, which all teams are if you are playing this weekend.
"We have three terrific teams that all could be 1 seeds here (KU, Michigan, Florida) and a team that has captured everyone's imagination and as fun to watch as anyone (Florida Gulf Coast)," he added.
"I don't think there's a better team out there when they play their best than Kansas. I don't think there's a better team out there when they play their best than Michigan."
Self on Burke
Self on Michigan sophomore point guard sensation Trey Burke: "He's national player of the year. He deserves it. He'll get it. He's terrific. We have to do a terrific job of not letting him get comfortable, getting his shoulders past us. It's easier said than done."
Injury update
KU junior forward Justin Wesley will miss today's game because of a severely sprained right ankle.
"Right now, it's day-to-day. I'm doing workouts in the pool, light jogging," said Wesley, who hopes to be available Sunday if KU reaches the regional final. "Right now, it's a work in progress."
Wesley is a native of Fort Worth, Texas.
"I'm not a Cowboy fan," he said seated in a locker room in the Cowboys' massive stadium. "I am a Steelers fan. This arena is incredible. I've never seen anything like it. It's my first time being inside of it. I'm just in awe."
Copy cats?
Wesley, who organized KU's Harlem Shake video, was asked when he knew it was an Internet sensation.
"When LeBron stole our idea," he said with a laugh. LeBron James and the Miami Heat performed a similar video after KU's. "Their did theirs in the locker room. He was dancing in the middle with his shirt off. They've got somebody in a laundry cart. It just looked similar to ours is all I'm saying."
Inside presence
KU's Jeff Withey on Michigan freshman big man Mitch McGary: "It's a tough one to compare. There are a lot of tough physical guys in the Big 12 like (Thomas) Gipson of K-State. McGary is more athletic. I'm used to getting hit (he has shiner from getting hit by James McAdoo of North Carolina). I'm not worried about that. He is a physical player."
Controversial twins
Former KU players Marcus and Markieff Morris of the Phoenix Suns spoke to azcentral.com about NCAA Tourney losses to Northern Iowa in 2010 and VCU in 2011.
"I'll never forget that — ever, ever," Markieff said of the VCU game in the Elite Eight. "It's worse than we lost to Northern Iowa. It was our team. It's always worse when it's on your shoulders.
"We would've kicked Butler in the (behind) and beat UConn and would've been the No. 1 and No. 2 picks. We lost to a bunch of bums that made shots. I still hope they (VCU) lose every game."
"They got hot and had the crowd and the refs," Marcus said of VCU. "Everything was against us. I wish I would've shot more and took over the game more. I didn't pass to Keef enough."
Markieff said, "And I didn't pass to him enough."
Link to the story is http://bit.ly/11TmzKe
This, that
KU's Ben McLemore has been named second-team and Withey third-team NABC All-America. ... Michigan holds a 5-2 series advantage against KU. The Jayhawks have won the last two meetings: 67-60 overtime on Jan. 9, 2011, in Ann Arbor, Mich., and 75-64 on Dec. 19, 2009, in Allen Fieldhouse. ... KU practiced twice on Thursday, first at SMU, where Larry Brown is head coach, before a short 40-minute shoot-around at Cowboys Stadium.
… The Kansas-Michigan series dates to 1949. Two of the match-ups have been on neutral floors: a 49-47 Michigan win in 1949 in Kansas City and an 86-74 Michigan victory on Dec. 30, 1992, at the Rainbow Classic in Honolulu. In KU's win at Michigan in 2011, Travis Releford played four minutes, with no points or rebounds, and left the game due to an ankle injury. … McLemore completed the shootaround with a highlight-reel dunk, which concluded which his falling on his behind. He was not injured.
Senior talk
Elijah Johnson was asked about the seniors' next loss — if there is one — being their last: "Well, I personally feel like you shouldn't think like that. What if I don't or this or that. You've just got to relax and play. And we've been preparing for this for four years now. So it's nothing too much different that we can do that we haven't prepared for. If it's meant to happen, it will happen. We've been preparing every damn practice, every practice, extra trips, extra talks, all the video sessions, everything, I think all that plays out right now. You sort of want it to happen right now in the last run, but you can't just wish for things to happen, you've got to kind of go make it happen."
Tickets available
A new block of single-session tickets for tonight's games were made available late Friday by the NCAA. The tickets (priced at $110, $85, $60 and $45) are available at 800-745-3000. The previous allotment of single-session tickets sold out as of Thursday. All-session tickets (good for tonight's games and Sunday's South Regional final) remain available.
More like this story on KUsports.com