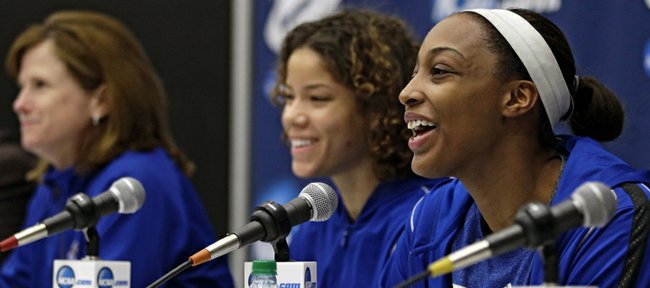 Team's starting lineup takes a big hit with an in-season defection and a season-ending knee injury. A February fade pushes team onto a very thin bubble. Nervous players gather to watch the NCAA Tournament selection show. The word "Kansas" pops onto the television screen and the room erupts. The very same team that sneaks into the tournament field storms into the Sweet 16.
It happened last March and it has happened again this March.
The Kansas University women's basketball team has this Cinderella act down pat.
"It was exciting then and it's exciting now," said point guard Angel Goodrich, who contributed 20 points, eight assists and one huge steal Monday night in an 75-69 upset victory against South Carolina.
The seemingly endless line of hurdles placed in front of KU has a strikingly similar look to last season's:
Keena Mays quit the team during the season a year ago and Tania Jackson did the same this season.

Carolyn Davis suffered a season-ending ACL injury a year ago and Natalie Knight did this season.

The Jayhawks went 2-6 in February of 2012, 3-5 last month.
But thanks to snow-driven and mechanical travel woes, this year's team wins the high-hurdles competition.
Senior Monica Engelman scored a career-high 27 points against South Carolina to lead the Jayhawks into the Sweet 16 and did so with her mother in the stands. It's the least she could have done, considering her mother's drive from San Antonio to Boulder ran into a blizzard that not only prevented her from seeing Saturday's victory against Colorado, but also left her stranded in her car at a gas station all night, 80 miles outside of Boulder.
As the entire Kansas traveling party — student-athletes, coaches, administrators and various family members — soon would learn, flying doesn't guarantee a timely path to the destination either.
The team bus left the arena about midnight Central time for the Denver airport, about a 45-minute ride. The bus driver dropped off everyone, but not everything. The cargo remained on the bus as it pulled out of the airport. The driver eventually was contacted and returned to enable the unloading of the bags. The chartered airplane had mechanical difficulties and the replacement part didn't work either, requiring a replacement plane to be flown to Denver from Omaha. By the time the bus from Forbes Field in Topeka arrived at the KU campus, it was 8 a.m.
"I didn't care," coach Bonnie Henrickson said. "We won. I'd have walked home."
At the pace Kansas has played in the tournament, the players might have saved time by running a fast break from Boulder to Lawrence.
Kansas, a No. 12 seed, faces Notre Dame, the top seed in the Norfolk region, at 11 a.m. Sunday in the Constant Convocation Center.
Davis is enjoying her first NCAA Tournament experience and isn't too proud to acknowledge she enjoys playing on national television.
"I like that the world can actually see what we have now because we don't play on TV too much during the season, so now we have our chance to show them all that we can play," Davis said.
And the underdog role suits Kansas well.
"I think it's more fun," Engelman said. "A lot of people don't have high expectations for you and to prove them wrong makes it that much more fun."
Engelman said her mother will make her way to Norfolk, Va. through the air, not behind the wheel.
"I wouldn't allow that," Engelman said of her driving. "I think she's had enough of being in the car."
Goodrich chimed in: "I think my mom's driving (from Tahlequah, Okla.)."
They're all happy to have transportation issues to ponder. It means they still have somewhere to go.
"Coming in as freshmen, we all came here to make a difference and turn the program around," Goodrich said. "Making the Sweet 16 two years in a row, I feel like that's a big accomplishment for all of us. It's been fun and exciting, and I'm so glad I've experienced it with these girls."