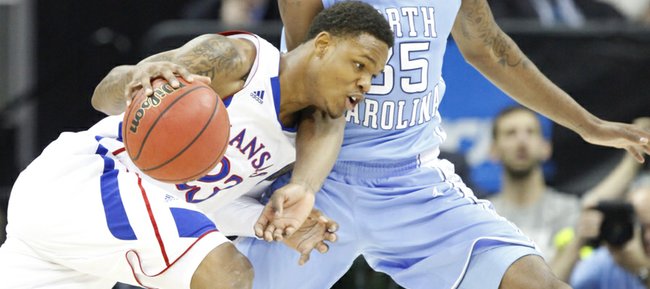 Bill Self isn't sweating the fact his squad's top scorer has had a rough start in the 2013 NCAA Tournament.
"I think it's exciting for our team to know you can win a game like that and have your leading scorer not make a basket. I don't think it'll happen (again)," 10th-year Kansas University basketball coach Self said of red-shirt freshman guard Ben McLemore.
The 6-foot-5, 195-pound St. Louis native scored two points off 0-for-9 shooting (0-6 from three) with two assists and two turnovers while playing 24 minutes in Sunday's 70-58 third-round victory over North Carolina in Sprint Center in Kansas City, Mo.
McLemore had 11 points off 2-of-5 shooting (0-for-2 from three, 7-of-8 from the line) with six rebounds, two assists and four turnovers in Friday's second-round win over Western Kentucky. McLemore — he averages 16.2 ppg off 50.5 percent shooting on the season — played just six minutes in the second half against Carolina in large part because things were going so well with sophomore point guard Naadir Tharpe in the lineup.
Tharpe exploded for 12 points (Travis Releford had 13 and Jeff Withey 12) as KU stomped UNC, 49-28, in the final 20 minutes.
"The way the mood of the game and flow of the game was going was perfect. I'm pretty sure the coaches didn't want to slow that down," said McLemore, who averages 32.2 minutes a game, second on the team to Releford's 33.5. "I was actually happy I was on the bench supporting my teammates because they were doing great. Our ball-handling ... it was awesome," he added.
Self said it was a tough call to leave McLemore on the bench from the 13:40 mark (KU led, 37-35) to 1:48, when KU led, 65-52.
"I've talked to enough people, coaches over the years; you don't do that with your best player," Self said, "but we actually were better in that stretch and Ben was the best cheerleader we had. It was hard to take Naadir out, too. He was fabulous the second half. Everybody played well the second half. Travis and Jeff carried us."
And so the No. 1 seeded Jayhawks (31-5) have advanced to a Sweet 16 contest against Michigan (28-7) at 6:37 p.m., Friday in Cowboy Stadium in Arlington, Texas. Winner meets either Florida or Florida Gulf Coast on Sunday for a spot in the Final Four.
"Not really," Self said, asked if he was concerned about McLemore's production. "He had a rough weekend. Travis (K.C. native Releford) loves Sprint Center. Ben probably needs to get out of it. He'll be fine. He's too good a player, too talented.
"He's got to see the ball go in the hole," Self added. "The thing about it is with kids and freshmen who never experienced it (NCAAs), it's a different pressure. You are talking about expectations. The Sports Illustrated (story), CBS deal (TV piece), all these things going on ... he handles it beautifully and his family does too. He was probably a little tight, a little nervous."
McLemore said he didn't experience the jitters. He said his form was just a little off. In the three previous games in the Big 12 tournament, he had averaged 13 points a game off 14-of-24 shooting (7-15 from three).
"The last couple games, my shot hasn't been falling," McLemore said. "I'll keep playing my game. I talked to coach. He told me they are going to really need me. I've got to get back in the gym all week and keep shooting and play my game like I've always done, the way I played in the season. This game, I cheered my team on. We played a terrific game the second half. I felt like a fan out there. It was great."
Freshman Perry Ellis said there's no doubt McLemore will shrug off what happened in Sprint Center.
"He knows that he still has it. He knows we still trust in him. He's carried us a lot. He knows he will pick it up. He just knows," Ellis stated.
Burke a beast: Michigan's Trey Burke, a 6-foot sophomore guard from Columbus, Ohio, who averages 18.8 ppg with 236 assists against 75 turnovers in 35 games, is a finalist for Naismith Player of the Year with Indiana's Victor Oladipo, Creighton's Doug McDermott and Georgetown's Otto Porter.
Tim Hardaway, Jr., a 6-6 guard from Miami, Fla., completes perhaps the best backcourt in the country. He averages 14.9 ppg and 4.6 rebounds a game with 76 assists to 66 turnovers.
"I don't think we have any edge going into this game," Hardaway Jr. told ESPN radio in comments printed in the Detroit Free Press. "Both teams are similar, both have bigs that have great motors, they've got guards, wings that are capable of having any type of game when you're playing against them. I don't think (anyone) has an edge. You've got to do what you're doing and keep on having fun, like we're doing."
Wolverines rugged foe: KU coach Self's early take on Michigan, a team that went 12-6 in the Big 10. Michigan beat South Dakota State (71-56) and VCU (78-53) in second- and third-round tourney games.
"In order to cut down the nets, we've got to prepare for another two-game tournament," Self said. "We're playing a team that demolished an unbelievable basketball team (VCU). When Michigan plays well, they are definitely a top five team in the country. We've got our work cut out."
He wasn't crying: The Springfield News-Leader pointed out that the North Carolina fan who was shown cringing on TV after a vicious blocked shot by Jeff Withey was Chase Allen, son of Missouri State football coach Terry Allen.
Terry Allen, a former KU head football coach, and his family members are Carolina basketball fans. Allen is a close friend of UNC coach Roy Williams..
The paper, by the way, pointed out that Chase Allen was not crying as suggested by some.
South Regional info: KU's shootaround, which is open to the public, will run from 2:10 to 3 p.m. Thursday in Cowboys Stadium in Arlington, Texas.
More like this story on KUsports.com