Photo Gallery
Kansas basketball v. North Carolina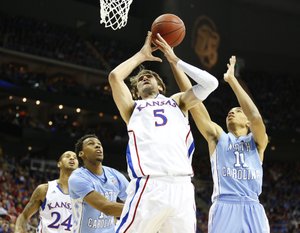 Images from Sunday's game against North Carolina at the Sprint Center.
Podcast episode
Kansas coach Bill Self and seniors Travis Releford and Jeff Withey talk to reporters following the Jayhawks' 70-58 victory over North Carolina on March 24, 2013.
Podcast episode
North Carolina coach Roy Williams, guard Marcus Paige and forward James Michael McAdoo talk to reporters following the Jayhawks' 70-58 victory over UNC on March 24, 2013.
Bill Self, who has an even 300 coaching victories at Kansas University in 10 seasons, has given a rousing halftime speech or two to his players in that span.
He's also been smart enough — and flexible enough — to defer to others in the oratory department when the need arises.
"We can do better. We're better than this," Self said of Sunday's message at halftime to his No. 1-seeded Jayhawks, who trailed No. 8-seed North Carolina by a whopping nine points. He then told his players to talk amongst themselves, a strategy that apparently proved pivotal in a 70-58 comeback victory in Sprint Center that propelled KU into Friday's Sweet 16 contest against Michigan in Arlington, Texas.
"I said, 'This could be our last 20 minutes. We can go out there and leave it all on the court, or we can roll over like we did the first half,'" said senior Travis Releford, who hit four of five shots the first half, the rest of the team going three of 23 as KU lagged, 30-21, at the break.
Releford exploded for 13 points the final half off 5-of-8 shooting, finishing with 22 points and eight rebounds in what Self called "the best game he's ever played."
Releford wasn't fired up by his own words, but by those of senior center Jeff Withey, who scored 16 points and grabbed a season-high 16 rebounds. Nursing a shiner under his right eye after the game — he took an elbow from James Michael McAdoo (11 points, 5-19 shooting) — Withey admitted he was on fire at the intermission.
"We looked at each other. We said, 'Is this how it's going to be? We're just going to lose? Or we'll play our butts off and win.' I wasn't going to let us lose," Withey said.
Senior forward Kevin Young who scored 10 points and grabbed nine rebounds with five of KU's 22 turnovers, outlined the details of Withey's passionate speech.
"Coach yelled at us a little bit," Young said, "then Elijah (senior guard Johnson, five points, 1-of-6 shooting with four assists, two turnovers) asked, 'What are we going to do to change this?' I said, 'Win,''' Young related.
"Jeff motivated us going down the line saying, 'This isn't going to be our last game. He asked Ben (McLemore), 'Is this going to be your last game?' He asked Elijah that; Travis that. We all said, 'No.'"
The Jayhawks' actions backed up the halftime words.
Releford scored five points — including KU's first three-pointer of the NCAA Tournament — in an 11-3 run that cut the deficit to 33-32 just 4:55 into the final half.
Releford had 12 points, Withey eight and Naadir Tharpe six (including a behind-the-back pass to Johnson for a layup) in a 29-8 surge to open the half. It gave KU a 50-38 advantage at 10:41.
Withey, who had five blocks, had a vicious block of a McAdoo shot. Also, Releford had a key stickback of a McLemore miss. McLemore played just six minutes the second half because of ineffective play. The Jayhawks survived on a night the freshman sensation went 0-for-9 shooting and 0-6 from three.
"Ben labored this weekend," Self said of his play in wins over Western Kentucky and UNC. "He's still our leading scorer. We're going to go right back to him. There's not going to be a situation with that. But when Naadir (12 points second half) came in, we were a better team. We got the ball moving. Ben was the best cheerleader out there. It wasn't hard to not play him because he's the best teammate on our team."
Indeed, McLemore said, "I didn't shoot well. I need to work on that this week, but my teammates played great the second half, and I had fun cheering them on."
KU led 54-40 with 8:35 left and 63-47 at 4:24, as the Jayhawks (31-5) ran away from the Tar Heels (25-11) in the final 20 minutes, 49-28.
Self was mighty happy his team figured a way to go from shooting 25 percent the first half to 63 for the second. The Jayhawks finished at 43.6 percent and held Carolina to 30.1-percent marksmanship.
"The lid came off," Self said. "We played miserably the first half. They took us out of everything. We were so rushed and sped up and played nervous. They beat us to loose balls. Our basketball IQ was not very high also. We puttered around. Then, the second half we competed. We were great on the glass (50-36 for the game; 21-12 the final 20 minutes)."
As a result, he improved to 300-58 at KU and 507-163 overall.
"It wasn't the prettiest way to get it. Second half I thought we competed so hard and were great on the glass. To get to 300 wins in 10 years is a reflection of having pretty good players. Of course who woulda thought this year's team would get to 31-5? Now we got to make sure we get to 32 and 33," Self added.