Photo Gallery
Kansas and North Carolina (practice day)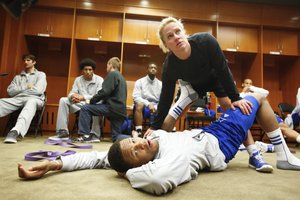 Images from a day of meeting the press at the Sprint Center in Kansas City.
Kansas City, Mo. — America's fascination with the shot-blocking sensation whose foundation was built by playing volleyball has overshadowed another aspect of Kansas University senior center Jeff Withey's ever-improving game. Withey not only can keep others from scoring, he can be tough to keep from scoring, too.
The 7-footer from San Diego has developed into a reliable scorer who has expanded his repertoire. He always has featured dunks and short hook shots. In KU's first NCAA Tournament game, Friday against Western Kentucky, Withey was his team's best outside shooter by virtue of hitting a jumper from the free-throw line.
"We also made one shot for the game outside of two feet," retorted Kansas coach Bill Self to the suggestion his team could have become the first No. 1 seed to lose to a 16 seed if Western Kentucky had made more shots. "One outside shot. That was our seven‑foot center. We didn't exactly light it up, either."
Withey did, making seven of nine from the field on the way to a game-high 17 points in the 64-57 victory. Western Kentucky didn't have the size to keep him from scoring down low.
"I think he's become better with his back to the basket," Self said. "I am happy with him as an offensive player. His numbers don't jump off the page, but he's getting about 14 a game, shooting a good percentage. He's always been a good free-throw shooter. I think we're playing through him more, where in the past, last year we played through Thomas (Robinson). He benefited from Thomas getting doubled. Now basically others are benefiting from Jeff getting doubled."
Withey stated expanding his shooting range as an offseason goal, and in recent weeks he has shown he met that goal.
"I worked a lot on that this summer," Withey said. "Coach (Norm) Roberts and I shoot a lot. It's something I didn't do really well last year, and a couple of times last year I would get it 15 feet out, but my defender wouldn't guard me. They would just double T-Rob (Thomas Robinson, now with the Houston Rockets). That's something I didn't want to happen this year."
As usual, Withey will guard and be guarded by a shorter opponent, 6-9 sophomore James Michael McAdoo.
"I feel like he's great on the offensive end, too," McAdoo said. "His teammates look to find him. I think that's a big thing that we just need to limit his touches deep in the post."
Withey likened North Carolina's personnel to that of Iowa State, but noted that whereas the Cyclones spread the floor and shoot threes from all five positions, McAdoo does not have that kind of range.
"I won't have to play out on the perimeter as much, so I think that helps out our team a lot," Withey said. "That way I can clog up the paint. McAdoo's a great player. I'm not saying he's not, but I'll be able to clog up the paint, help everybody out if they get beat off the dribble. I think we have an advantage on the offensive side. I think we can go inside with Kevin and me. Whenever you play against four guards, you have to take advantage of it."
Since surrounding McAdoo with four shooters who command respect behind the three-point line, the Tar Heels have played much better than a No. 8 seed, winning nine of 11 games and making it to the ACC tournament title game.
Withey was matched against Tyler Zeller in last season's Elite Eight game and more than held his own. McAdoo came off the bench at forward for the Heels and scored 15 points.
"I know last year he was still a good shot-blocker," McAdoo said of Withey. "But I feel like going into the game last year, we didn't really look at that as one of the biggest things we were worried about."
That has changed. Western Kentucky coach Ray Harper instructed his players to drive and pass. Too often, they drove and shot, leading to Withey blocking seven shots. North Carolina coach Roy Williams already knows what he'll do if his guards make the same mistake.
"If one of our 6-foot, 3-inch guards gets an offensive rebound and tries to shoot it over Jeff, the next thing you'll see is we'll have another 6-foot, 3-inch assistant," Williams said, meaning the offender will be sitting on the bench.
The battle between Withey and McAdoo will play a big part in today's game. Isn't it nice to consider how the players will influence the games, instead of focusing on the coaches, especially in this particular game?
More like this story on KUsports.com