Photo Gallery
Kansas and North Carolina (practice day)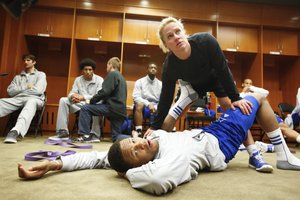 Images from a day of meeting the press at the Sprint Center in Kansas City.
In last year's Elite Eight meeting with North Carolina in St. Louis, the Kansas University men's basketball team benefited from the Tar Heels playing without starting point guard Kendall Marshall.
Many Tar Heels believed then that the outcome would have been different had the 6-foot-4, 195-pound sophomore Marshall played, but those who remain from that team are not dwelling on the past.
"Everyone talks about payback," UNC forward James Michael McAdoo said, "but they won the game fair and square. We're just excited to go back and compete against such a great team. A lot of teams are home today and their seasons are over."
Although Marshall and three other members of last year's starting lineup have moved on — all four were taken in the first 17 picks of last June's NBA Draft — Carolina (25-10) enters today's 4:15 p.m. third-round rematch with Kansas a more complete team. Unlike last year, when UNC coach Roy Williams was forced to start true freshman reserve Stilman White at point guard, the Tar Heels will be at full strength today. That includes having true freshman point guard Marcus Paige running the show.
"Just knowing that we have our primary ball-handler out there on the floor, the person who can get us into our offense, the person who's very unselfish with the ball, is very big," said 6-7 junior Reggie Bullock. "Last year was a struggle for us because we didn't have Kendall to match up with KU. But this year we have our starting point guard, and hopefully that'll lead to a better outcome."
Paige has started 33 of the 34 games he has played in this season and said he started feeling comfortable during the second half of the ACC season. He enters today's showdown averaging 8.1 points and 2.7 assists in 29 minutes per game and with the complete respect of Williams.
"Marcus, right now, is a distributor who is going to be a better scorer," Williams said. "He's a tough little nut that I think is going to be one of the best point guards in college basketball."
It's not that Paige is the clear X-factor in today's game, more that his presence provides the Tar Heels the stability they lacked the last time they faced the Jayhawks.
"In our system, and in a lot of systems, the point guard makes everything happen. They make the team go," Paige said. "I think me being out there does give our whole team more confidence."
Added junior guard Leslie McDonald, who also missed last year's game against KU because of injury: "Any time you have your floor general on the court, you have that confidence in your team. When Kendall went down, you could see that a little confidence left."
The fact Paige is playing in this game might be destiny. Kansas and North Carolina were his finalists out of Marion, Iowa, and Paige was noticeably excited about the opportunity to take on the Jayhawks (30-5) so early in his career.
"I was really, really close to committing to Kansas my sophomore year," the 6-foot, 157-pound freshman said. "They use their bigs, they like to run, both teams defend well. They're pretty similar teams, and they both have great coaches, so it'll be a fun game."
Roy talks KU — again
North Carolina coach Roy Williams, the former KU coach who spent 15 seasons in Lawrence from 1989-2003 once again was asked about the emotions he feels about facing his former school.
Williams said he had been pleased by the warm reception he had received this week in Kansas City and added that, after 10 years, he believes some of the anger about him leaving may have subsided.
"Time heals all wounds," Williams said. "People told me that. It's taken me a long time to realize that.... The people have been really nice. There've been people driving by on the streets when we're out walking in the morning that have been yelling, saying nice things. I only had one yell something that wasn't quite as nice. But that's part of it. This is a special place. Basketball out here is extremely important.... I love the passion of the Kansas fans. It's just off the charts. Coach Dean Smith and myself are probably the only two people who know what actually goes on. The people at North Carolina think, 'Kansas can't be that good. They can't have the same feelings for basketball as we do.' And the people at Kansas say, 'Those North Carolina people are OK, but they can't have the same passion and feelings for basketball that we do.' Coach Smith and I used to talk about it. We were the only two people that understood what was going on at both places. And I've loved both places."
Williams loves Allen Fieldhouse but will never return as opposing coach.
"When you walk into Allen Fieldhouse, I said this before I left, the day I ever walked in Allen Fieldhouse and I didn't get cold chills, I'd know it was time to stop (coaching)," he said. "I feel the same in the Smith Center. If I walk out on game night, don't have cold chills, I'll quit.
"Someone asked me the other day if I would ever consider coming and playing a home-and-home against Kansas, I said no. My athletic director would understand, the Pope will understand, because I will never walk out of that far tunnel, that will never happen."
Small ball
Midway through the season, Williams shifted to a four-guard approach. The move did wonders for the Tar Heels and has them playing their best basketball of the season when it matters most. Williams admitted Saturday that he's still a little surprised he did it.
"It was scary," he said. "I was not comfortable with it. I'm still not comfortable with it. I'm comfortable with (former Jayhawk big men) Greg Ostertag, Scot Pollard, Raef LaFrentz, Nick Collison, Drew Gooden, Wayne Simien, with those kind of post players that you can play two at the same time and maybe even put a third one in there. (Former UNC big men) Sean May, Jawad Williams, Marvin Williams, Tyler Hansbrough, Tyler Zeller, that's what I'm more comfortable with."
As for which team will benefit most from the match-up challenge that UNC's lineup creates, UNC's Marcus Paige said that could decide this one.
"I think it can go both ways because they have to try to match up with us on the perimeter, but at the same time we have to try our best to match them on the inside," he said. "Whoever can win that kind of battle is probably gonna win the game."
Guarding McLemore
KU freshman Ben McLemore has scored just 26 points in his last three games, but Kansas' leading scorer still has the complete attention of UNC's defense.
"I'm up for the challenge," said Bullock, who revealed that he would start out on McLemore. "We have a similar game. I just have to limit his touches, from getting wide-open jumpers. It's just going to be my challenge on the defensive end. I'm ready for it."
Road game?
Carolina's fan base figures to be significantly outnumbered today at Sprint Center.
"I don't know how far Lawrence is from here, but I feel like their crowd will be a big part of their game," said UNC sophomore P.J. Hairston. "That will be like the sixth man on the court."
Added Paige: We're used to hostile environments largely against us. It hopefully won't have much effect on the game. We just have to worry about what's happening on the court."
Respect for Withey
The Tar Heels on Saturday offered up glowing reviews of what they remembered about KU center Jeff Withey from last year's meeting, even if they didn't expect it.
"I feel like going into the game last year we didn't really look at that as one of the biggest things we were worried about," said McAdoo of Withey's shot-blocking ability. "But definitely this year. I feel like he's great on the offensive end, too."
Added Williams: "Last year, they just dominated the last four or five minutes. I thought Jeff Withey was really strong in that time period when we did go inside. If you have a shot-blocker around the basket, you take away the other team's second-shot opportunities. If (you) get an offensive rebound, he has a chance to block it."
Friday, during KU's second-round victory over Western Kentucky, Withey led the Jayhawks with 17 points and seven blocks, many of them coming on plays like Williams described.