Photo Gallery
Kansas basketball v. Western Kentucky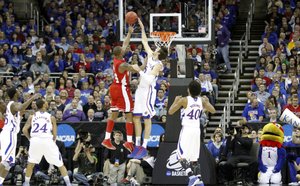 Images from Friday night's first-round game at the Sprint Center.
Podcast episode
Kansas coach Bill Self and guards Elijah Johnson and Travis Releford talk after the Jayhawks' 64-57 win over WKU on March 23, 2013.
Podcast episode
WKU coach Ray Harper talks after his team's 64-57 loss to Kansas on March 22, 2013.
Kansas City, Mo. — In a game decided by just seven points, it would've been easy for the Western Kentucky men's basketball players to look at the stat sheet and lament the team's final shooting numbers during Friday's 64-57 loss to top-seeded Kansas University at Sprint Center.

But leading scorer T.J. Price, who was largely held in check by KU's Travis Releford, said the off shooting night was only part of the equation.
"I don't think the numbers have to be a little bit better," Price said. "But our defense did. They went on that big run, and that's what got us."
The run Price referred to turned a one-point WKU lead at the half into a 10-point KU lead late. But it was not one of those knock-out blows that the Jayhawks are famous for delivering. It was slow, deliberate, even painful at times. And it was enough to make the Hilltoppers smile about the scare they put into the Jayhawks, who improved to 30-5 and moved onto the third round, where they will face eighth-seeded North Carolina at 4:15 p.m. Sunday.
"Heck yes it does," said junior guard Brandon Harris, who shot 1-for-7 and finished with three points. "This whole week all we heard was we didn't stand a chance, they were supposed to beat us by 40, people were clowning our mascot, but I think people knew who we were for that first 20 minutes, and they're not gonna make fun of us any more, I can tell you that."
On a night neither team was particularly sharp offensively, KU's ability to score inside and at the rim made the difference.
After shooting 48 percent during the surprising first half, the Hilltoppers (20-16) opened the second half with just four makes in their first 29 attempts. Considering the fact that the KU lead was in the low single digits throughout the night, many in the WKU locker room believed that a few more here or there would've made the difference for the visitors and allowed Western Kentucky to make history as the first No. 16 to knock off a No. 1.
Instead, that distinction will have to wait for another team, another year.
"It's a game of runs, and later there down the stretch, the ball bounced their way," Harris said. "If the ball bounces a different way, we're the first 16 seed to beat a 1. We just played the No. 1 seed in the country, shot 3-for-20, and we lost by, what? Imagine if they caught us on a good night."
WKU's top three guards combined to shoot 9-for-34, with Price, the Most Outstanding Player of the Sun Belt Conference tournament, finishing just 3-for-13. Price said Releford was responsible for part of his struggles but also gave it up to the guys who held down the fort behind him.
"He's a great defender," Price said. "And once you get past him, you have to worry about the big guys behind him. Once I got by him, the big guys were just right there. That happened to me a lot. We usually make shots. I guess tonight just wasn't our night."
Price said he expected to remember Friday's battle for a while and added that he thought the Jayhawks were as capable as anybody of winning it all.
"One thing about this year, nobody was consistent at staying at No. 1," he said. "It's anybody's championship this year. They have the talent for it, but you just never know whether they're gonna come to play or not."
More like this story on KUsports.com