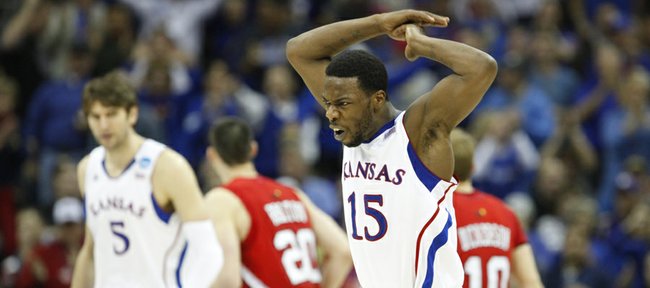 Photo Gallery
Kansas basketball v. Western Kentucky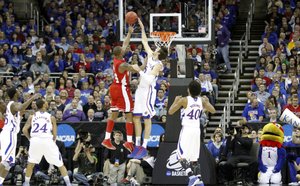 Images from Friday night's first-round game at the Sprint Center.
Podcast episode
Kansas coach Bill Self and guards Elijah Johnson and Travis Releford talk after the Jayhawks' 64-57 win over WKU on March 23, 2013.
Podcast episode
WKU coach Ray Harper talks after his team's 64-57 loss to Kansas on March 22, 2013.
Kansas City, Mo. — Kansas University did not become the first No. 1-seeded team in NCAA Tournament history to lose to a 16 on Friday night in Sprint Center.
The Jayhawks, however, did trail by a point at halftime before managing to do just enough to edge Western Kentucky of the Sun Belt Conference, 64-57, in a second-round clash that scared the heck out of 18,488 fans — almost all wearing Crimson and Blue, except for one section of loud, red-clad Hilltoppers.
"We came out uptight, nervous," said KU center Jeff Withey, who scored 17 points with seven blocks and six rebounds. "They surprised us with how good they were. We definitely took them lightly. I talked earlier that we can't let that happen, but we did.
"At least we got it out of the way, and we'll be ready Sunday," added Withey, referring to a 4:15 p.m. third-round game against North Carolina to be shown on CBS.
The Jayhawks, who never led by more than six points until 5:10 remained and even saw a somewhat comfy, game-high lead of 11 points with 3:08 left dip to just five at 1:43, committed 17 turnovers, many against the Hilltoppers' press.
The Jayhawks also went 0-for-6 from three. It marked the first time in 201 games KU had gone without a made three. Last game without a three was a 100-90 victory over Baylor in 2008.
"I knew we'd pull it out," Withey said. "We've been in this situation too many times.
"Coach got on us a little (after the game)," Withey added of Bill Self's message. "At the same time, we won. He said we can't come out like that Sunday or we'll get beat by 20."
Self said that though the Jayhawks were loose in the locker room all week, the mood changed a bit Friday. KU's effort brought to mind No. 1 seed Gonzaga's narrow 64-58 win over No. 16 seed Southern on Thursday. All of the top seeds in this tourney advanced, increasing the all-time record of No. 1s over 16s to 116-0.
Though this one was definitely scary for the 1.
"I don't know if we've been much looser all season than this week," Self said after his team ran its record to 30-5 overall. Self improved his personal record at KU to 299-58 entering the Carolina game, which has a chance to be his win No. 300 as a Jayhawk.
"But I did sense a little bit different feel in the locker room. We were a little tight. We got tighter as we went. The second half we did guard better," he added.
KU held WKU to 3-of-20 three-point shooting. The Hilltoppers (20-16) hit 31.8 percent of their shots.
Still, KU, which became the first team to win a tourney game without a three since Arizona in 2001, made oh-so-many mistakes in this one.
Ben McLemore had four turnovers to go with his 11 points. Kevin Young had four turnovers to go with his eight boards and five points. Withey and Elijah Johnson each had three turnovers, Johnson five points off 1-for-6 shooting.
"I wasn't nervous," said McLemore, who did hit seven of eight free throws on a night KU hit 24 of 30. "I just tried to get my head in the game, and I tried to be focused. I didn't want to mess up."
KU hit 7.7 percent of its shots outside the paint, as in just one field goal outside the paint.
"We didn't play our best by any stretch," Self said. "But give Western credit. I thought they were the most aggressive team (WKU outrebounded KU, 41-35). I thought they controlled the game for the most part until the second half when we got the ball inside some. We're happy to advance but not pleased how we played. We'll have to play a lot better on Sunday."
KU went 0-for-5 from three and was outrebounded, 18-13, by a smaller Western Kentucky team as the Jayhawks trailed, 31-30, at halftime.
The Hilltoppers made just one of six threes but did convert 13 of 27 shots the initial half for 48.1 percent to KU's 12 of 25 for 48 percent.
Withey scored eight points off 4-of-5 shooting, while Perry Ellis had seven points and Travis Releford six the first half.
Western Kentucky was led by forwards Aleksejs Rostov and George Fant, who scored nine and eight points respectively.
More like this story on KUsports.com