Kansas City, Mo. — From the moment he arrived in his old backyard, North Carolina coach Roy Williams began fielding questions about the potential match-up with top-seeded Kansas University in the third round of the NCAA Tournament at Sprint Center.
Photo Gallery
2013 NCAA Tournament: North Carolina v. Villanova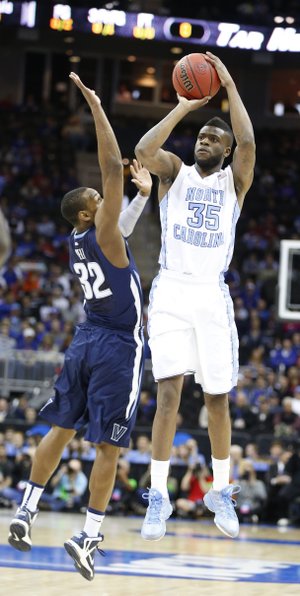 Images from Friday night's NCAA Tournament game between North Carolina and Villanova.
There was, of course, the small matter of both teams having to win their second-round games on Friday first, but a couple of hours before KU knocked off Western Kentucky, Williams' eighth-seeded Tar Heels wrestled their way past a tough, ninth-seeded Villanova team, 78-71, to set up the showdown.
Friday's victory was the 700th of Williams' career. He joins Duke's Mike Krzyzewski, Syracuse's Jim Boeheim and West Virginia's Bob Huggins as the only active coaches in the 700-win club and the 21st coach in NCAA history to reach the milestone. Williams has a 700-179 overall coaching mark in 25 seasons, including a 282-78 record in 10 years at North Carolina.
Someday, that might mean something. Today, all it means is that Williams' team is still playing.
"Number 700 means I've been coaching a long time and had really, really good players," Williams said. "But I was extremely excited for No. 25 for this team because I'm interested in what this team is doing."
With the milestone victory now behind him, the focus shifts to Williams against the Jayhawks in the NCAA Tournament at 4:15 p.m. Sunday. It will mark the second time in 12 months and third time in six years that the former KU coach will have faced his old team.
Because KU had not yet won at the time of Williams' news conference, he did not address his next opponent. Not that he would've said much anyway. On Friday, the only school Williams cared about was UNC, which survived a scrum with Villanova to advance.
Behind a hot-shooting first half, the Tar Heels (25-10) built a lead of as many as 20 points in the game's first 13 minutes and appeared to be well on their way to an easy victory.
But Villanova closed the half the way Carolina began it and trailed by just eight, 37-29, at halftime.
Both teams shot 50 percent from the floor in the first half — 12-of-24 — but the Tar Heels built their lead on 5-of-11 shooting from three-point range and 80 percent shooting from the free throw line.
"When we saw the match-up with Carolina, the nightmare was three-point shooting," said Villanova coach Jay Wright, whose team allowed UNC to hit 11 of 21 three-point tries.
Lifted by their strong first-half finish, the Wildcats (20-14) held the momentum to start the second half and, a little more than five minutes into the final frame, actually led, 44-42.
For the next 10 minutes, the two teams remained within arm's length of one another, with neither leading or trailing by more than four points. Then came the knockout blow, when UNC hit three-pointers on three straight trips to turn a four-point lead into a nine-point advantage with 5:07 to play. During the decisive stretch, UNC reignited its fire and scored on five straight possessions.
"For whatever reason, to start the game, we were just a step behind," Villanova coach Jay Wright said after the game. "And you can't get down 20 to a team like North Carolina. They're too good, too smart and well coached. They won't give it back to you."
More like this story on KUsports.com