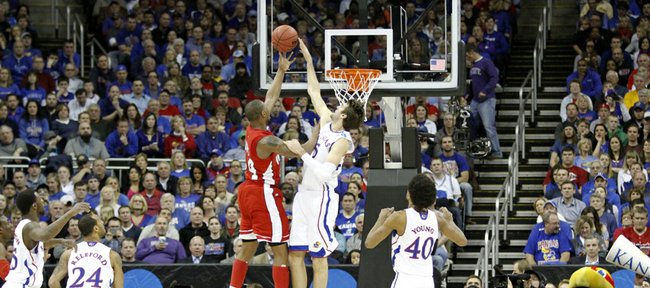 Kansas City, Mo. — When the curtain came up, they played tighter than Bruce Jenner's face, sloppier than the loudest patron at closing time and about as harmonious as an eighth-grade garage band. Sometimes they wore sneakers. At other times, I could have sworn they were on roller skates, not quite sure how to stop themselves. They couldn't shoot straight from long distance. Full-court pressure perplexed them into 17 turnovers.
Yet, the Kansas Jayhawks, No. 1 seed in the South region of the NCAA Tournament, withstood a stiff challenge from a quick and confident Western Kentucky team, 64-57. Kansas advanced to a Sunday game against North Carolina, which on Opening Day of the Kansas City pod anyway looked like the best of the eight teams in the Sprint Center.
How did the Jayhawks overcome themselves on a night they couldn't hold onto the ball and didn't make a single three-pointer?
Well, it never hurts to have the best big man on the floor, which Kansas almost always does in any game on any year. As usual, senior center Jeff Withey made it difficult to score in the paint, making hitting three-pointers the best chance for an upset. The Hilltoppers (20-16) hit just three of 20 threes.
Withey scored a game-high 17 points on 7-of-9 shooting, including a 15-footer, but his most important work came at the other end, where he blocked seven shots and altered many others.
"He's the conference defensive player of the year," said George Fant, Western Kentucky's power forward and best player. "He's just a long, athletic guy. Credit him a lot for the way he played tonight. He's a load. He's just a load."
Withey compensated for what too often looked like November basketball.
The same Kansas squad that played so efficiently a week earlier in the same building regressed in so many ways. The Hilltoppers slapped on full-court pressure at opportune times and came away with nine steals. Ball-handling was the first and most recurrent cause for concern for Kansas (30-5) throughout the season, and it was in evidence again Friday.
"It's always been a part of our package, and depending who we're playing, we'll use it more than at other times," Western Kentucky coach Ray Harper said. "We felt like our pressure could cause Kansas some problems, and it did. We were about a half-step from getting two or three more steals."
With better long-range shooting, Western Kentucky might have become the first No. 16 team in NCAA Tournament history to win a game. In defeating Villanova earlier in the day, North Carolina showed no such wayward shooting, making 11 of 21 three-pointers.
"We certainly know we'll have to play a lot better Sunday," Kansas coach Bill Self said.
KU and North Carolina are scheduled to tip off at 4:15 Sunday in a game that will be followed by Ole Miss and La Salle, which upset Kansas State.
"At first I didn't think we handled the pressure real well," Kansas senior Travis Releford said. "We were a little sped up. I think we just calmed down."
Self said he thought the team had been at its most loose all week, but noticed a more tight feel in the locker room before the game. Now that the first one is out of the way, look for Kansas to bring a much better game Sunday against a North Carolina team that has won nine of 11, with the only two losses coming against Miami and Duke, the two best teams in the ACC and No. 2 seeds in the NCAA Tournament.
"Personally, I think it's kind of part of human nature to not be prepared for a smaller team, and Sunday it's going to be Kansas and North Carolina, and Roy (Williams) is coming back," KU senior guard Elijah Johnson said. "There is going to be so much juice in the building. The fans are going to be pumped up, and we're going to be pumped up. I think it's going to be a different atmosphere in the locker room."
And a different, more beautiful game on the floor.