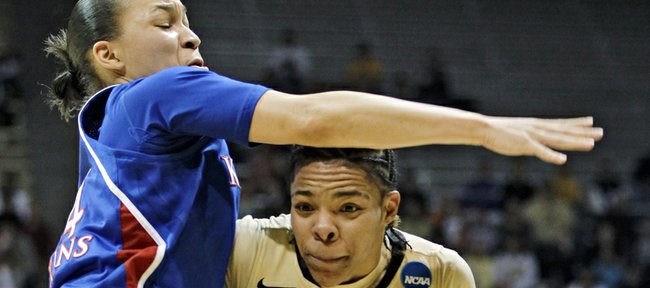 Kansas University senior forward Carolyn Davis checked a few more accomplishments off her "to-do before graduation" list after Saturday's 67-52 victory over Colorado: an NCAA Tournament win and joining the Jayhawks' 1,800-career-points club.
KU, a No. 12 seed, survived the first round of the NCAA Tournament, upsetting 19th-ranked and fifth-seeded Colorado, 67-52, at the Coors Events Center. Kansas (19-13) moves on to play No. 17 South Carolina in the tournament's second round at 8:30 p.m. Monday.
Davis, who sat out for KU's 2012 NCAA Tournament run after dislocating her knee and tearing an anterior crucial ligament midway through the season, tied Angel Goodrich with a team-high 14 points and grabbed eight boards.
"To get this first win, there's a lot of joy," she said. "To be able to be out there and play and contribute to my team, it just feels great."
The first-round game felt a familiar to the Jayhawks. In 2012, they also played and upset a former Big 12 foe, bettering Nebraska, 57-49, in the first round. Colorado (25-7) left the Big 12 for the Pac-12 in 2011, which ended a 29-year streak of consecutive meetings between the teams.
"I thought it was just kind of ironic, honestly," Jayhawks coach Bonnie Henrickson said. "It was a bit ironic that we had Nebraska last year and then Colorado this year."
Some questioned KU playing in the tournament at all after the Jayhawks finished the season with an 8-10 conference record. Last year, KU bowed out of the tournament after losing to Tennessee in the Sweet 16 and returned four starters from that team.
"Well, there were doubters last year, too, and we came out and we just wanted to show what we could do," Goodrich said. "If there are doubters now, and I'm sure there are, we don't really look into that. We just want to go out there and play and have fun and play for each other and just show what we can do as a team, and I feel like we did that tonight."
In its 13th NCAA Tournament appearance, Kansas grabbed 33 defensive rebounds to Colorado's 24, and the Jayhawks dominated in the paint, outscoring the Buffs, 30-20.
After averaging 39.9 percent during the regular season, CU shot a dismal 25.4 percent, while KU made 45.9 percent of its field goals and was perfect from the free-throw line, going 6-for-6.
Winning by 15 points, Kansas tied its largest margin of victory in the NCAAs, something the team hadn't done since 1996 against Middle Tennessee State.
Kansas scored first with a layup from Davis, but Colorado answered and led by as many as 10 (14-4) in the first half. The Jayhawks regained the lead after an 11-1 run capped by a three-pointer from junior guard Markisha Hawkins (24-21) at 6:06 and held on until halftime, 37-27.
"It showed some poise and composure and some maturity from our kids to not panic," Henrickson said of Colorado's early lead. "To give our kids credit, to kind of chip away and chip away and chip away in the first half."
KU opened the second half with a 6-0 run and twice led by 20, at 49-29 and again at 56-36.

Davis picked up her third personal foul with 16:32 to play and didn't return until 7:39 remained.
Though she played just 28 minutes, Davis' team noticed her impact on this year's postseason play.
"We played differently without her last year," Henrickson said. "It was just good to get her back in to where she could play. (I) can't say enough for her own perseverance and toughness and her want to prove everybody, prove the (doctor) that she could come back and play. Somewhere later in life, that's going to help her."
Five Kansas players scored in the double digits, including guard CeCe Harper, who added 12 from the bench. Goodrich added a game-high eight assists and was the only player from both teams to play the full 40 minutes.
Colorado's leading scorers were freshman forward Arielle Roberson and junior guard Brittany Wilson, both with 11. Roberson led the Buffs with 12 rebounds.
In front of a crowd of 5,347, mostly Buffs fans, the Jayhawks quietly marched away with the game. With less than a minute to play, the Jayhawks spirit squad and traveling fans began singing the Rock Chalk Chant.
Hearing that chant made Davis smile.
"We lost a lot of games down the stretch, and we're happy to still have our loyal fans with us," Davis said. "They still believe in us, and we know we have a great team."
South Carolina, Kansas' second-round opponent, won in Boulder less than an hour before the Jayhawks took the floor. Davis said the team scouted the Gamecocks "a little bit" in their first-round game against South Dakota State.
"We compared them to West Virginia in our league by how tough they are," she said. "They're not as big as West Virginia, but they're athletic, strong and quick, and it's going to be tough to beat them."