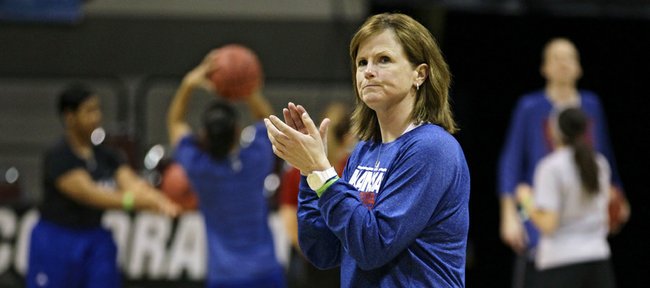 It wasn't long ago that the women's basketball teams at Kansas University and Colorado squared off regularly as Big 12 rivals.
Tonight at Boulder, Colo. (tipoff approximately 5:40 on ESPN2), the former conference foes will meet on a much larger stage: the first round of the NCAA Tournament.
KU coach Bonnie Henrickson, who holds a 10-5 record against Colorado and led the Jayhawks to five straight wins before the Buffs bolted for the Pac-12 in 2011, said she sees a different team awaiting the 12th-seeded Jayhawks (18-13) at the Coors Events Center.
"You look at them offensively, and they're much improved from when they were in the league," Henrickson said, "but the most significant difference for them is on the defensive end. They really get up and guard."
Defense is one of the many reasons Colorado is making its first trip to the NCAAs since 2004. The Buffaloes (25-6) own a No. 19 ranking, a No. 5 seed and have held opponents to 54.1 points a game.
The Jayhawks and Buffaloes didn't play last season, ending a 29-year streak for the series, which Kansas leads, 35-33. The last time the former league-mates met — in the 2011 Big 12 Tournament, in Kansas City, Mo. — Monica Engelman scored 17 points, Carolyn Davis added 16, Angel Goodrich had eight points and seven assists, and KU rolled to a 71-45 victory. Current Colorado starter Chucky Jeffery had four points and three assists off the bench, Brittany Wilson scored just three points on 1-for-11 shooting, and then-sub Rachel Hargis scored four points in just 13 minutes.
Two years later, Henrickson expects Colorado (15-2 at home this season) to compete at a completely different level.
"Whether we were playing them at their place or our place or neutral, I think the challenge is Chucky Jeffery's a really, really good point guard," the ninth-year KU coach said. "She's grown her game in the two years since they left the league. It's really impressive."
The 5-foot-10, All-Pac-12 senior leads Colorado in scoring (13.9 points), assists (3.9), rebounds (8.3) and steals (2.2).
Henrickson said Wilson (8.2 points) is dynamic off the dribble, and Pac-12 freshman of the year Arielle Roberson, a 6-foot-1 forward, can score (12.1 points), knock down three-pointers (42 percent shooting on 50 attempts) and crash the offensive glass (92 offensive rebounds).
The good news for the Jayhawks, who pulled off two upset victories en route to a Sweet 16 appearance in 2012, is that playing in the NCAA Tournament won't be a new experience for them, and they will have 6-3 senior forward Davis — injured for last year's postseason run — on the floor.
"The motivation all year has been to get her there to have that opportunity," Henrickson said of Davis, who has averaged 17.2 points in five career games against Colorado, "and now the motivation for all of us is to survive and advance."
Davis is four points away from 1,800 for her career, a mark only four other players have reached in Kansas history. But KU will need everyone stepping up to duplicate last year's tournament magic. Senior point guard Goodrich averages 14.2 points and 7.0 assists. Sophomore forward Chelsea Gardner, who emerged as a force last March, averages 8.8 points and 6.7 boards. Senior guard Engelman (9.2 points, 4.2 rebounds) has hit 12 of her last 22 three-pointers. Junior guard CeCe Harper (6.2 points) has hit nine of her last 13 from three-point range.
Henrickson said if each Jayhawk plays as well as she can, the individual efforts will give KU its best chance to move on to the second round.
"We learned last year," the coach said, "to make the most of your opportunity, make the most of the moment."
The winner of tonight's first-round game advances to take on either fourth-seeded South Carolina (24-7) or 13th-seeded South Dakota State (25-7) on Monday.
PROBABLE STARTERS
KANSAS (18-13)
G — Angel Goodrich, 5-4, sr.
G — Markisha Hawkins, 5-9, jr.
G — Monica Engelman, 5-11, sr.
F — Chelsea Gardner, 6-3, so.
F — Carolyn Davis, 6-3, sr.
NO. 19 COLORADO (25-6)
G — Chucky Jeffery, 5-10, sr.
G — Brittany Wilson, 5-7, jr.
G — Lexy Kresl, 5-11, so.
F — Arielle Roberson, 6-1, fr.
C — Rachel Hargis, 6-4, jr.