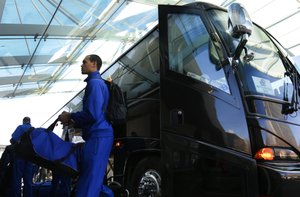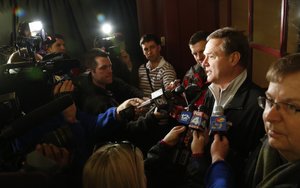 Kansas University's basketball team bus pulled in front of the Westin Crown Center Hotel about 4 p.m. Wednesday.
The Jayhawks checked in for what they hope will be a four-night stay.
"It was a tough travel day. It probably took 45 minutes instead of 40 coming over here today. I tell you what ... the traffic in Lawrence is awful," KU coach Bill Self said with a smile.
His Jayhawks were rewarded for their 29-5 season with a No. 1 seed in the South Regional and second- and possible third-round games exceedingly close to home. KU will meet Western Kentucky (20-15) at 8:50 p.m. Friday in Sprint Center. A victory would mean a Sunday contest against North Carolina or Villanova, with the winner advancing to the Sweet 16 a week from Friday in Dallas.
"I'd much rather play a team you match up well against than play in your time zone," Self said. "I think it (playing close to home) has helped us in some instances, some it hasn't been great for us. Sometimes when you play close to home, especially this close, there are a lot more potential distractions that creep in there.
"Sometimes when you play far away, you can eliminate a lot of those distractions. Still, I think the positives far outweigh the negatives when you talk about the familiarity with the court, the arena and of course, hopefully a great fan base."
Self took his players and assistants out for dinner at Capital Grille on Wednesday night. They'll hold a shoot-around open to the public (admission is free) from 5:10 to 5:50 p.m. today in Sprint Center, then hang out at the hotel all day Friday while awaiting game time.
"They will not be walking around downtown or the mall (Crown Center) much at all," Self said. "We'll have a nice dinner tonight. After that, we'll probably spend all our time at least on their room floor or banquet room (meeting) area. We will not be amongst the people too much.
"It's a business trip," Self added. "We'll have fun tonight. Business should be fun if you win. We rarely go out as a group and dine ever. During the NCAA Tournament, usually you are going in two days early, (so) the first night is probably a pretty good night to do that. That's what we'll do ... get them out of the hotel. After that, we'll have them pretty much on lockdown."
Self is not a fan of Friday's 8:50 p.m. game time. His Jayhawks play the next-to-last game of the opening round.
"I don't like the late start on Friday night," Self said. "I guess if we're playing in it, I should love it. The late start on Friday night is not a big deal unless you play the first game on Sunday afternoon. Then it becomes a big deal.
"The things that are mandatory that take place after the game (interviews, drug testing) ... you look at having dinner at 1 a.m. or 1:30 and not going to bed until 3. Then it's a short day the next day, and you potentially have to get up at 8 in the morning Sunday. That's the part where Friday/Sunday is a disadvantage as opposed to Thursday/Saturday because Saturday night is one of the big nights teams play. Usually on Sundays, most of the games are done before '60 Minutes' (6 p.m.)."
Self gave an early scouting report on Western Kentucky.
"They are really athletic, fast. They can play four guards around a 6-foot-5, 6-6 post man. That's a little bit different and obviously something we don't see a lot in our league," Self said. "Ray Harper (WKU coach) is a good coach; that (Sun Belt) league is good. They are 9-1 under Ray in the postseason (in two years). The last time we won it all in 2008, they were in the Sweet 16. You don't see many 16 seeds in the Sweet 16 five years ago."
Self said his team was healthy entering the weekend.
"We're good," he said.
He hopes the Jayhawks pick up where they left off last weekend in winning three games at the Big 12 Tournament in Sprint Center.
"I thought we played pretty well last week over here," Self said. "I thought we played miserably in Waco (in 23-point loss to Baylor in final regular-season game), so we're still a work in progress, and we're up and down with a lot more ups than downs. We've had a good week of practice and a good week of preparation, so I think our guys — it doesn't guarantee that you're going to play well — but I think they've put themselves in a position to be prepared to play well."
Cheater talk
USA Today conducted a roundtable discussion with 12 active coaches who have won NCAA titles. Wednesday's question: "Have you ever lost a recruit because you would not cheat?"
Self's answer: "I really think that it is pretty sorry for anybody to say — how's the right way to put this? — in recruiting what frustrates me a lot of the time is when you don't get a kid, the feeling is either he was not good enough or somebody cheated to get him. And I think that is a terrible attitude to have as a coach. Sometimes you just get beat. I don't know that I ever have, to be quite candid with you. There have been numerous rumors. There are rumors about everybody on everything. Rumors don't mean that it is remotely true or not. I cannot tell you right now honestly that I know for a fact that people have bought kids we recruited, or cheated on kids we recruited."
Roy Williams' answer: "I have made a lot of decisions in my life to not get involved in scenarios that I thought were going to get ugly at the end. There is no question that some decisions that have been made surprised me, and I guess that is a better way that I would like to answer that."
Larry Brown's answer: "I would agree that I think there's a lot of bad stuff happening out there. There's no doubt in my mind we lost kids. It's going to happen … So many of the kids we recruit have nothing. I have seen kids who have children now. Kids 18 years old and have a baby. It's hard to look at people and judge what they do. The more I see it, I don't want every kid to make a lot of money. But I want every kid who comes to SMU to be able to go to school like an SMU student. Or every kid at KU can go to school like a KU student. So if a kid can go out and eat on a Friday night, or go to a movie because his parents are able to provide that, every student-athlete should have that ability. To go beyond that, I don't think is right."
The article is available at http://usat.ly/160qrI3
More like this story on KUsports.com