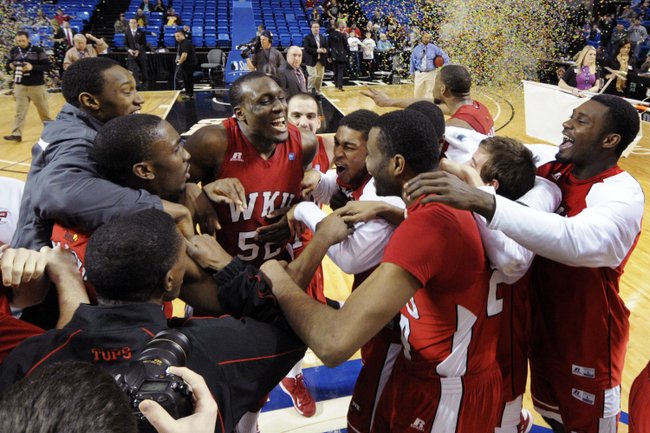 When Western Kentucky University guard Jamal Crook learned that his 16th-seeded Hilltoppers would face top-seeded Kansas University in the second round of this year's NCAA Tournament on Friday in Kansas City, Mo., his mind immediately flashed back to his senior season of high school in Las Vegas.
During the 2007-08 season opener for Durango High, Crook first encountered KU point guard Elijah Johnson in a match-up of the city's most highly recruited player (Johnson) and highest-rated newcomer (Crook).
At the time, Johnson, a junior at Cheyenne High, was on his way to becoming one of the top point-guard prospects in the nation, and he showed why during his match-up with Crook, scoring 18 points and leading the Desert Shields to a 78-77 overtime victory.
Crook has not forgotten.
"I owe him," he told the Bowling Green (Ky.) Daily News on Sunday, moments after the match-up was revealed. "I played him in my debut, and they beat us. I'll remember that game in the back of my head as we go down there and take this ride."
The ride has been as wild as they come for the Hilltoppers (20-15), who made the field of 68 by winning four games in four days in the Sun Belt Conference's postseason tournament. WKU finished just 10-10 in conference play during the regular season, but knocked off three schools that finished above them in the standings on consecutive days by a total of seven points to earn a second straight trip to the NCAA Tournament.
Although winning the conference tournament guaranteed the 'Toppers a spot in the tourney, WKU coach Ray Harper still seemed thrilled about what his squad had accomplished.
"It's what you play for," Harper told the Daily News. "It's what you work for, to enjoy the whole process. They're the No. 1 seed for a reason. It's one of those deals where you're extremely excited that you're still playing, and we'll go play. We'll see what happens."
The Hilltoppers are not a typical 16 seed.
In last year's NCAAs, WKU topped Mississippi Valley State, 59-58, in a first-round game in Dayton, Ohio, before falling to eventual-champion Kentucky, 81-66, in the second round. And this year, the Hilltoppers played four games against tournament teams, including back-to-back battles with Louisville and VCU and two match-ups with Sun Belt champion Middle Tennessee. WKU lost all four games, but such experiences should keep them from being overwhelmed by facing Kansas.
"Great program, great team, big challenge," Harper told the Daily News. "Bill Self does as good of a job as anyone in the country. But I know our guys will go compete."
Western Kentucky's relevance in college basketball is not limited to the recent past. The Hilltoppers own four NCAA Tournament victories since 2008; boast 22 NCAA Tournament berths all-time; have corralled 42 conference championships, which is tied for third most in NCAA history; and are 17th in NCAA history in all-time wins (1,659). In addition, the program has advanced to the Sweet 16 seven times and qualified for the Final Four in 1971 in Houston, where it topped, of all teams, Kansas.
None of that will mean much Friday, when Western Kentucky tries to solve a KU team that won its ninth straight Big 12 regular-season title and rolled to the Big 12 tournament title last weekend. Harper knows enough about the Jayhawks (29-5) to know what his team is up against. But, just as he was last year in the match-up with Kentucky, the second-year WKU coach who guided the team to the tournament as the interim head coach a season ago is fired up for the opportunity to take a shot at one of the nation's top teams.
"(Jeff) Withey (is) obviously one of the top big guys in the country," Harper told the Daily News. "(Ben) McLemore (is) one of the premier freshman players in the country. Their point guard (Johnson) … I remember the game in particular at Iowa State, where he went for about 40. They're just a very talented team. We know what kind of challenge it'll be. There's never been a 16 to beat a 1, so let's go play."
More like this story on KUsports.com