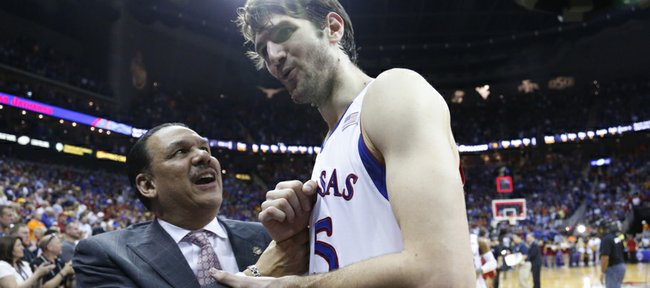 Kansas University basketball coach Bill Self had his players' full attention as he delivered his first scouting report on Western Kentucky on Sunday in Allen Fieldhouse.
"I said, 'Hey, this is Western Kentucky. This is their record (20-15). This is the league they play in (Sun Belt) and everybody knows their all-time greatest player to ever play there," Self said Monday.
"They said, 'Who is it?' I said, 'Coach Townsend,' and everybody started laughing because I don't think Kurt was by any stretch," Self added of ninth-year KU assistant Kurtis Townsend, a former Hilltopper point guard who graduated from WKU in 1982.
Townsend is in charge of the scouting report for Friday's 8:50 p.m. second-round NCAA Tournament game between KU and WKU in Sprint Center in Kansas City, Mo.
"He did love his time there and he does love his alma mater, but he won't have as much love for them this week I don't think," Self added.
Indeed, Townsend made it clear where his allegiance rests when asked Monday if he has mixed emotions entering the match-up.
"No, no, no, no, no, no, nope, nope," Townsend said, laughing. "I've been here nine years. I love that place and got my degree from there. There are a lot of great memories, but no, no," he added. "I think it'll be fun," he added of the game. "I know how much they care about basketball. It'll be really fun."
Townsend played for Gene Keady at Western Kentucky, which is located in Bowling Green. Keady is best known for his years many years coaching at Purdue.
"It's like most places in Kentucky where basketball is really big. I played for Gene Keady there and Clem Haskins," Townsend said of the former WKU assistant coach and head coach who played nine years in the NBA.
"For me, I was a juco kid (out of Menlo, Calif., Junior College). It was two really great years. I met my wife there. It's kind of a special place for me."
Townsend helped WKU to the 1980 Ohio Valley Conference title and an NCAA Tournament bid where WKU lost to Virginia Tech in double overtime in the first round.
"The first round was at our place, at home," Townsend said. "Kentucky was there. Indiana was there. That's when they used to keep teams local. We hosted it and probably should have won and got a chance to play Indiana when Isiah Thomas was a freshman. But we lost in double overtime," added Townsend, who recalled averaging 10 points and three assists a game as a junior starter before tearing his ACL and averaging five points a game his senior year in a reserve role.
"In Bowling Green, Ky., we're the only game in town. The people support the program and they've got a great history and tradition of basketball there going back to Jim McDaniels (former NBA player who played at WKU from 1968 to '71) and Clem Haskins (1964-67). E.A. Diddle (1922-64) was a famous coach. When I was there we were in the top 10 in all-time wins. I'm not sure where they are now (17th)."
The Hilltoppers have been outstanding in recent years, as well.
"They won their conference tournament four of the last six years including this one, so they are always in there," Townsend said. "I think the year we won it, in 2008, they got to the Sweet 16."
Townsend has put his Western Kentucky degree to good use.
"I studied 'recreation' and got my degree in that. Like most kids when they were my age, I was thinking I'd go on and play pro ball," he said. "I probably didn't take it as serious as I needed to. It's a great place. I'm glad I went to school there and met a lot of people influential in my life. Coach Haskins treated me like a member of his family and coach Keady. It was good for me."
Roy looms in third round: The winner of the KU-Western Kentucky game will meet the winner of North Carolina-Villanova on Sunday in the third round. UNC, of course, is coached by Roy Williams, who was Self's predecessor at KU.
Self was asked Monday about the possible "Roy vs. KU" match-up maybe being a distraction.
"I would say it is a potential distraction but we won't allow it to be," Self said on the Big 12 teleconference. "It certainly won't be a distraction to our players at all. None of them were around 10 years ago. Some of them were in fourth, fifth grade. It doesn't mean anything to our guys for sure. It will not even be brought up. It will not be a distraction for me. It will not change preparation.
"If we are fortunate enough to advance and they are fortunate enough to advance and we hook up against each other we are going to have two good teams with unbelievable history and tradition going against each other," Self added. "That will be the focus as opposed to the ex-coach at KU. I don't see that being a factor any longer."
KU beat Williams' Tar Heels in the 2008 Final Four and 2012 regional finals.
Tape aplenty: Self has plenty of tape on Western Kentucky.
"It used to be (years ago) there was 'Hoops Video' (company) where you'd go get tapes. If they could get them on airplanes by midnight Sunday night we could have them by noon the next morning or 3 the next afternoon," Self said. "Now we've got it all. We can go to 'Synergy' and watch whatever we want to watch. Access from a scouting standpoint has become a more level field. We used to try to tape every game that was played in February and March. Whoever we played, we'd have at least two games. Now we have access to all that stuff. It's definitely made it a lot easier."
Big Eight rules: Seven teams from the old Big Eight have made the NCAAs. They are: KU, K-State, Missouri, Iowa State, Oklahoma, Oklahoma State and Colorado.
"I remember when we were in the Big Eight, six teams got in one year. It's always been an unbelievable basketball area and league and it's good to see that tradition continuing," Self said. "It's pretty to cool to see them all doing well," he added, also applauding Wichita State's making the field.
Honors: KU's Ben McLemore and Jeff Withey were named second team USBWA All-America on Monday.
Practice times: KU will hold its open practice from 5:10 to 5:50 p.m., Thursday, in Sprint Center. Western Kentucky's practice is 6:40 to 7:20. North Carolina's is 4:25 to 5:05 and Kansas State's 2:15 to 2:55.
Hats purchased: Julius Randle, a 6-9 senior forward from Prestonwood Christian Academy in Plano, Texas, who is scheduled to announce his college choice at noon Wednesday on ESPNU, went shopping for hats of his four finalists Wednesday, Jason Jordan of USA Today reported. The finalists are: KU, Kentucky, Florida and Texas.
More like this story on KUsports.com