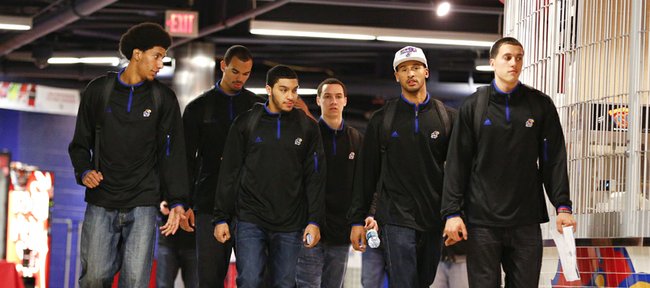 Tickets
As of 7 p.m. Sunday, there still were limited single tickets available to the second and third rounds in Kansas City, Mo., through Sprint Center's website and also tickets available at KU's next potential site in Arlington, Texas, through Ticketmaster.
Reader poll
Really easy

1%

44 votes

Somewhat easy

1%

78 votes

Not easy or hard

8%

356 votes

Somewhat hard

40%

1623 votes

Really hard

46%

1860 votes

Undecided

1%

54 votes
4015 total votes.
Photo Gallery
Selection Sunday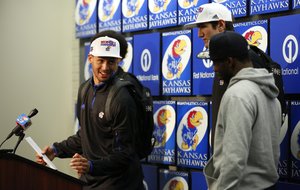 The Kansas men's basketball team talked to media members after earning the No. 1 seed in the South region on March 17. 2013.
Kansas University's basketball team — the same team that lost three consecutive games in early February — on Sunday was awarded a No. 1 seed in the 2013 NCAA Tournament.
"We're the No. 2 overall seed in the tournament — the No. 2 overall seed. Who would have ever thought that would be the case with this team?" KU coach Bill Self said enthusiastically after learning his Jayhawks (29-5) had been awarded the No. 1 seed in the South Regional and will meet Western Kentucky (20-15) in a first-round NCAA Tournament contest approximately 8:50 p.m. Friday in Sprint Center in Kansas City, Mo.
"I never thought six weeks ago this team would be where it is," added Self, whose team was awarded the second of the No. 1 seeds behind Louisville, with Indiana and Gonzaga trailing the Jayhawks. "We had nothing going on. We had no personality, no bounce. We were duds, maybe feeling a little sorry for ourselves, questioning ourselves, lost a little confidence. Fortunately when they got it back they got it back in a big way."
KU not only won its ninth-straight Big 12 regular-season title, but took the conference tournament crown. The players, who watched the Selection Show in KU's Naismith Room, were shown applauding when CBS revealed the Jayhawks had earned a No. 1 for the 11th time in school history and first time since 2011.
The winner of KU-WKU will meet North Carolina or Villanova on Sunday, with Michigan, Georgetown and Florida also in the region.
"They were happy," Self said of his players. "I told them we were probably going to be 50/50 a 1 or 2. I don't think the committee did us any favors. Obviously it's a tough bracket. The so-called experts would probably say arguably this is the toughest bracket of the four. We're excited about it. We're certainly happy to be a 1 seed. Now the goal is not to be a 1 seed. The goal is to go play like a 1 seed."
The Jayhawks were elated to be accorded a top seed in the South, which culminates with Sweet 16 and Elite Eight games to be played in Dallas.
"(We're) definitely excited," senior point guard Elijah Johnson said. "Just to hear someone call you as a No. 1 means you have been one of the best-performing teams around. It's an honor to be a No. 1 seed regardless of how you use it. Most teams tend to use it as an advantage. That's what we plan on doing instead of thinking we've got a title. We just want to show why we are a No. 1 seed."
Noted senior center Jeff Withey: "We're excited to be a No. 1 seed. It's not going to be easy at all. We've got to look at everything as a two-day tournament almost. We don't know too much about Western Kentucky right now. We're excited to be playing against them. We know we are going to get everybody's best shot. They are on a roll right now after winning their (Sun Belt) tournament. I'm sure they will come in feeling really confident. We have to take them serious and give everything we've got."
Former KU coach Roy Williams' North Carolina Tar Heels (24-10) loom as a possible second-round foe if the Heels can get past Villanova (20-13) at 6:20 p.m. Friday.
KU beat Williams' Tar Heels in the 2008 Final Four and 2012 regional finals.
"Who knows if that will happen, if it'll play out that way. I know we are focused on Western Kentucky," Self said. "If it goes in that direction and we both win a game, I'm sure Kansas City will have a little interest in that one based on the past. We know if it does happen we'll be playing a great team."
Williams told his school's official website that he was "disappointed" the ACC had just four teams reach the tournament: No. 2 seeds in Duke and Miami and No. 8s in Carolina and N.C. State.
"I was surprised, not just surprised but disappointed for our league," Williams said. "You look around ... some other teams in our league I think deserve to be in. It shows almost no respect to have two 2s and the next two teams to be 8s. To me that's disappointing. It really is. The bottom line is that's what happened. Now you've got to go play."
Big 12 represented: Self on the Big 12 getting five teams (KU, K-State, Iowa State, Oklahoma, Oklahoma State) in the tourney: "I didn't think we had a chance at six. I thought Baylor would have to make some hay in the tournament to get to six. I think our league did pretty well. Any time you get 50 percent of the teams in, you are probably having a pretty good year."
A No. 16 seed has never beaten a 1: "It will happen eventually," Self said. "Certainly we don't want that to happen. I'll pull for all the 1 seeds to make sure that doesn't happen this year if I need to do that. ... There will be a lot of mild upsets in this tournament," he added because of increased parity.
They know each other: Western Kentucky coach Ray Harper and KU coach Self are friends.
"He is one of the best coaches in America," Harper told the Bowling Green Daily News. "When I was the coach at Oklahoma City (University), we dealt with each other a lot. Actually had one of his kids that worked out with us in the summer (OKC native Darnell Jackson). His grandmother had been sick. We let him stay in Oklahoma City for the summer, and we worked him out, and he was projected to be a backup, and he ended up as their starting center, and they won the national championship, and he ended up being a (second-round) draft pick."
Tapes: Self said KU already had a batch of tape on Western Kentucky thanks to modern technology. KU has tape of all major-college teams available on its computer system.
More on game time: KU's game on Friday will start approximately 8:50 p.m., or 30 minutes after a 6:20 p.m. contest between Villanova and North Carolina.
Perfection: KU is one of three teams with perfect APR scores and 100 percent graduation rates of the 68 teams in the tournament, NCAA Research tweeted on Sunday. Notre Dame and Belmont are the others. Six teams in the tourney have perfect APRs: KU, Notre Dame, Belmont, Butler, Memphis and Michigan. Eleven teams have 100 percent graduation rates: KU, Belmont, Bucknell, Duke, Davidson, Harvard, Illinois, Pacific, Notre Dame, Villanova and Western Kentucky.
Here are all the seeds in the South region:
Kansas
Georgetown
Florida
Michigan
VCU
UCLA
San Diego State
North Carolina
Villanova
Oklahoma
Minnesota
Akron
South Dakota State
Northwestern State
Florida Gulf Coast
Western Kentucky
More like this story on KUsports.com