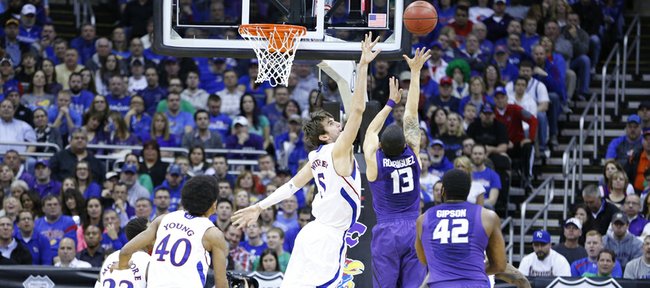 Photo Gallery
Kansas basketball v. Kansas State (Big 12 Tournament)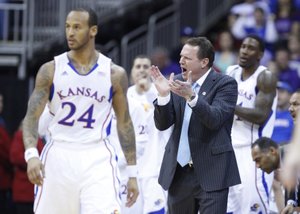 Images from Saturday's Big 12 Tournament championship game against Kansas State at the Sprint Center.
Podcast episode
Kansas coach Bill Self talks after his team's 70-54 win over Kansas State in the Big 12 tournament championship on March 16, 2013.
Podcast episode
Kansas seniors Jeff Withey, Elijah Johnson, Travis Releford, Kevin Young talk to reporters after the Jayhawks' 70-54 victory over Kansas State in the Big 12 tournament championship game on March 16, 2013.
Kansas City, Mo. — The final stat sheet showed that Kansas University center Jeff Withey recorded just one blocked shot during Saturday's 70-54 victory against Kansas State in the Big 12 Championship title game at Sprint Center.
It marked just the seventh time in 34 tries this season that Withey finished a game with fewer than two blocks and just the 16th time in the past two seasons combined. But don't go calling on the Wildcats (27-7) for sympathy. Despite not letting the KU senior get his mitts on very many of their 60 shots on Saturday, the Wildcats said they felt Withey's presence just about every time they tried to drive to the rim.
"He did his job," said K-State center Jordan Henriquez, who finished with six points and five rebounds on 2-of-6 shooting. "He altered a lot of shots and he also gave other guys opportunities to get blocks. He changed the game on defense."
The Wildcats, who shot 35 percent for the game (21-60) and just 22 percent in the first half (6-27), were a woeful 8-of-18 shooting on tries at the rim. That included missing their first six layup attempts and nine of the 15 layups they attempted all night.
"Looking at the percentages right now, the best thing we did was shoot free throws, and we shot 50 percent," said KSU point guard Angel Rodriguez. "So that says a lot."
Perhaps no K-State player felt Withey's presence more than Rodriguez, who finished the game 3-of-12 from the floor, with all of his makes coming from beyond the three-point line.
Asked about Withey's presence in the paint, Rodriguez fully admitted that driving the lane and seeing Withey waiting for him forced him to change his release. He was not interested in elaborating.
"I don't pay attention to him," Rodriguez said of Withey, who earned the event's Most Outstanding Player honor. "I don't know what to say about him. I pay attention to my team. We lost. What am I gonna say about Jeff?"
With the Wildcats reeling from their third loss to the team they shared the Big 12 regular season title with, the focus shifted to the victor's locker room, where several Jayhawks were more than happy to talk about how thrilled they are to not have to compete against the 7-foot Withey.
"It's crazy, man," KU guard Ben McLemore said. "He's unstoppable in there. Even if he doesn't block the shot, he can challenge the shot. I definitely think he changed a lot of their guards' shot selection, and he changed the pace of how they were playing. He meant a lot today."
McLemore said there are times when he thinks to himself, "Are they crazy?" when he see opposing teams continue to attack Withey inside.
"Sometimes I'll be thinking, 'The first time didn't work, the second time didn't work,' and they try to go again and it still doesn't work," McLemore chuckled. "That's what teams are gonna do, they're gonna try to go at Jeff, and he knows how to hold his ground."
Sophomore guard Naadir Tharpe echoed McLemore's thoughts and said Withey's defense can do more than keep points off the board.
"Teams definitely get frustrated," Tharpe said. "And that's only gonna help us in the tournament. In basketball, you're supposed to be aggressive, so hopefully they don't stop (going at Withey), because he's gonna get blocked shots."