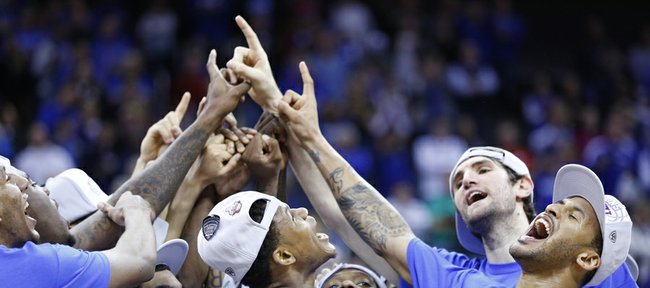 Photo Gallery
Kansas basketball v. Kansas State (Big 12 Tournament)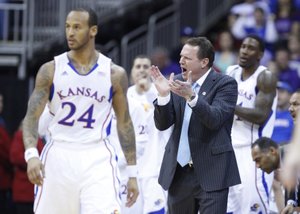 Images from Saturday's Big 12 Tournament championship game against Kansas State at the Sprint Center.
Podcast episode
Kansas coach Bill Self talks after his team's 70-54 win over Kansas State in the Big 12 tournament championship on March 16, 2013.
Podcast episode
Kansas seniors Jeff Withey, Elijah Johnson, Travis Releford, Kevin Young talk to reporters after the Jayhawks' 70-54 victory over Kansas State in the Big 12 tournament championship game on March 16, 2013.
Kansas City, Mo. — Three days in the Sprint Center could not have gone better for perennial college basketball powerhouse Kansas University.
The Jayhawks dominated Texas Tech, Iowa State and Kansas State, winning by an average margin of 19.7 points. In the three second halves, Kansas shot 64 percent overall, 68 percent from three and averaged 52 points.
Tough teams don't let fatigue set in when playing three games in three days. Kansas is one tough team, all the tougher thanks to March surprise Perry Ellis reminding everyone he was a McDonald's All-American.
Now we'll see if the 10-member NCAA Tournament selection committee shows the Big 12, which features three of the top 14 teams in the Associated Press poll, and by extension Kansas earned respect and makes KU a No. 1 seed Sunday.
Not that it's an easy call. There are no easy seeding calls for this wide-open NCAA Tournament. But if KU's dominant play in the conference tournament doesn't move it up a line from where it seemed positioned, then how can anyone view the events as anything but pure money grabs against which the public eventually will revolt?
Let's suppose Gonzaga, Indiana and Louisville lock down the first three No. 1 seeds and the final comes down to a comparison between blue bloods Duke and Kansas.
I don't know anything about RPI rankings because I don't believe in them and never look at them for fear I might become lazy enough to put stock in them. Comparative strength of schedules? Don't know. Don't care.
Here's a better indication: Kansas (29-5) is 6-2 against teams that entered the week ranked in the AP top 25. Duke (27-5) is 3-1.
Kansas plays in a conference that has three teams ranked in the top 25, Duke in one that has two. Kansas finished as regular-season co-champs and won the conference tourney with three blowouts. Duke finished second in the ACC and lost in the quarterfinals of the tourney.
KU went 23-3 against schools not currently ranked, Duke 24-4.
Big advantage Kansas, even though Duke didn't lose to any team nearly as hapless as TCU.
The selection committee takes into consideration injuries, forgiving to some extent losses played without a key player, and downgrading a team that is without a key player for the tournament.
Duke is 9-4 without Ryan Kelly and 18-1 with him, a factor that improves the Blue Devils' chances of landing a top seed. But two points need to be made before taking the leap that the Kelly factor enables Duke to leap past Kansas and into the final No. 1 seed. Point No. 1: Duke split two games against Maryland without Kelly and lost to the Terps with him on a neutral floor. Point No. 2: If Duke deserves to be upgraded because Kelly will play in the tournament, then shouldn't Kansas be upgraded because it's so much better with an experienced Ellis than a lost Ellis?
Miami (Fla.) didn't have nearly as impressive a nonconference season as Duke, losing to Florida Gulf Coast, Arizona and Indiana State with a victory against Michigan State, but the Hurricanes edged Duke for the ACC regular-season title and play North Carolina on Sunday in the final of the conference tournament. A victory would give Miami a stronger case than Duke, even if the committee doesn't see it that way, but not as strong as KU's case. Again, the Big 12 is a stronger conference than the ACC, regardless of what computer rankings might or might not say about that.
After running his record in Big 12 tourney games to a remarkable 21-4, Kansas coach Bill Self was given the opportunity to lobby for a No. 1 seed. He pretty much passed. He knows what a tough job the committee has and he's been around long enough to know that it doesn't do any good anyway.
"I think we're very deserving to be in the discussion," Self said. "I think we'll be one of the for sure five or six most highly ranked teams on the seed line. So I'm not going to make a plea that we should definitely be a 1. We've been a 1 and lost in the second round, been a 2 and played in the championship game."
Self did say it would be a nice reward for his players and an extra thing to mention to recruits. If Kansas lands on the top line, it would do so for the fifth time in seven seasons, a remarkable feat in the one-and-done era and an honor Kansas has earned.