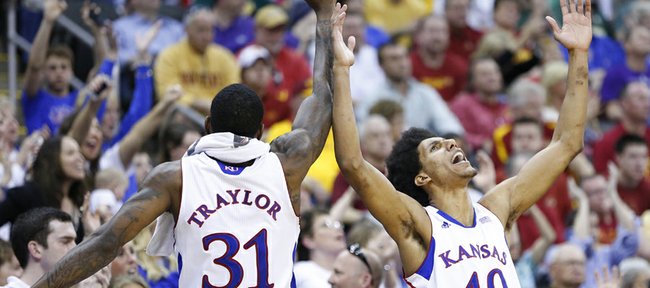 Photo Gallery
KU basketball v. Iowa State (Big 12 Tournament)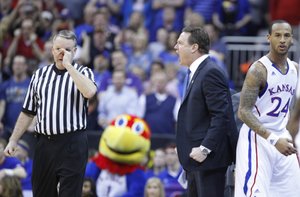 Images from Friday's semifinal round of the Big 12 Tournament against Iowa State.
Podcast episode
Kansas coach Bill Self talks after his team's 88-73 win over Iowa State on March 15, 2013.
Podcast episode
Kansas players Elijah Johnson and Perry Ellis talk to reporters following the Jayhawks' 88-73 victory over Iowa State on March 15, 2013.
Kansas City, Mo. — Kansas University senior Kevin Young, who injured his lower right leg in the first half of Friday's 88-73 Big 12 semifinal victory over Iowa State, was able to play just two minutes in the second half.
He headed to the locker room where he had X-rays and learned he'd sustained no serious damage when he fell and landed on an ISU player, banging the area "between the ankle and calf."
"When I came back here (locker room), I was fine," Young said after the game. "We came in here to make sure they didn't find stuff (damage). I'm all right. I'm good. It's nothing to worry about. I'm fine. I'm able to run now. I could have gone back into the game."
KU coach Bill Self said: "X-rays were negative on his lower leg. He'll be sore (Saturday). They'll do whatever treatment. I'll be shocked if he didn't try to play (in Saturday's 5 p.m. final against Kansas State)."
Payback denied: Iowa State's players had said on Thursday that they wanted "payback" against KU for KU's two victories over the Cyclones this season.
"We heard about a lot about that yesterday," KU senior Jeff Withey (14 points, six rebounds) said. "Media people told us. It's good to go out and play the way we need to play, show everybody we are Kansas and deserve to win. We'll keep it classy and go out and play basketball."
No comment: The media's request for a pool reporter to ask the officials about Ben McLemore's technical foul for taunting ISU's bench was apparently rejected by the conference. The reporter designated to be pool reporter said there was a request made and denied.
Tempers flare: KU's Rio Adams and Iowa State's Georges Niang (19 points, four rebounds) were seeing barking at each other during the handshake line after the game. They also had words during the game. Adams seemed more amused than angry, smiling during both exchanges.
KU vs. KSU part III: KU on Saturday will meet co-Big 12 regular season conference champion Kansas State in the 5 p.m. finals in Sprint Center. KSU enters with a 27-6 record, compared to KU's 28-5 mark. Both teams went 14-4 during the regular season.
KU handed the Wildcats two of their league losses. First, KU prevailed, 59-55, on Jan. 22, in Bramlage Coliseum. KU's Travis Releford scored 12 points, while Jeff Withey and Ben McLemore had 11 apiece. KSU, which hit nine of 30 threes, was led by Shane Southwell, who scored 19 points.
KU rolled, 83-62, on Feb. 11, in Allen Fieldhouse. Ben McLemore exploded for 30 points off 9-of-13 shooting (6-10 threes). Withey had 17 points and five blocks and Kevin Young 13 points. Rodney McGruder scored 20 points for KSU, which hit eight of 19 threes.
The Jayhawks on Saturday night hope to slow first-team all-Big 12 pick McGruder, a player Self says he respects greatly.
"He's one of my favorite players in the league that we don't coach," Self said. "He does a lot of good things. He handles himself beautifully out there. He seems like a terrific young man. He's competitive and has definitely improved every year he's been there, very deserving of first-team."
McGruder averages a team-leading 15.3 ppg.
"Rodney is a far more mature player as far as understanding how to move without the ball," Self said. "The offense they are running now (motion) has really benefited him at least as far as the outside looking in. He's grown on how to read screens, how to set people up, how to be in constant motion. It's a lot easier to guard somebody stationary than somebody who is always moving."
The Wildcats are led by Big 12 coach of the year Bruce Weber. Recently, at a postseason pep rally, Weber addressed sharing the title with KU. The Wichita Eagle reports that "Weber joked that he had hoped to celebrate a Big 12 championship a week earlier on Senior Day, but poor officiating — referring to KU's overtime victory at Iowa State — got in the way."
Self had "no comment" when asked about Weber's comments. KU fans on message boards took Weber to task for his statement.
Stats, facts: KU is now 64-24 all-time in league tournament play, including 34-8 at the Big 12 tourney. ... KU has reached the finals 10 times in 17 Big 12 events and has advanced to 18 conference tourney championships. ... KU is 19-4 all-time at Sprint Center, including a 5-0 mark this season. ... Bill Self is 297-58 at KU and 504-163 overall. ... KU is now 2,098-811 all-time. ... Iowa State, which hit 14 and 17 threes against KU in previous games, went 9-of-33 from three. ... KU overcame a 12-4 deficit early in the first half, which was Iowa State's largest lead in the three meetings against KU this season. ... In the two games at the tournament, KU is shooting a combined 64-for-109 (.587). KU shot an identical 69.2 percent in the second half (18 of 26) of both games. ... KU's 179 points scored in its first two games are most KU combined for 192 points against Colorado and Texas Tech in the 2002 event. ... Perry Ellis finished with a career-best 23 points, marking his sixth double-digit effort and second in the last three games. His previous career-high was 15 against Southeast Missouri State (Nov. 9, 2012), making this his first 20-point game. Ellis scored a combined 10 points in the first two meetings against ISU. ... Elijah Johnson scored KU's first seven of the second half. He finished with 14. ... Naadir Tharpe posted a game-high eight assists, which equaled his second-highest assist total of the season.
Hall of Fame: Dr. James Naismith, the inventor of basketball and KU's first basketball coach, will be one of five individuals inducted into the Kansas Hall of Fame on Friday, June 21 at the Great Overland Station in Topeka, it was announced Thursday by the Great Overland Station.
Naismith will be joined by Clark Kent/Superman; Kansas, the band; Drs. C.F., Karl and Will Menninger and the 1st Kansas Colored Infantry.
Tickets: Big 12 officials said a "very limited number of tickets" are available for the final.