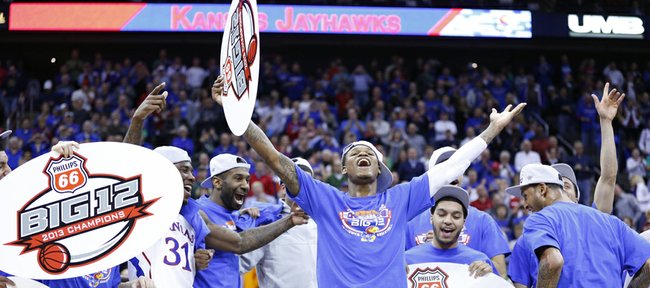 Photo Gallery
Kansas basketball v. Kansas State (Big 12 Tournament)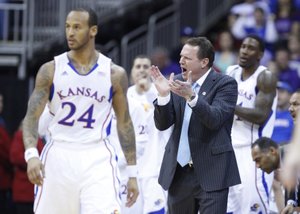 Images from Saturday's Big 12 Tournament championship game against Kansas State at the Sprint Center.
Podcast episode
Kansas coach Bill Self talks after his team's 70-54 win over Kansas State in the Big 12 tournament championship on March 16, 2013.
Podcast episode
Kansas seniors Jeff Withey, Elijah Johnson, Travis Releford, Kevin Young talk to reporters after the Jayhawks' 70-54 victory over Kansas State in the Big 12 tournament championship game on March 16, 2013.
Kansas City, Mo. — Wearing their Big 12 tournament championship T-shirts and hats, with confetti falling from the rafters, Kansas University's basketball players danced on a podium in front of their fans on Saturday night in Sprint Center.
It was time to party — the Jayhawks electing to gyrate to "The McLemore" — which appeared on YouTube after various KU victories during the 2012-13 regular season — following a 70-54 title win over rival Kansas State.
"To get that last win in the Big 12 means a lot to us. It's something the seniors can look back on and brag about," KU senior center Jeff Withey said after scoring 17 points and grabbing nine rebounds and being named Most Outstanding Player of the event.
Withey and his teammates mentioned "bragging rights" more than once, following a game billed as one that would determine the true Big 12 champion.
Both teams tied at 14-4 and were deemed co-champions during the regular season, though the Jayhawks did sweep the home-and-home series, 2-0.
"It means a lot to our fans who support us," Withey said. "They can go to work and not have to hear K-State fans saying they were co-champs. I think we won it outright today."
Senior guard Travis Releford, who popped out his jersey to the fans before throwing his wristbands into the stands after the final horn, acknowledged, "Now our fans can brag about who is the best team in the conference.
"We went into this saying, 'Whoever won it, it's winner take all.' If they would have won, I don't think we would have gone around saying we were the better team because they would have proved it. Now we can go out and say we're the best team in the conference. Our fans have bragging rights. It means a lot to them, too," Releford added.
"This game had to be played to be decided," stated senior point guard Elijah Johnson, who scored nine points with six turnovers against three assists.
KU coach Bill Self — he proudly noted that his Jayhawks have "had 18 opportunities to win a championship the last nine years and we've got 15" — credited a suffocating KU defense for the victory.
"We defended them. They didn't get many easy baskets. Our defense was terrific the first half," said Self, whose squad held (27-7) KSU to 16 points off 22.2-percent shooting the first half in grabbing a 24-16 lead. "I think it was our best game (of the three wins) against them. Our defense was exceptional."
Releford did his usual stellar job on Rodney McGruder, who scored 18 points off 7-of-15 shooting, but scored just four points off 2-of-9 shooting out of the gate.
"The key was help from my teammates, them being aware, letting me know when screens were coming," Releford said. "Because he ran off a lot of screens. I knew I had to make him uncomfortable and be there on the catch and not let him get easy looks, and I think that was a key in the first half."
The Jayhawks clicked offensively in scoring 46 the final half.
Naadir Tharpe (12 points, four threes) scored six points and dished a perfect pass to Releford for an assist on a dunk in a 12-3 run that upped a 33-28 lead to 45-31 at 11:59. Perry Ellis, who was named to the five-player all-tournament team, had eight points in a 12-5 surge that upped a 50-41 lead to 62-46.
"It feels good. It's very humbling," Ellis said of receiving all-tourney honors with Withey, McGruder, Angel Rodriguez (10 points, 3-12 shooting) and Oklahoma State's Marcus Smart.
"I came in here and had no thoughts I would do that. I just come in and try to win. Before the game, coach stressed defense and rebounding, that it'd be a battle. I think we did a good job there."
KU held KSU to 35-percent shooting overall. The Cats hit six of 24 threes. KU hit 49.1 percent of its shots, including seven of 14 threes.
The Jayhawks won on a day freshman McLemore hit for just five points off 2-of-7 shooting.
"It was a great game for us," McLemore said. "I didn't play my best. I'm proud of my teammates. Being out there, celebrating for the first time with my teammates, a lot of seniors, felt great. It's a blessing to be here with these seniors. Now that we've won it all (in conference), we've got to keep going, keep playing and try to win the national championship."
The Jayhawks at 5 p.m. Sunday (CBS Selection Show) will likely learn they've been awarded opening-round NCAA Tournament game(s) in Sprint Center next Friday and Sunday, as either a No. 1 or 2 seed. The reward of playing close to home will go to the team that will enter the postseason with a 29-5 record.
"We don't control that. We're in a good position to get a No. 1 seed depending on how teams ahead of us played," Releford said. "I don't know how it works, but if it goes off how a team is playing, I think we should have a 1 seed."