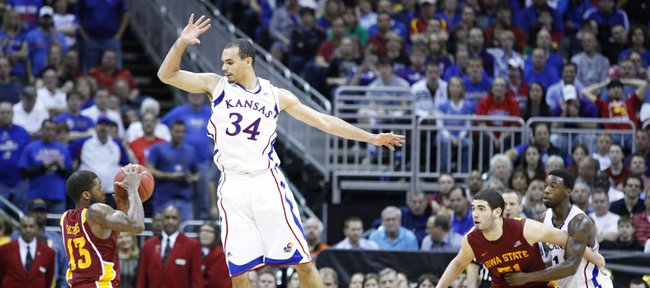 Photo Gallery
KU basketball v. Iowa State (Big 12 Tournament)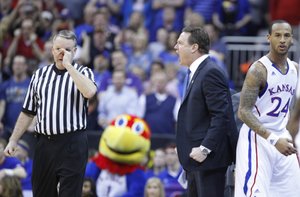 Images from Friday's semifinal round of the Big 12 Tournament against Iowa State.
Podcast episode
Kansas coach Bill Self talks after his team's 88-73 win over Iowa State on March 15, 2013.
Podcast episode
Kansas players Elijah Johnson and Perry Ellis talk to reporters following the Jayhawks' 88-73 victory over Iowa State on March 15, 2013.
Kansas City, Mo. — Tenth-year Kansas basketball coach Bill Self didn't aim all of his first-half fury at referees John Higgins and Terry Oglesby on the way to a 88-73 victory against Iowa State in a Big 12 tournament semifinal Friday night in the Sprint Center.
He saved some for KU freshman Perry Ellis during a timeout he called because his team had fallen behind, 12-4. Self started in on Ellis well before he made it all the way to the bench. Then he tore into Travis Releford before switching back to Ellis.
All the while, Ellis' expression never changed. It never does, it seems. Powerful dunks. Missed layups. The praise of thousands. The harsh criticism of a coach, the scorn of an enemy crowd. Same neutral look. If Ellis were in the middle of thousands of people with a tornado in the distance, heading their way, he would be easy to pick out of the crowd. He would be the one who sports the face of a young man playing a video game, impervious to his surroundings. When his basketball playing days are over he might want to take up poker. His face tells nothing, but his ears must have been working just fine because they obviously heard what the coach said and his eyes saw the anger behind the words. Ellis' stoic exterior notwithstanding, an "I'll show him" fire had been lit.
Later in the half, the emerging freshman who led Wichita Heights to four state titles, showed the sort of stuff that made him the all-time leading scorer in Wichita's City League history for a brief stay until KU recruit Conner Frankamp pushed him into second place.
Kansas needed somebody to get hot because Ben McLemore was on the bench with two fouls, the second a technical. Ellis scored six points in a span of 1:47, and that was just the beginning. By the time his career-high 23-point, six-rebound day on 10-of-12 shooting was over, he had scored via the short jumper, the hook shot, the drive, the dunk and the free throw.
A Sprint Center-record crowd of 19,160 watched Ellis turn from a freshman into a sophomore in one night, his confidence growing exponentially as the game progressed.
Ellis coming on so strong in mid-March is the equivalent of a Major League Baseball contender adding a hired gun to the starting rotation for the September stretch run. It doesn't guarantee a thing but it sure gives the dream a more realistic feel to it.
"That's what we've been looking for from him all season," senior guard Travis Releford said. "He's stepping up for us at the right time. If he can do that for us through the rest of the season, that's going to help us a whole lot."
If Ellis continues to produce, he'll put smiles on so many faces, just not his own.
"That's just him. He doesn't show any expression at all," Releford said. "He's been that way the whole season. Even after the game when we tried to rally around him, he still had the same expression, like he didn't go out there and have a 20-plus game. If he continues to play hard and play the way he's been playing, we're going to be tough to beat."
Releford didn't gain as much acclaim in high school, but he garnered a pretty decent buzz himself playing for Bishop Miege.
"I told him it's a tough transition coming from high school," Releford said. "With him being a McDonald's All-American you have all the hype, and to come in and not get what he expected right away, I told him at Kansas you have to learn, you have to learn all the ins and outs of what coach Self wants from you and once you do that, the sky's the limit for you."
In the first 26 games, Ellis averaged 13.1 minutes, 4.3 points and 3.4 rebounds and made 39 percent of his shots from the field, 66 percent from the line. In the last seven, he has averaged 16.3 minutes, 10.1 points and five rebounds and has been a 65-percent shooter from the field and a 95-percent shooter (21 of 22) from the line. Obviously, he's more than a straight-A student in the classroom, which is what he was in high school.
"Our whole deal with him is to be aggressive, be aggressive," Self said. "He's one of the those kids that as soon as you say run, he'll run faster. As soon as you say jump, he'll jump higher. … Tonight they played behind him on the post and he was able to get catches. And that's what he can do. I mean, he played great. But the plays he made are plays that I think he can consistently make if he just stays aggressive and stays confident."
If he doesn't, Self will let him know it and Ellis will run faster, jump higher, changing everything but his expression. This March surprise just might help Kansas to land a No. 1 seed heading into the NCAA Tournament.