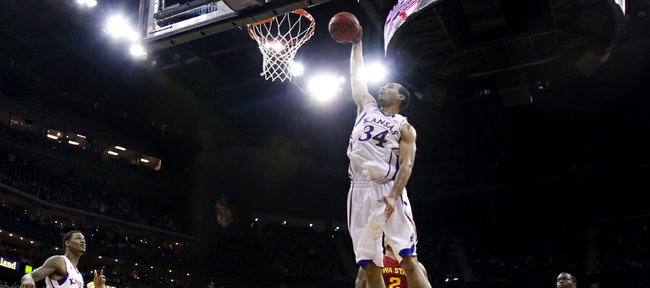 Photo Gallery
KU basketball v. Iowa State (Big 12 Tournament)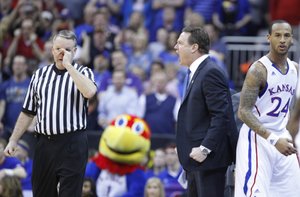 Images from Friday's semifinal round of the Big 12 Tournament against Iowa State.
Podcast episode
Kansas coach Bill Self talks after his team's 88-73 win over Iowa State on March 15, 2013.
Podcast episode
Kansas players Elijah Johnson and Perry Ellis talk to reporters following the Jayhawks' 88-73 victory over Iowa State on March 15, 2013.
Kansas City, Mo. — Giddy Kansas University basketball fans chanted, "Perry, Perry," as the man of the hour — freshman forward Perry Ellis — completed an interview with ESPN's Holly Rowe and jogged off the Sprint Center court following the Jayhawks' 88-73 Big 12 semifinal victory over Iowa State on Friday in Sprint Center.
The crimson and blue-clad spectators in the tourney-record crowd of 19,160 also serenaded the 6-8, 225-pounder from Wichita after a dunk with 6:42 to play and basket and foul shot at 4:31.
"I heard it a little bit. I wasn't paying attention. I was just focusing on the game. I wasn't paying attention to that," said Ellis. He exploded for a career-high 23 points off 10-of-12 shooting and 3-of-3 free throwing, with six rebounds and two steals in 28 minutes.
"I was lost in my emotions out there. I was just having fun," added Ellis, whose previous career high was 15 points against SE Missouri State on Nov. 9.
His previous high in a conference game was 12 twice — in a home game versus TCU and again at Baylor.
"I really felt free out there. I wasn't thinking about anything. I wasn't worrying about messing up," said Ellis, who filled in for senior Kevin Young, who grabbed six rebounds while playing just 10 minutes because of a lower leg injury, which should not keep Young from playing in Saturday's 5 p.m. tourney final versus Kansas State.
The fact Ellis knew he was needed might have sparked him, noted KU coach Bill Self.
"Kevin getting nicked up, the fact he couldn't go, it wasn't that particular thing that helped Perry (but) he knew he was going to play no matter what," Self said. "Guys prepare for the moment. This was his moment. It has to give him confidence."
Young, who banged his lower right leg when he fell on an Iowa State player midway through the first half and tried but was unable to go during a brief second-half stint, said he enjoyed watching Ellis perform.
"Every time he got the ball I was, 'Attack Perry. Attack, Perry. You got it,''' Young said. "I was jumping up and down. I was yelling, 'Get the ball back to Perry. Let Perry go to work.'''
Ellis did say he and his teammates were energized when Self picked up a technical foul with 7:47 left in the first half. Self was furious that Ben McLemore had been whistled for a 'T' for allegedly taunting the Iowa State bench after McLemore hit a three at 9:41.
"It was a momentum push. We saw he was fighting. We had to fight with him," Ellis said.
The 'T' came after a Georges Niang bucket cut KU's lead to 20-19 at 7:47, Self ranting and raving following the inside hoop. By half, the Jayhawks held a narrow 35-31 lead, thanks to a Travis Releford three on the final possession of the half. KU rolled, 53-42, the final 20 minutes.
"The one (technical) in Ames I wanted. The one here I ... I deserved both of them," Self said. "I don't think it was calculated. I don't mind my guys seeing me fired up. Usually I'm fired up against them. This time I was fired up for them.
"That was a 'mad' T," Self added. "It turned out to be intentional because there was no way I couldn't get one. I acted like an idiot. It happens every now and then. Hopefully not often."
McLemore, by the way, said he wasn't trying to taunt Iowa State following his three that gave KU a 16-13 lead.
"I didn't say anything. All I did was hold up three (fingers) and went, 'Boom,''' McLemore said. "I was looking at the bench when I did it. It's what I do whenever I make a three. I don't think it changed the momentum of the game."
"Every time Ben makes a three, which a lot of players do, he does the three sign and puts it down his leg," Self noted. "The official told me, 'I don't know if he said anything or not, but he looked at the bench.' I am all for sportsmanship. I don't know if it's bad sportsmanship if you look at the bench, though."
Up 38-33, KU used a 17-6 run to bust the game open at 55-39 with 12:24 to play. Jeff Withey had seven of his 14 points, while Ellis and Elijah Johnson had four in the run.
"We were motivated to win," said Releford. "We knew both games against Iowa State this year (two overtime KU wins) could have gone either way, there and our place. We wanted to play the game and get this win and move to the championship game."