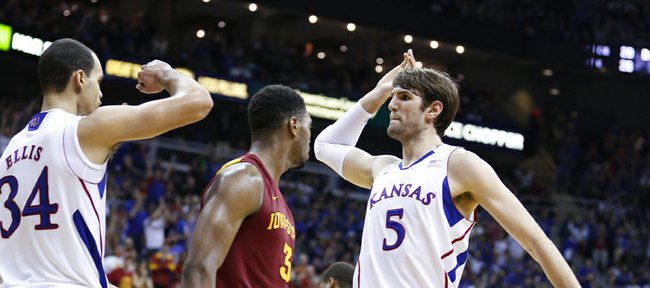 Photo Gallery
KU basketball v. Iowa State (Big 12 Tournament)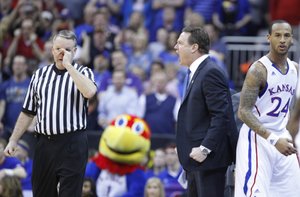 Images from Friday's semifinal round of the Big 12 Tournament against Iowa State.
Podcast episode
Kansas coach Bill Self talks after his team's 88-73 win over Iowa State on March 15, 2013.
Podcast episode
Kansas players Elijah Johnson and Perry Ellis talk to reporters following the Jayhawks' 88-73 victory over Iowa State on March 15, 2013.
Kansas City, Mo. — With the haunting memory of Elijah Johnson's 39-point explosion in Ames, Iowa, still fresh in their minds, several Iowa State Cyclones admitted that Friday's 88-73 semifinal loss to Kansas University at Sprint Center felt like deja vu. Only with a different player.
Convinced that their third meeting with Kansas this season would be the one that got them over the hump, Iowa State entered Friday's match-up believing it had everything covered.
Although it stung at the time, the Cyclones learned from Johnson's outburst. ISU's plan to attack KU center Jeff Withey worked as well as any all season. And with 6-foot-5 senior Chris Babb assigned to get physical with KU star Ben McLemore, Friday was supposed to be ISU's day. But then Kansas freshman Perry Ellis checked in and changed everything.
"It felt like the same thing as when we played 'em at our place," Babb said. "Elijah Johnson, who was averaging like nine or 10 points, goes off for whatever he had (39). It's been that way for us all season. It's always guys who aren't in the game plan finding a way."
Ellis found several ways to dominate in this one, finishing with a career-high 23 points on 10-of-12 shooting, with six rebounds and two steals in 28 minutes. He flashed fancy footwork in his face-up game, hit a couple of mid-range jumpers and threw down multiple momentum-changing dunks after switching into attack mode.
"It kind of surprised us," Babb said. "And was different from our game plan. But it worked for them. Guys are gonna play big in big games, and he stepped up for them. Our game plan was more targeted toward (KU senior Kevin) Young, who's not as big a threat offensively. But (Ellis) played great. He's way more active offensively. He's definitely skilled."
Although Ellis' big game did not match ISU's game plan, one Cyclone who was not surprised by Ellis' big game was ISU freshman Georges Niang.
"I played against him in high school," said Niang, who played at The Tilton School in Tilton, N.H. "And I know he's a real good player, but when we played them the first two times, he was always struggling. But he came out, he had some ambition and he really got it going. We couldn't really stop him. Credit to him. I know he's probably been working a lot on his game."
Early on, Iowa State took control and built a 12-4 lead that seemed even larger because of the large number of ISU fans in the stands. But Kansas answered with a 20-9 run and, after taking a 26-24 lead on a bucket by Babb with 4:57 remaining in the first half, Iowa State never led again. That only added to the pain of falling short against the class of the Big 12 for the third straight time.
"We felt like we should've won both games, and we felt like we had this one," senior point guard Korie Lucious said. "It's hard to beat any team three times in a row. We just thought we were gonna get this one. And it hurts."
Added Will Clyburn, who openly talked Thursday about being ready to get payback: "I think everybody wanted this game. The freshmen, the seniors, even the walk-ons. Everyone wanted this one bad. We just didn't do what we were supposed to do. Kansas is a good team. You have to respect 'em."