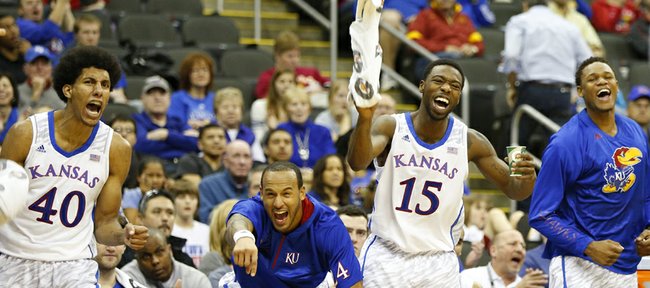 Photo Gallery
KU basketball v. Texas Tech (Big 12 tournament)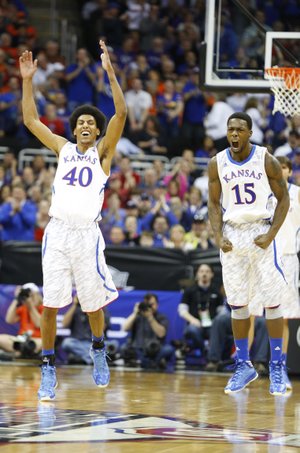 Images from Thursday's second-round game against Texas Tech at the Sprint Center in Kansas City.
Podcast episode
Kansas coach Bill Self talks after his team's 91-63 win over Texas Tech on March 14, 2013.
Podcast episode
Kansas players Jeff Withey and Ben McLemore talk to reporters following the Jayhawks' 91-63 victory over Texas Tech on March 14, 2013.
Kansas City, Mo. — Kansas University's white camo uniforms, which made a triumphant debut in the Jayhawks' 91-63 Big 12 tournament quarterfinal rout of Texas Tech on Thursday in Sprint Center, might not be headed to the storage closet after all.
"I don't know what we're going to do. I don't like them at all, but we shot good in them," KU coach Bill Self said after the (27-5) Jayhawks hit a sizzling 66 percent of their shots in advancing to Friday's 6:30 p.m. semifinals versus (22-10) Iowa State.
"I'll ask our guys what they think. I don't know if we should sport them again or not."
Self's players, who not only wore adidas camo shorts and tops, but blue camo shoes and socks, looked mighty comfortable in sinking 31 of 47 shots, including nine of 18 threes. The 66-percent shooting was best-ever in a Big 12 tourney game and also tied for the best marksmanship by a KU team in the 10-year Self era.
KU also hit 66 percent against Oklahoma State on Feb. 27, 2005, in Allen Fieldhouse.
"They are a little different. The shorts feel like swimsuits," said senior forward Kevin Young. He went 3-of-3 from the field and 3-of-4 from the line, good for nine points with three assists and two rebounds in 21 minutes.
"I kind of liked them," said freshman forward Perry Ellis, who scored eight points off 3-of-5 shooting and grabbed seven rebounds in 14 minutes. "They are pretty cool-looking. They are light. They are all right."
Noted freshman guard Rio Adams, who scored a career-high 11 points in five minutes: "They're nice. They're current. They are fine. I have no problem with 'em."
Or as Elijah Johnson (four points, four assists, 27 minutes) said: "I like the shorts. They are light like swimming trunks. It feels good to win regardless ... even if you've got on a Speedo."
KU freshman Ben McLemore, who finished with a game-high 24 points off 8-of-12 shooting (4-8 from three) scored 12 points as KU raced to a 15-2 lead. He had 14 points off 5-of-7 shooting the first half as the Jayhawks took a 34-25 lead into the break.
"Ben got us on a roll. He helped us out offensively," said senior center Jeff Withey, who scored nine points off 3-of-3 shooting with four rebounds and three blocks in 26 minutes. "He made it so the team had energy. Whenever he starts games off like that, it helps us."
McLemore also had four rebounds in 32 minutes.
"We played well today. I think at Waco we learned from that game," McLemore said of last Saturday's 81-58 loss at Baylor. "We had really tough practices, which we needed. We came out today and played our game and came out with a win."
Of his early play, McLemore said: "I tried to be aggressive from the gate. I tried to keep that going and get my teammates involved, too. They got me the ball. I appreciate that."
KU had a batch of players perform well offensively. Jamari Traylor had a career-high seven points in 11 minutes, while Andrew White III hit a pair of threes and scored six points in six minutes.
"Ben got us off to a good start," Self assessed, "then we puttered around but played a pretty good second half (57 points off 18-26 shooting). Our defense was pretty good except we fouled so much."
Tech hit 21 of 24 free throws to KU's 20 of 23.
The Jayhawks think they were able to put the Baylor game behind them and at the same time learn from that blowout loss.
"We came out flat against Baylor and had a couple of tough days of practice after that," Withey said. "We know we can't come out flat because we become really average and not a very good team. We're going to learn from our losses. During this time of the season we can't have any more of those."