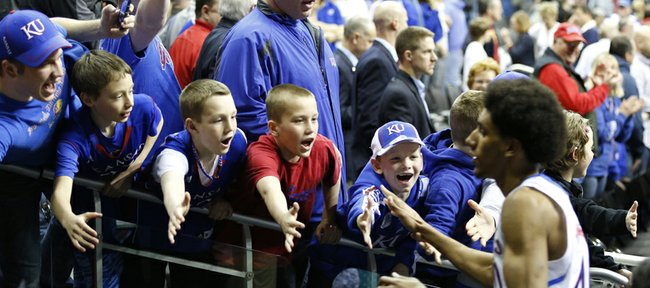 Photo Gallery
KU basketball v. Texas Tech (Big 12 tournament)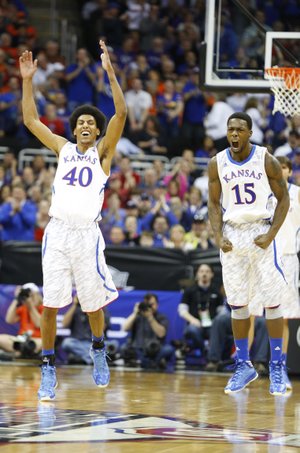 Images from Thursday's second-round game against Texas Tech at the Sprint Center in Kansas City.
Podcast episode
Kansas coach Bill Self talks after his team's 91-63 win over Texas Tech on March 14, 2013.
Podcast episode
Kansas players Jeff Withey and Ben McLemore talk to reporters following the Jayhawks' 91-63 victory over Texas Tech on March 14, 2013.
Kansas City, Mo. — For the Power and Light District merchants outside the Sprint Center, the Big 12 basketball tournament is about so much more than team loyalty. It's about generating enough revenue to pay the bills through the inevitable slow stretches. Hence, all the long faces, the hanging heads, the grousing early Thursday afternoon as Oklahoma systematically padded its lead against Iowa State inside that big building across the street.
An estimated six times as many Iowa State fans flocked to K.C. for the event that bridges the regular season and the tourney of all tourneys. We'll never know for sure, but it's conceivable that for a merchant or two the difference between succeeding and going out of business could have been riding on the Cyclones staging a comeback.
Luckily for the nearby businesses and for basketball fans who enjoy watching an underdog whose style gives the heavyweight champion trouble, Iowa State point guard Korie Lucious stopped shooting and Will Clyburn and Melvin (it's not his fault he has the same first name as Weatherwax; he's one heck of a tough player) Ejim went to work.
Ejim scored 15 of his 23 points and Clyburn had 15 of his 17 in the second half, bringing the Cyclones back from a 13-point deficit with less than 10 minutes remaining to score a 73-66 victory.
Kansas had no trouble taking care of the other half of the rematch equation by blowing out Texas Tech, 91-63.
Iowa State-Kansas III, a basketball sprint in the Sprint.
Some schools play against each other for 10 years without generating as many memorable moments as KU and ISU did in two games during the regular season.
Elijah Johnson's 39 points. Ben McLemore's banked three-pointer on his way to 33 points on just 12 field-goal attempts in Allen Fieldhouse. McLemore scoring just seven points in Ames. Johnson's apparent charge not called. Kevin Young raising his hand and baiting the referee into calling the foul on him instead of on Jeff Withey, who already had four fouls. Johnson's unappreciated dunk at the overtime buzzer, triggering fans to hurl plastic mini-megaphones on the floor. An angry Iowa State booster charging Kansas coach Bill Self and verbally blasting his players while policemen stepped in and saved the guy from possibly doing something that could have resulted in him having handcuffs slapped on his wrists.
Forty minutes of regulation clock couldn't decide either game with the score tied 79-79 in the first, 90-90 in the second. Kansas won both overtimes by a combined 36-16.
Clyburn, winner by landslide of the Big 12 Newcomer of the Year Award for which freshmen are not eligible, used his skill to help Iowa State earn a third shot at Kansas and then used his words to add spice to Friday night's already compelling rematch.
"They beat us twice during the year, probably games we shouldn't have lost, but, hey, I'm ready for payback," Clyburn said after scoring 15 of his 17 points in the second half of the Cyclones' 73-66 comeback victory against Oklahoma.
When that quote was run past a few Kansas players their answers could be summed up in one word: Yawn.
"I don't think there's a lot of emotion going into it," Travis Releford said while tearing the tape off his ankle. "They're a good team. We know what to expect from them because we played them twice. I think it's going to be an overall fun game."
Even if the title-game matchup should happen to pit both teams from the state Kansas against each other, such a matchup might not match Friday's 6:30 p.m. semifinal tipoff.
"They came down close both games and they both happened to go our way," Releford said. "For us to be able to match up in the Big 12 tournament to see who is the better team, I think that's good for both teams."
Both teams have the firepower to stage big comebacks.
"We have a team full of shooters," Clyburn said, explaining Thursday's comeback. "And one thing about shooters, you have to have confidence. Forget about making or missing. If you miss a shot, gotta shoot the next one. That's what we have on this team, shooters with confidence."
Shooters with a third shot at Kansas.
More like this story on KUsports.com