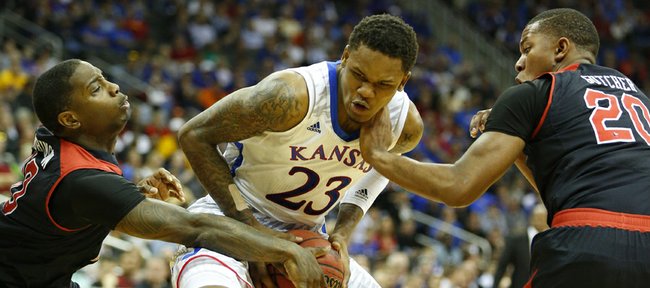 Photo Gallery
KU basketball v. Texas Tech (Big 12 tournament)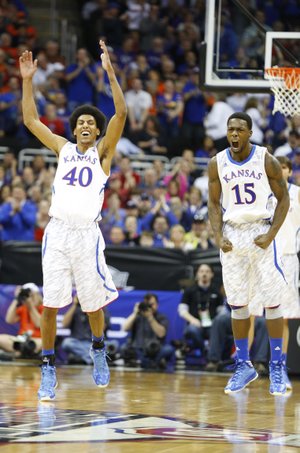 Images from Thursday's second-round game against Texas Tech at the Sprint Center in Kansas City.
Podcast episode
Kansas coach Bill Self talks after his team's 91-63 win over Texas Tech on March 14, 2013.
Podcast episode
Kansas players Jeff Withey and Ben McLemore talk to reporters following the Jayhawks' 91-63 victory over Texas Tech on March 14, 2013.
Kansas City, Mo. — Shortly after doing their part to help the Kansas University men's basketball team disprove the cliché that beating a team three times in the same season is tough to do, members of the Texas Tech Red Raiders sounded off about Friday's semifinal match-up between KU and Iowa State.
The answers from those players who were asked included everything from picking KU to picking Iowa State and "I'd rather not say," but the vast majority of Tech's players seem to believe that the Jayhawks (27-5) will pick up their second three-game season sweep of a conference foe at 6:30 Friday night.
"I'm gonna have to go with Kansas just because of that inside presence with Jeff Withey," said sophomore forward Jordan Tolbert, who tallied 13 points and six rebounds during Tech's 91-63 loss to KU on Thursday at Sprint Center. "Offensively, Iowa State could beat 'em, but I think it'll come down to defense and offensive rebounds, and I think Kansas will take those."
The Red Raiders split with Iowa State this season, winning, 56-51, at home and falling, 86-66, on the road. Not only are they familiar with KU's next opponent from having played it, but many of them also saw both of KU's overtime victories against the Cyclones this season. And they're looking forward to Round 3.
"I respect both teams," said junior Dejan Kravic, who finished Thursday's loss with 20 points and three rebounds. "They're both amazing teams, but Kansas just has an edge inside and also with their guards. I mean, they might have the No. 1 draft pick (Ben McLemore) playing with Elijah Johnson and then (Travis) Releford is one of the most underrated players in our league. I gotta give it to Kansas, but I think it's gonna be another down-to-the-wire win."
Sophomore Clark Lammert also picked the Jayhawks and his reason echoed that of his teammates.
"I'd take Kansas," he said. "They're just very disciplined and they're well coached. If you can get Withey in foul trouble and get him on the bench, it opens up that lane. Otherwise, Iowa State's gonna have to rely on its three-point shots. It definitely makes for an exciting match-up, that's for sure."
Tech, which played two good halves against KU in six tries this season, did its best to make Thursday's match-up exciting. After taking an initial punch and falling behind by double digits early, the Red Raiders cut KU's lead to 27-25 late in the first half. KU responded with a 7-0 run to close the half and then hung 57 points in the final 20 minutes.
"When they get rolling, it's really hard to stop them," Kravic said. "They're a top five team in the nation for a reason."
Added TTU coach Chris Walker: "They're experienced. They have guys that played in the national championship game. That's what Kansas is. That's what we aspire to be."
Of those players surveyed after Thursday's game, only junior guard Jamal Williams picked Iowa State in today's match-up. The reason?
"Iowa State plays with a lot of confidence and they play comfortable," he said. "They're hungry. They feel like they took a real tough loss, and I feel like they've got something to prove this time around. So I'm going with the underdog."