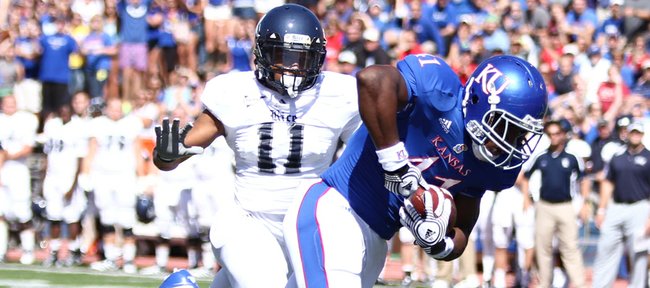 With Notre Dame transfer Mike Ragone gone and four tight ends vying to snag his snaps, tight end is one of the more intriguing positions on the Kansas University football roster this spring.
While a couple of the guys battling for playing time have logged experience in the past, none of them are considered known commodities.
"It's anybody's time," said KU tight ends coach Jeff Blasko. "It's all fair game, the depth chart is fluid and we'll go from there."
Jimmay Mundine is listed No. 1 at the position on KU's pre-spring depth chart. During his first couple of seasons in town, Mundine, a 6-foot-2, 242-pound junior from Denison, Texas, has shown bright spots a pass catcher, but most of his opportunities have come during mop-up time. According to the coaches, something clicked for the big body in the offseason that has them excited about his potential in 2013.
"I have been very pleased with Jimmay in just about every facet since the season ended," KU coach Charlie Weis said. "He changed his body and is in great shape. He is one of those guys that has emerged as a leader and we did not know he had that in him."
When asked to explain what changed with Mundine during the past few months, Blasko pointed to the positive feedback he's heard for the work he's done.
"I think he's a guy that feeds off the confidence," Blasko said. "And when he plays with confidence he takes his game to another level and that's something we're excited about moving forward."
Junior Trent Smiley, who played in all 12 games last season and was used primarily as a blocker, will be a non-contact player this spring because of offseason shoulder surgery and incoming freshman Ben Johnson, of nearby Basehor-Linwood High, won't arrive on campus until June.
That leaves senior Charles Brooks and red-shirt freshman Jordan Smith as Mundine's direct competition for reps this spring. Both have a chance to work their way up the depth chart quickly, according to Blasko.
"To me, it's fun because of the competition that it brings to the table," Blasko said. "When things get hot and heavy and the competition arises, you really get to see a kid's true personality. Some kids crumble and some kids elevate their play."
Brooks, a junior-college transfer in the recruiting Class of 2012, played in just one game last season and rarely showed the speed, athleticism and big-play ability the coaches saw when they recruited him.
"He obviously was a disappointment," Blasko said. "We had higher expectations for Chuck in Year 1 and Chuck had higher expectations for Year 1. But we're erasing the past, we're moving forward. He feels more comfortable here. He feels more in the offensive system now and the terminology and all those things and we're anticipating him to be much improved."
Smith hits spring drills with perhaps the most balanced set of all-around skills of all of KU's tight ends. Although he lacks experience, he's both a physical presence who has good hands and athleticism. He also looks nothing like the player who reported to campus last June.
"He's another guy whose body has completely transformed," said Blasko, noting Smith now weighs 247 and has added nearly 20 pounds of muscle since arriving on campus. "His strength right now is the point-of-attack blocking. He plays with good pad level, he's tough, he's nasty, he plays with some fire. The pass game is his area where he's got ability but we just need to fine-tune some things to get him better."
The Jayhawks ran through practice No. 4 of the spring on Tuesday and will hit the field again Thursday before taking 12 days off for spring break.
More like this story on KUsports.com