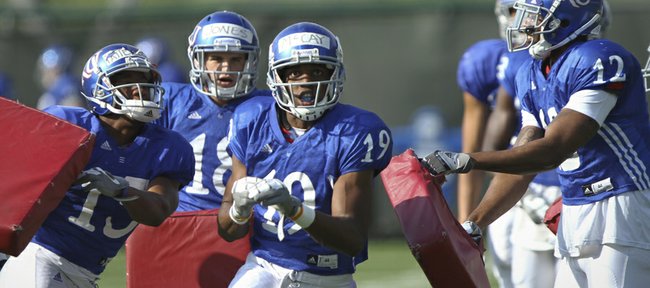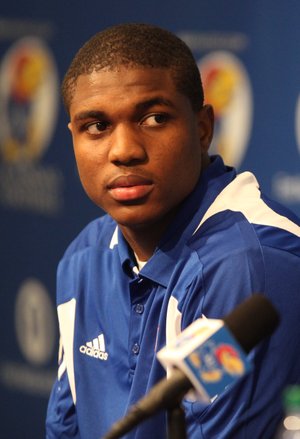 Based on fan reaction, one of the biggest surprises regarding the Kansas University football program's pre-spring depth chart was junior Justin McCay's listing as the second-string X receiver.
The news did little to shock McCay.
"The depth chart is where they perceive us to be," McCay said. "But we all gotta perform. You can go from last to the top, so the depth chart doesn't really matter, you just gotta go out there and compete every day."
That's what McCay has done since he arrived in Lawrence, but because of the circumstances surrounding his transfer, it mattered little.
Dating back to January 2012, when McCay first committed to leave Oklahoma and join the Jayhawks, fans of KU football have been operating under the assumption that McCay could be a game changer. That possibility certainly still exists, but as the team heads into its second spring session under head coach Charlie Weis, McCay is one of the most significant question marks on the roster.
"Of the guys we have here and not the guys coming in," Weis began. "The only unknown for us, really, is Justin, until he gets out there and we see what holes he has in his game. Last year at this time, when we went through spring drills, we were very disappointed."
At the time, the 6-foot-2, 213-pound McCay not only was going through the process of leaving OU and relocating closer to his Kansas City, Mo., home, but he also was in the middle of a long and drawn-out battle with the NCAA for immediate eligibility. It never came, as both his initial waiver request and subsequent appeal were denied, leaving McCay ineligible for the 2012 season.
As soon as that was settled, McCay put his disappointment on the shelf and went back to work. The coaching staff noticed.
"He gained our support as time passed because he kept getting better and better," Weis said. "I would like to think that Justin is going to press Andrew, (Turzilli) and Andrew better be ready to bring his A game."
While McCay worked almost exclusively with the scout team last season, Turzilli took the first significant step forward in his career, finishing with 287 yards on 17 catches in four starts. He started slow, took off in the middle and faded at the finish. But whether he stays ahead of McCay on the depth chart or winds up working behind him, there is plenty of room for both players to play prominent roles in an offense that received zero touchdown receptions from its wide receivers in 2012.
"I think every one of our receivers were incomplete last season," Weis said. "In other words, they were good at something and not so good at something else."
McCay, who said it killed him to have to sit out while his teammates battled last year, believes things will be different this season. From where he sits, they already are.
"Oh, man, I'm super excited," he said. "I'm just ready to get out there and show everybody what Kansas football can really do. Not just myself. It's not an individual thing at all. I'm just here to help the team out any way I can. I'm not a selfish guy at all. If I don't play a down at receiver and I'm on special teams, I'm happy with that. I just want to play."