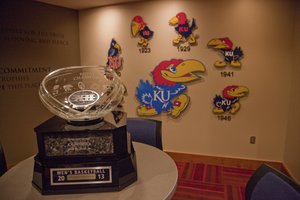 Kansas State's basketball players and coaches clipped the nets before about 3,000 fans Monday in Bramlage Coliseum in celebration of the school's first men's conference hoops championship since 1977.
There was no such commotion at Kansas University — where the co-Big 12 champion Jayhawks, like the Wildcats, lost Saturday to see their final league record settle at 14-4.
"We didn't pop any bubbly on the way back from Waco, trust me," KU coach Bill Self said of the aftermath of the Jayhawks' 81-58 loss to Baylor.
He did congratulate his players for winning a ninth-consecutive Big 12 crown on the bus ride from Topeka's Forbes Field to Lawrence on Saturday night and, on Monday afternoon, handed each of his players league-title hats and T-shirts following a critical film session.
"I wouldn't say we've celebrated at all," KU senior center Jeff Withey said. "We lost when we won it. It's not a very good way to win it."
It's safe to say there will be no pep rally in Lawrence this week in advance of KU's Big 12 quarterfinal contest against either Texas Tech or West Virginia, set for a 2 p.m. tipoff Thursday at Sprint Center in Kansas City, Mo.
"Are they?" Withey said Monday when informed the Wildcats had scheduled a pep rally for Monday night. "We're Kansas. We're not going to do that. We're just looking forward to the (Big 12) tournament coming up."
Or as senior guard Elijah Johnson noted: "I mean, it's nine straight, but we don't celebrate until everything is said and done. There's nothing to celebrate about right now, anyway."
Though mighty disappointed in KU's 23-point loss to Baylor — a game that took place after KSU's loss at Oklahoma State — Self has made sure to tell his players "congratulations" more than a few times.
"One game can't take away from what our guys have accomplished, what they've done through the course of the conference season," Self said. "We are not real pleased the way we ended it. I'm proud we got a piece of it. I look forward to going to Kansas City and seeing what happens there."
Self said he's heard from several individuals who have said, '"Congratulations, great accomplishment, it sucks how you did it.' That's not true. It doesn't stink. It's a great feat for our guys.
"It's never great losing the last game of a regular season. If you look at the body of work, since Jan. 10 it has been pretty impressive. Eliminate eight days (three consecutive losses), and it's been really impressive. We'll talk about it (title), but I don't see any reason to be giddy about it or celebrate it in a big way because I want our guys to still sting, to still feel even though we're happy with our accomplishment, why would we not put a foot on a throat (at BU)? Why would we take the foot off the gas? We've got to have that killer instinct so moving forward if we experience some success we don't think that success automatically comes to you. You've got to work every day."
Self said KSU was equally deserving.
"We're not going to apologize for sharing it at all, and congratulations to K-State. I hate that they share it with us, but they deserve it because they had a great year," Self said. "They won some big games away from home, too. It's one of those things that I don't know if people around here — and maybe rightfully so — really appreciate what it is, but from a guys' locker-room standpoint, from a coaches' locker-room standpoint, you want to be the best that you compete against. For us, that's also (North) Carolina, Kentucky, Duke, Michigan State and some other people that we run against. The primary deal is, you spend 21⁄2 months of your season trying to win a league championship. Why would you discredit winning a league championship when you spend so much time trying to do it?
"To get nine in a row, or a piece of it, is pretty cool," he added, noting everybody on the team has "maxed out." "If they've been here five years, they've got five rings. If they've been here three years, they've got three rings."
Withey said the BU game is now officially past tense.
"We've forgot about that game already," he said. "We can learn from it for sure. At the end of the day, we are still champions. We won it with K-State. We did our job. We're going to try winning the tournament. It's all we focus on."
Traditionally, winners of the Big 12 tournament also clip the nets.
"It's for pride," Withey said of the upcoming tourney. "Whoever wins it was best team in the league. We definitely want to win it. It'd help us get a No. 1 seed hopefully in the NCAA Tournament."
Weber's line sparks no comment: The Wichita Eagle's account of Monday's KSU pep rally reports that "coach Bruce Weber joked that he had hoped to celebrate a Big 12 championship a week earlier on Senior Day, but poor officiating — referring to KU's overtime victory at Iowa State — got in the way."
Reached by the Journal-World for a reaction to that news item, Self said: "No comment."
More like this story on KUsports.com