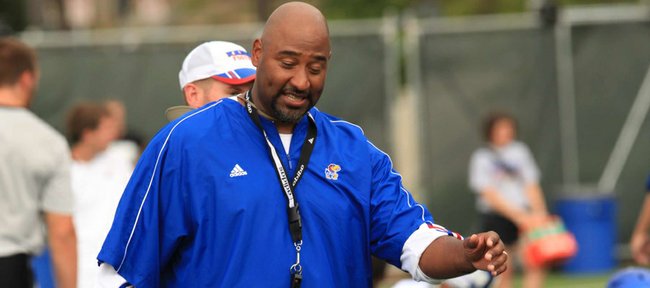 Kansas University's shortage of football defensive linemen last spring became a well-known fact and even occasionally inspired head coach Charlie Weis to joke about the sanity of defensive coordinator Dave Campo and defensive-line coach Buddy Wyatt.
But as the Jayhawks jump feet-first into Weis' second spring with a new crop of big guys up front, that's not the case any longer.
"It's always good to get new blood," Wyatt said with a grin. "Get a little transfusion and get going."
The Jayhawks' most recent recruiting haul featured five junior-college transfers who play in the trenches, and though not all made it to Lawrence for spring drills, those who did already have changed the look of KU's front four on defense.
Defensive tackle Marquel Combs — the No. 1 juco player in the country according to ESPN.com — and defensive end Andrew Bolton will bolster the Jayhawks' roster in June when they arrive. Until then, Wyatt and Campo are thrilled about the opportunity to work with defensive end Chris Martin, defensive tackle Ty McKinney and defensive tackle Tedarian Johnson, along with a deep and improved crop of returning players who figure to make the D-line one of KU's most competitive positions throughout 2013.
"It's good to see those guys and get working with them," Wyatt said. "I've seen them sometimes in the offseason program and heard about (strength coach Scott) Holsopple working 'em, but it's good to get 'em out there on the field and actually work with 'em. It's an exciting time."
Exciting only begins to describe the difference between what Wyatt and company are working with this year compared to what they were forced to work with last spring. Remember, this was a position in 2012 without enough healthy bodies to play a true spring game. Because of that, significant reps last spring went to a walk-on, and Weis waited until August to switch one player from defensive line to offensive line.
No such measures are necessary this spring. Instead, Weis, Wyatt and Campo can worry more about teaching the finer points of KU's new defensive scheme, which was born out of the versatility the defensive line now has.
"I just think finally we have the personnel," said Wyatt, noting that things will really turn up a notch when everyone arrives. "We have more of the three-technique (inside) guys that we feel can play, and we felt we needed to find a scheme that can get more of those guys on the field."
The new plan of attack incorporates a popular position known as the "Buck," a hybrid between a defensive end and an outside linebacker, that gives KU's defense immediate flexibility on the field. Former Jayhawk Toben Opurum played the position for one season under Turner Gill in 2011, and Martin and Michael Reynolds are the top two players at the new spot on KU's pre-spring depth chart. Martin, who played at Florida in 2011 before searching for a fresh start at the juco level, seems to be the one guy who Campo and Wyatt believe could be a difference-maker for the Kansas pass rush.
"I think Chris really has added that element for us," Wyatt said. "To see some of his athleticism and his length, he has some of the tools that the really good pass-rushers have."
Added Campo: "A guy like Chris Martin … we don't have a lot of those guys. So we've kind of created something where we can move him around and get him into (different positions), and hopefully he'll be good enough to put some pressure on the quarterback and give us a chance."
The Jayhawks are off today and will return to the field Tuesday for their fourth of 15 spring practices.
More like this story on KUsports.com