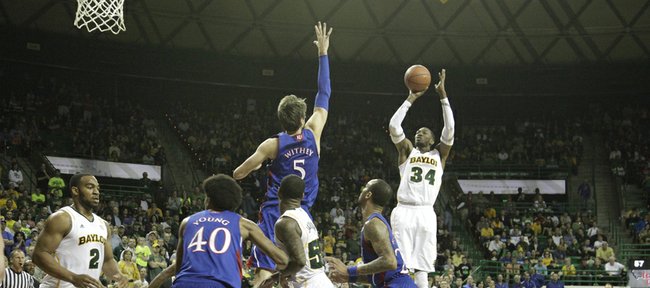 Photo Gallery
KU vs. Baylor men's basketball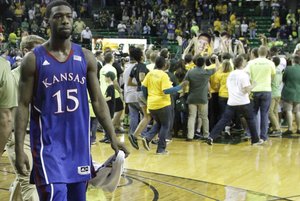 The KU mens basketball team played the Baylor Bears in Waco, TX., Saturday, March 9, in the Jayhawks last regular season game of the year.
Podcast episode
Kansas coach Bill Self talks after his team's 81-58 loss to Baylor on March 9, 2013.
Waco, Texas — This is what transpired on the Ferrell Center court in the minutes before and after Kansas officially became co-champions of the Big 12 Saturday, when it lost to Baylor, 81-58.
Baylor senior guard A.J. Walton dropped on his back onto the floor and then kissed the giant BU. Pierre Jackson then kissed the floor and they both checked out.
After the final buzzer sounded, students lined up at the corners of the floor, as instructed by security personnel. Baylor coach Scott Drew, holding a microphone, beckoned the students onto the floor for a less-than-spontaneous, ahem, "storming" of the court.
The lopsided victory injected badly needed life into Baylor's tournament hopes. The Bears (18-13 overall, 9-9 in the Big 12) had lost five of their last six games heading into the regular-season finale.
Baylor appeared so big, fast and skilled Saturday it begged the question of how such a talented team possibly could go on such a bad stretch.
"I think we're good," Jackson said. "We just have to stick our game plan and defend. When we defend and rebound, we're a good team. I'm trying to preach that to the team."
When Baylor defends, rebounds and gets two performances such as the ones delivered by Jackson and junior forward Cory Jefferson, it resembles a great team.
The Bears scored the rout against the nation's No. 4 team without getting a single point from their bench. They didn't need much beyond the 53 points Jackson and Jefferson combined for on 22 of 26 shooting, including five of six from three-point land.
Jefferson came into the day 0-for-7 for his career from three and made three of three three-point attempts Saturday.
Asked if the coach had given him the green light to shoot them, Jefferson said he did, at which point Jackson's eyes bugged out of his head.
"Coach gave him the green light after he made the second one," Jackson said.
Jackson had little trouble getting around KU's guards on his way to 28 points, 10 assists, six rebounds and two steals in 38 minutes.
Jefferson had 25 points, seven rebounds and three blocked shots.
The Bears shot .577 overall and hit half their three-point attempts and played inspired basketball at both ends.
"Let's face it, when the ball goes in, it makes everybody play better on the defensive end," Drew said. "When you make shots, it's a big difference."
More like this story on KUsports.com