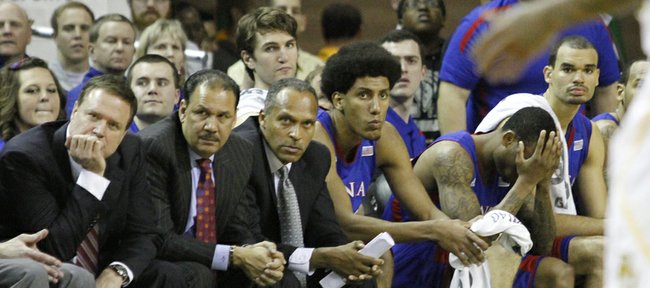 Photo Gallery
KU vs. Baylor men's basketball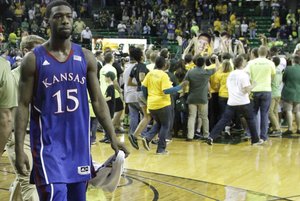 The KU mens basketball team played the Baylor Bears in Waco, TX., Saturday, March 9, in the Jayhawks last regular season game of the year.
Podcast episode
Kansas coach Bill Self talks after his team's 81-58 loss to Baylor on March 9, 2013.
The ghost of Peter (Arness) Graves popped into my head and told me Saturday night that my mission, should I decide to accept it, is to try to make Jayhawk Nation feel as if Saturday's shellacking at the hands of a Baylor team that had lost five of its previous six games isn't cause for concern heading into the Big 12 tournament, an entertaining bridge to the best event in all of sports.
OK. Here goes:
Had Kansas won Saturday, instead of losing 81-58 at Ferrell Center — where Baylor coach Scott Drew went onto the floor, took the microphone and told the students to storm the court after security personnel had lined them up neatly — and then won the Big 12 tournament, it would have had to finish the season with a 17-game winning streak to win the national championship.
Really now, does this or any other team in this season of parity that faces power-conference opposition nightly strike you as one capable of winning 17 games in a row? No? Not helping?
OK, consider then that every team gets really unlucky once in a while and runs into a player who for the first time in his life shoots as he never had before in a game. Six seasons ago, Marchello Vealy made seven of eight three-pointers to lead Oral Roberts to an early season upset of Kansas in Allen Fieldhouse. Vealy had made one of 13 threes the previous season.
Cory Jefferson, one of those long leapers who loves to power dunk that Baylor always seems to have, had attempted seven three-pointers in his career before Saturday and missed them all. He shot three in this rout and made them all on the way to matching his career high with 25 points. The odds of something like that happening to Kansas again this month are astronomical, so it's good the Jayhawks got that bad-luck bite out of their systems.
None of that worked, did it? OK, how about trying the truth, which is where Kansas coach Bill Self will go with his players, with whom he clinched a share of his ninth consecutive Big 12 title Saturday because Kansas State lost at Oklahoma State.
The truth is for Kansas to have any shot of making it to Atlanta for the Final Four, it must play with a sharp edge, an in-your-face competitive spirit. That was nowhere to be found Saturday, except from the opposition.
It was clear which team was in single-elimination mode and which had clinched something earlier in the day.
Thrashing Kansas the way it did drove Baylor from a seat on the wrong side of the NCAA Tournament bubble to the right side. In recent seasons, Baylor has resembled NBA teams in more ways than having high-leaping long bodies all over the place. The Bears (18-13, 9-9) tend to play with an NBA regular-season jog during conference play and pump it up to another speed in the postseason and twice have advanced to the Elite Eight under Scott Drew.
When locked in and turned up, Kansas can look fast, quick, explosive and anchored by a beast of a shot-blocking defender.
When he's tuned in, senior power forward Kevin Young disrupts opponents with hustle and explosiveness and spurs teammates to greater heights. When he's at less than his best, such as Saturday, he looks too frail to play with the heavyweights, too unskilled to merit playing time.
Point guards Elijah Johnson and Naadir Tharpe had been playing so well until Saturday. One game does not a regression make, but it served as a reminder of just how ordinary Kansas can look without the point guards collapsing the defense.
KU's seven-game winning streak ended. The streak started after a three-game losing streak that started with a home-court loss to Oklahoma State.
How tough will it be for the team to put this one behind it and start anew?
"I don't know because I thought when we lost to Oklahoma State, I thought we'd react fine, and we didn't react very well to that," Self said. "I may take a little different approach this time. I'm not sure what yet. The bottom line is our second season is done. Everybody's is done. Now the third season starts and everybody's starting fresh. I can't imagine we won't be fresh and excited and confident moving forward."
He also put it this way: "We got punched in the mouth today without question, but we'll get up."
If hearing a coach who has won nine consecutive Big 12 titles say that doesn't make you feel better, I'm out of ideas.