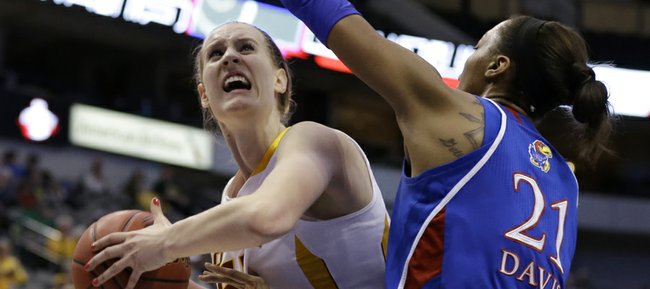 Dallas — Bounced out of the Big 12 tournament after just one victory, Kansas University's women's basketball team again has to sweat out another Selection Monday.
Senior forward Chelsea Poppens led Iowa State with 24 points, and junior forward Hallie Christofferson added 23 points to lead the Cyclones to a 77-62 women's basketball victory over KU on Saturday at American Airlines Center.
And now the Jayhawks, a Sweet 16 team a year ago but just 18-13 and on the NCAA Tournament bubble now, must wait until May 18 to learn their NCAA fate.
"Of course I think we should be in," KU coach Bonnie Henrickson said. "I thought the committee made a great decision last year, and I thought we made them look real smart. I think we should be. We play the best teams in the best league in America.
"I said going in, I think what's hard is people think because we all beat each other up — we are a great league, and we have one team ranked, maybe two, and we deserve better than that as a league. Outside, a lot of people don't understand how good the league is and how competitive it is."
Carolyn Davis, one of four returning starters from last year's surprising Sweet 16 team, led KU with 17 points Saturday.
"We don't know (what the future holds)," she said. "We think we've had some great wins, and we are kind of in the same position we were last year. We'll just have to wait and see."
Angel Goodrich contributed 15 points for KU, and Chelsea Gardner added 12.
"Well, just like coach said, we are not so sure what's going to happen, but we have got to stay positive, look forward, keep practicing and get better," Goodrich said, "because more than likely we want to still play."
Saturday the Jayhawks (18-13) jumped to an 8-2 start, but Iowa State quickly tied it at 8, then gradually pulled away to a 34-26 halftime edge.
ISU (22-7) led by as many as 22 in the second half.
The Jayhawks were outrebounded 40-29 and outscored by 13 from the free-throw line.
"I thought in the second half, our two all‑conference players played like it," ISU coach Bill Fennelly said, referring to Poppens and Christofferson. "Our senior, Anna Prins, played like it. When you only turn the ball over two times in the second half and defend like we defended, you're going to beat some people.
"So it's exciting for us to be in the semifinals, and we are honored that Iowa State go to move to the right in the bracket."
More like this story on KUsports.com